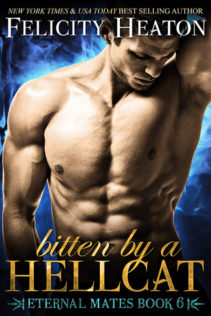 Bitten by a Hellcat (Eternal Mates, #6)
by
Felicity Heaton

Series:
Eternal Mates #6
Published by
Self-Published
on February 15th 2015
Genres:
Paranormal/Urban Fantasy
Pages:
118
Format:
eBook



I received this book for free from in exchange for an honest review. This does not affect my opinion of the book or the content of my review.
This post contains affiliate links you can use to purchase the book. If you buy the book using that link, I will receive a small commission from the sale.
---
[box style="rounded" border="full"]Of the books in this series that I have read, this is the shortest and my least favorite. Here was a case of insta-love and I just didn't feel it with these two. Series-wise, we definitely could have skipped this one since the characters are unremarkable and it really didn't do much to forward to series storyline. [/box]
In this story, Owen Nightingale, the last in a long line of the famous Nightingale were-hunters, notices beautiful Cait in the bar and immediately recognizes her as a hellcat shifter, even though they are very rare and rarely leave Hell. "He had never seen one of her kind, not in all his years as a hunter…" but he recognized her on sight in her human form. What?
She recognizes him as a hunter and she needs his help since she is being stalked by a male hellcat, but whether he is trying to mate with her or capture her to sell on the black market is the question.
Insta-attraction and running from the bad guy lead to hot sex and a mating bite from the hellcat. Humans don't usually survive the bite of a hellcat and now Cait is running around frantically trying to find a way to save Owen, making herself vulnerable to the bad guy.
At 163 pages, there is not too much time for either great romance or exciting adventure and both kind of fall flat in this story.
THOUGHTS:
Usually it is hard to skip a book in a series, even if you don't like the character or the premises, there is usually important plot points that is moving the series forward. I would say you could definitely skip this one. The characters are not too exciting, the insta-love didn't work for me and there wasn't too much pushing the series forward except for meeting of dragon-shifter, Taryn, getting a glimpse that she has suffered some abuse, and the fact that she's is trying to keep away from an elf warrior. These are all facts which will be filled in and discussed once we get to Taryn and her elf's story.
Received an ARC from the author in exchange for an honest review.
Related Posts