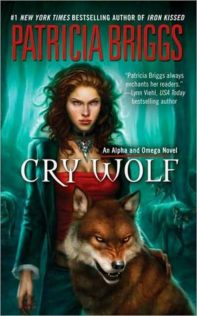 Cry Wolf (Alpha & Omega, #1)
by
Patricia Briggs

Series:
Alpha & Omega #1
Published by
Ace
on July 29th 2008
Genres:
Paranormal/Urban Fantasy
Pages:
294
Format:
Audiobook
Narrator:
Holter Graham
Length:
10 hrs 6 min



I received this book for free from in exchange for an honest review. This does not affect my opinion of the book or the content of my review.
This post contains affiliate links you can use to purchase the book. If you buy the book using that link, I will receive a small commission from the sale.
---
[box style="rounded" border="full"]Charles Cornick and Anna Latham are such opposites that they are the perfect couple. Charles brings a stability and a sense of safety to the abused woman, and Anna brings out a humanity that no one usually sees in Charles. I am loving this couple and am enjoying them as much as the Mercy Thompson series.[/box]
In the Mercy Thompson series, we don't get to know Charles Cornick very well since Mercy was much closer to his brother, Samuel. Mercy was never close to Charles but she has relied on his help in the past stories. Generally, Charles keeps to himself since, as his father's Enforcer, he might be forced to kill anyone so it's best not to get too close.
Cry Wolf takes up after the Alpha & Omega short story which can be found either in the newly released Shifting Shadows anthology or in the prior released, On the Prowl. In this short story, we first meet Anna Latham when she contacts the Marok about problems in the Chicago pack. The Marok sends his son, Charles, to assess what is happening. Upon meeting Anna, Charles knows two things: First, that Anna is a very rare omega werewolf; and second, that his wolf wants her for his mate. Anna was abused at her pack. Not only was she beaten and tormented into being submissive, which is not natural for an omega, but as part of her torture, she was passed around as a reward to keep the males happy. An omega wolf has a calming effect on other wolves, and they are outside of the hierarchy of the wolves, like a Native American medicine man.
As we begin Cry Wolf, Charles and Anna are returning to Montana. Charles was shot with silver bullets while he was taking care of the problems with the Chicago pack. Charles, who is a born werewolf, reacts badly to silver and is taking longer the heal than normal.
Charles and Anna have barely known each other a week, and Anna is very nervous about her place in Charles's life, in his pack and what is expected of her.   She has been a werewolf for three years but Anna's alpha had kept her in the dark about all things werewolf and Anna has no idea about even basic werewolf gifts like using her senses.  And it is not just Anna flailing around unsure of herself.   Charles, not used to sharing his feelings or even his home, has been caught unaware by this mating and what to do, but he knows he has to act gently for Anna's sake.
Although Charles has declared his desire to be Anna's mate and she has agreed to move from Chicago to be with Charles, they haven't sealed with mate bond and that is making them both nervous and wary. Anna is still so instilled with fear and Charles both fears she cannot accept the dangerous killer he is, and fears she will walk away from him. But more, he fears the other unmated males who would gladly take Anna from him.
Trying to figure out their new life is complicated enough. When a rogue werewolf starts killing up in the mountains, Bran needs to send Charles to investigate even though Charles isn't 100 percent.  Bran needs to send a wolf as dominate as Charles to subdue the rogue and kill him if necessary. A lesser wolf might be convinced to join in the fun of the hunt. Charles and Anna set out into the winter mountains to locate the rogue wolf.
There are more hiding in the mountains than just a lone wolf and the danger from friend might just be more than from foe.
Anna and Charles will face danger together as well as try to find a way to be comfortable with their new future together.
THOUGHTS:
I just love these two as a couple. We really didn't know much of Charles through the Mercy Thompson series. We knew he was powerful and dangerous and that his mother had magic but Mercy wasn't close to Charles so we really didn't see much of him. I loved seeing the stoic Charles and how Anna effected him. First, we see his nervousness since he feels very strongly about her, but he is afraid that he could lose her because he see himself only as a killer and she seems a little fearful of him; and then as one of his pack mates points out, they are not yet mated, so Anna is still free to select anyone else as a mate. Charles doesn't want to lose her but knows he can't force her to stay if she doesn't want to. It would break her if he tried.
Anna has been taught to fear dominant wolves and although she instinctively doesn't fear Charles, she is unsure of her place and also unsure of her own feelings toward him. After being passed around as a whore to the pack in Chicago, she is unused to the feelings that Charles arouse in her and it scares her.
Although the plot was as enjoyable as all the Mercy Thompson stories, I am more caught up in the relationship between Charles and Anna. I would have liked to see more of that, but as I can see since I have already started Book 2, this is still going to be something the two of them will be working on for some time.
I like this story as much as Patricia Briggs' other series and am looking forward to the next books.
I am listening to the audiobook which is narrated by Holter Graham, who did some the narrating in Shifting Shadows. He brings a different feel than Lorelei King, but he still does a fabulous job bringing the characters to life. By the time I get to Dead Heat which comes out in March, and which I have a review copy that I will have to actually read myself, I have no doubt I will be hearing it all in my head in Holter Graham's voices.
---
Favorite Scene:
"Why did his reaction make you rethink it?"
She could tell from Charles's nod that she'd asked the right question. "Because when he noticed what you are, he stopped bothering you to get to me — and became interested in you." He took a deep breath. "That's why he brought you flowers. That's why, when he threatened to try to woo you away from me, I had such a hard time controlling myself — because I knew he really meant it."
She decided to think about that later and keep her attention on the conversation so she didn't push him inadvertently, "Why are you telling me about Asil? Is this a warning?"
He looked away, his face back in its blank mask. "No." He hesitated, then said in a softer voice, "I don't think so. Did you feel as if it was a warning?"
"No," she said finally, as frustrated by the careful information that avoided something she could almost sense–something that was keeping his wolf so close. Before she could ask that was troubling him, he told her, face averted, as fast as he could get the words out. "He wanted you to now that if, in the time before the first full moon, you decide not to have me–you could pick him instead." Even with his head turned away, she could see the edge of his bitter smile. "And he knew he could force me to tell you so."
"Why did you tell me?" Her voice was soft.
He turned back to her. "It is your right to know that although we are compatible, you can still refuse me."
"Can you refuse me?"
"I don't know. I've never heard of a binding happening backwards like ours — Brother Wolf chose you, chose your wolf and left me to follow him. But it doesn't matter — I don't want to refuse you."
The wolf gave her a clearer head in some things, but her wolf had chosen this man and made no bones about what she thought of choosing another. She was forced to push her back a little so she could get a clear sense of what he was trying to tell her.
"And I would do this why?"
Did he want her to refuse him?
Her throat was dry as dust. She, human and wolf both craved him like a junkie just as she craved all the things he seemed to promise: safety, love, hope–a place to belong. She rubbed nervous hands on her thighs as if that would soothe her tension away. He whispered, "I hope you don't. But you need to be told of your options." His hands were fisted on his thighs.
She smelled something sharp in his scent that she hadn't before. Damn Leo that he'd left her crippled by ignorance. She'd give her right hand to know what Charles was feeling, to know when he was telling the truth — and when he was just trying not to hurt her. He was waiting for her answer, but she didn't know what to say.
"Options." She tried for neutrality. What did he want of her?
Evidently not neutrality. His fists opened and closed twice. Nostrils flared wide, he looked at her with hot yellow eyes.
"Options," he growled, his voice dropping so that she felt the rumble of it in her chest.
"Asil will spread the word, and you'll be buried in wolves who would be pleased to lay their lives down for the chance of being your mate."
His whole body was shaking, and he leaned harder against the wall as if he were afraid he was going to try to tackle her.
She was failing him. He was losing control, and she wasn't helping, didn't know how to help.
She sucked in another deep breath and tried to let it wash away all of her insecurities. This was not a man who wanted to give up his mate. This was a man trying to do the honorable thing — and given a choice, no matter how much it cost him. That was right, and the knowledge steadied her, and she let her wolf come back and give her the confidence she needed.
For her he shook like an alcoholic in need of his gin, because he felt she needed to know her options, no matter how his wolf felt about losing his mate. Her knight indeed. Her wolf didn't like seeing his unhappiness, wanted to bind him to her, to them, with chains and love until he could never think of leaving them again.
"Well then," she said as briskly as she could manage under the weight of that revelation, a weight that made her feel warm and safe while her eyes burned with tears. Mostly her voice just sounded husky. "It's a good thing there's something we can do to fix that little loophole right now."
He stared at her, as if it was taking him a while to process what she had said. His pupils contracted, and his nostrils flared wide.
Then he launched himself off the wall and was on her, his big body pushing her with frightening intensity against the door frame. His mouth was nipping frantically on her neck. He hit a nerve that sent lightning down her spine, and her knees buckled. As a rich musky scent rose from his skin, he lifted her into his arms in a jerky, uncoordinated move that banged one of her shoulders painfully against the door.
Related Posts