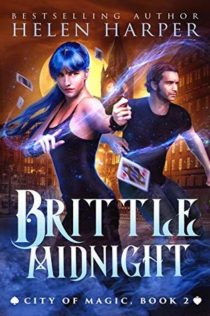 Brittle Midnight (City of Magic #2)
by
Helen Harper

Series:
City of Magic #2
Published by
Tantor Audio
on March 1, 2019
Genres:
Paranormal/Urban Fantasy
Pages:
259
Format:
Audiobook
Narrator:
Ruth Urquhart
Length:
7 hrs 48 min


I received this book for free from in exchange for an honest review. This does not affect my opinion of the book or the content of my review.
This post contains affiliate links you can use to purchase the book. If you buy the book using that link, I will receive a small commission from the sale.
Who ever thought that life after an apocalyptic event would be easy?

Charley is under pressure. The demands of her new community are piling on stress after stress and, even with her developing magical skills, she's finding it hard to cope. Things aren't any better for Monroe - his grief and guilt over what happened to his werewolf pack are overwhelming him. When dead bodies start to appear across the city, they're going to have to work together to prevent more killings. But whether they'll be able to survive together too is anyone's guess.

This is the second book in the City of Magic series.
---
This second book of the series definitely picks up its pace and has a more interesting plot. It is definitely an improvement over Book 1.
In Brittle Midnight, the magical apocalypse has happened and Manchester has been blockaded from the rest of England, the survivors left to their own devices.
In Shrill Dusk, Charley was known as The Enchantress having absorbed magical powers from a powerful item which almost caused the destruction of the planet. But as time passes, many of the other survivors stuck in Manchester are starting to absorb some of the magic in the atmosphere.
The werewolves and vampires have moved to the North of Manchester and segregated several blocks to themselves while Charley and her people are taking up residences to the South. Charley has been nominated as their Ad Hoc leader which means everyone runs to her with every gripe and complaint whether that means there is a problem with the water or they ran out of their favorite snack food. Charley is at the end of her rope but she is determined to make a success of their little community.
When she heads to their local water supply to see why the water has turned red, yet again, she meets up with her old frenemy, the sexy werewolf Monroe, who is still deep in survivor's guilt for losing his entire pack during the apocalypse and while he and Charley have never seen eye-to-eye on how the new Manchester should be run, he is worried about how rundown and despondent the usually uber-sunny,-everything-is-wonderful Charley is acting. When he takes her on a mini-vacation from her responsibilities to the only hotel still existing in Manchester which is located between the two groups, they find a murder has been committed and it looks like a vampire has gone on a killing spree.
With everyone very wary about having vampires living with them in Manchester, finding out one is draining humans will be like taking a match to gasoline. So Monroe and Charley hook up to find the vampire and find much more than that when the locate their killer — dead, and at the hands of a werewolf who can't remember what happened.
Their investigation is bringing them to something more vile than just vampire vs werewolf vs human politics. It looks like someone is killing their victims and using their greatest fear as the weapon. They have to find the killer before the news goes public and their small survivor camps going into their own panic-fueled, us vs them war.
This story was much more exciting than Book 1, which included a whole lot of set up which went no where and seemed pretty unimportant. We run into more magical monsters which need to be dealt with including a whiny mermaid who isn't as sweet and kind as Disney would have you believe. There are a lot of sparks between Monroe and Charley but he needs to get past his guilt about getting his pack killed.
This was an enjoyable story and still more light-hearted for an Urban Fantasy series.
Related Posts