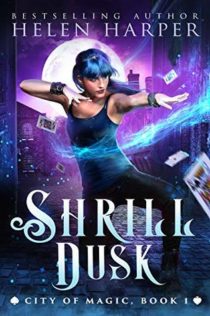 Shrill Dusk
by
Helen Harper

Series:
City of Magic #1
Published by
Tantor Audio
on January 4, 2019
Genres:
Paranormal/Urban Fantasy
Pages:
268
Format:
Audiobook
Narrator:
Ruth Urquhart
Length:
7 hrs 18 min


I received this book for free from in exchange for an honest review. This does not affect my opinion of the book or the content of my review.
This post contains affiliate links you can use to purchase the book. If you buy the book using that link, I will receive a small commission from the sale.
Charley is a cleaner by day and a professional gambler by night. She might be haunted by her tragic past but she's never thought of herself as anything or anyone special. Until, that is, things start to go terribly wrong all across the city of Manchester. Between plagues of rats, firestorms and the gleaming blue eyes of a sexy Scottish werewolf, she might just have landed herself in the middle of a magical apocalypse. She might also be the only person who has the ability to bring order to an utterly chaotic new world.This is the first book in The City Of Magic series.
---
Understanding that this is the first book in a series, the set up of took a lot of time and was a bit draggy. On the plus side, this Helen Harper story was actually narrated with a British accent.
I enjoyed Helen Harper's Slouch Witch series, so I was happy to download a review copy of her new series also involving magic.
In Shrill Dusk, we follow Charley who is employed as a cleaner but mostly is a professional gambler. Charley also has a strong need to save everyone which is how she ends up owing Max, a real hard case, $10,000 of someone else's debt. Charley felt bad for someone else who got over their head with Max and she needed to get her hands on $10,000 within the next ten days. This is all superfluous since the next day there occurs a magical apocalypse in Manchester, England, because the fae are using too much magic.
Suddenly Manchester is full of shapeshifters, vampires and even Charley gets too close to a magical object and absorbs some of its powers. The government gives everyone a chance to leave the City before they seal it up but Charley and several other of these new enhanced citizens aren't leaving so they begin to stock supplies for the future.
The reason why it was slow going is first we flesh out the character of Charley. We learn her tragic past and her gambling and her need to save others. We are introduced to Max, who is a bad seed and once the city is shut down, he makes to hoard all the food and become the new City tyrant. Most of these chapters become unnecessary once the magic takes down normal life. Money means nothing to survival now that things have changed, so Charley is no longer focused on how she will earn money. So it took several chapters to set up something up a story plot which becomes unnecessary. We could have skipped it all with a simple "Yesterday, my biggest problem was owing money to Max…"
We are never part of stopping of the fae idiots who created the problem. We eventually get the outline of what caused the apocalypse and how it is stalled (not defeated) but we miss out on any actual battles or excitement.
Charley gets somewhat of a romantic lead in Monroe, the head werewolf, who seemed interested in Charley on first meeting but then focuses on nothing but her blue-dyed hair and belittling her as an unimportant human in this new reality. His respect seems to grow over the course of the story as he learns of Charley's magic, but he still has a problem with Charley inviting every survivor they meet to come to her neighborhood and share their supplies. Monroe wants to huddle alone with their precious supplies and let everyone else fend for themselves so they are very much at odds for a lot of their time together.
Once Max figures out that Charley has magic, he uses his gang of kids and misfits to force Charley to come work for him. The most excitement we have is Charley's battle of wills against Max and if her misfits can defeat his misfits.
Before I received this audiobook, I had already requested books 2 and 3. Since I will receive them once they are published, I will try them out to see if the story line picks up now that we have laid the foundation.
Best part of this narration, is that unlike Slouch Witch, they actually use a narrator with a British accent.
Related Posts