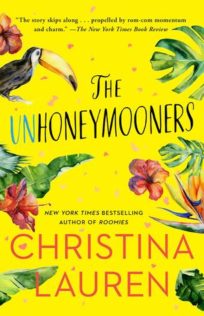 The Unhoneymooners
by
Christina Lauren

Published by
Gallery Books
on May 14, 2019
Genres:
Contemporary
Pages:
432
Format:
eBook



I received this book for free from in exchange for an honest review. This does not affect my opinion of the book or the content of my review.
This post contains affiliate links you can use to purchase the book. If you buy the book using that link, I will receive a small commission from the sale.
Olive is always unlucky: in her career, in love, in…well, everything. Her identical twin sister Amy, on the other hand, is probably the luckiest person in the world. Her meet-cute with her fiancé is something out of a romantic comedy (gag) and she's managed to finance her entire wedding by winning a series of Internet contests (double gag). Worst of all, she's forcing Olive to spend the day with her sworn enemy, Ethan, who just happens to be the best man.

Olive braces herself to get through 24 hours of wedding hell before she can return to her comfortable, unlucky life. But when the entire wedding party gets food poisoning from eating bad shellfish, the only people who aren't affected are Olive and Ethan. And now there's an all-expenses-paid honeymoon in Hawaii up for grabs.

Putting their mutual hatred aside for the sake of a free vacation, Olive and Ethan head for paradise, determined to avoid each other at all costs. But when Olive runs into her future boss, the little white lie she tells him is suddenly at risk to become a whole lot bigger. She and Ethan now have to pretend to be loving newlyweds, and her luck seems worse than ever. But the weird thing is that she doesn't mind playing pretend. In fact, she feels kind of... lucky.
---
Not my favorite Christina Lauren story. While Olive and Ethan have fun on their un-honeymoon, I never felt any real click between them.
Olive's twin sister, Amy, is the lucky one, while Olive considers herself the polar opposite of her twin, and bad things always happen to Olive. Just an example of Amy's good luck, is the fact that just about everything at her wedding, she obtained for free by winning contests, whether it was the stunning wedding gown, the rather hideous bridesmaid dresses, the all-you-can-eat seafood buffet or the amazing all-inclusive honeymoon to Maui. But it seems their fortunes might just be reversing when Amy's seafood buffet makes all of the wedding guest sick from the toxic fish and the only ones not effected were Olive (who is allergic to fish) and Ethan (who can't stand buffets).
Since the trip to Maui is non-transferable and cannot be rescheduled, Amy convinces Olive to take the vacation–actually, she wouldn't have convinced Olive to go except for Amy's new husband offers the honeymoon to his brother Ethan, and there is no way she is going to allow her nemesis to enjoy a free vacation while she passes it up.
The more time she spends with Ethan, the more she realizes he is not the jerk she thought he was. She had always thought Ethan hated her, so she made no effort to be nice, but they have a great time enjoying the events the hotel and the island have to offer. And once they stop swiping at each other, the more they realize they are very attracted to each other.
But, the more they talk, the more confused Olive becomes. You see, it seems like Olive's new brother-in-law was talking her down to his Ethan and making sure that his brother stayed far away from her, rather than asking her out like he once wanted to do. Why would he actively try to keep Olive and Ethan apart unless there is some reason he doesn't want them to talk to each other. Talk about things like why Ethan is always taking his brother away on thrill seeking adventures leaving Amy alone on holidays, when Ethan doesn't even like to fly? Things aren't adding up and the more Olive works on the problem, the more concerned she is about her brother-in-law's motives. But as much as she wants to confront him, Olive fears that asking the hard questions will not only destroy her relationship with her sister but her new blossoming relationship with Ethan.
I was excited about this story since I enjoyed the last few Christina Lauren novels and I generally like the snowbound trope where characters are forced to spend time together. Unfortunately, while Ethan and Olive had a lot of fun together on Maui, they didn't have any spark. For the better part of the story, I couldn't make up my mind if Ethan really didn't like Olive or maybe he was hiding his attraction because he thought it was one sided. I also have to a agree with Ethan's brother's assessment of Olive–that she is a very angry, bitter person. Olive turns everything dark and it is no wonder that she believes that her sister Amy is so lucky and she is so unlucky. Some people are simply of the glass-half-empty mindset, and that was Olive. She tries near the end to change her ways, but it was no wonder there was no great spark between her and Ethan.
It could have been so much more but the Unhoneymooners turned out like a great Hollywood movie where bad casting took over and the actors never really connected. Olive and Ethan have no spark so the whole thing falls flat instead of being a great rom-com.
Related Posts