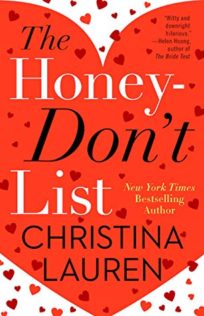 The Honey-Don't List
by
Christina Lauren

Published by
Gallery Books
on March 24, 2020
Genres:
Contemporary
Pages:
320
Format:
eBook



I received this book for free from in exchange for an honest review. This does not affect my opinion of the book or the content of my review.
This post contains affiliate links you can use to purchase the book. If you buy the book using that link, I will receive a small commission from the sale.
Carey Douglas has worked for home remodeling and design gurus Melissa and Rusty Tripp for nearly a decade. A country girl at heart, Carey started in their first store at sixteen, and—more than anyone would suspect—has helped them build an empire. With a new show and a book about to launch, the Tripps are on the verge of superstardom. There's only one problem: America's favorite couple can't stand each other.

James McCann, MIT graduate and engineering genius, was originally hired as a structural engineer, but the job isn't all he thought it'd be. The last straw? Both he and Carey must go on book tour with the Tripps and keep the wheels from falling off the proverbial bus.

Unfortunately, neither of them is in any position to quit. Carey needs health insurance, and James has been promised the role of a lifetime if he can just keep the couple on track for a few more weeks. While road-tripping with the Tripps up the West Coast, Carey and James vow to work together to keep their bosses' secrets hidden, and their own jobs secure. But if they stop playing along—and start playing for keeps—they may have the chance to build something beautiful together…

From the "hilariously zany and heartfelt" (Booklist) Christina Lauren comes a romantic comedy that proves if it's broke, you might as well fix it.

From the New York Times bestselling author behind the "joyful, warm, touching" (Jasmine Guillory, New York Times bestselling author) The Unhoneymooners comes a delightfully charming love story about what happens when two assistants tasked with keeping a rocky relationship from explosion start to feel sparks of their own.
---
A great idea but could have been so much more.
Who hasn't watched the couples on those home improvement shows and envied the happy camaraderie, working so closely together to make something beautiful, and thought, I want that.   But is everything as wonderful as we are made to believe?
In The Honey-Don't List, our dream couple, Mel and Rusty Tripp have long ago given up on their marriage, at least privately. Publicly, they are just about to start their own spinoff series as well as the promotion tour on their new self-help book for a happy marriage. If only the two of them can spend more than five minutes together without fighting so that they can keep fooling their adoring fans.
As the book tour starts, the producers of the new show insist that their assistants, Carey and James go on the tour with them to keep them in line and keep their fights out of the public eye. Of course, being trapped together on a small bus with a couple who can't stand each other will be a fun time for all concerned and as things devolve, will they be able to keep it together long enough to get the new show renewed with a second season or is the whole thing doomed from the moment they take that first step on a their own personal highway to hell?
While this was a great premise for a story, it didn't make it all the way through to a good romance. I liked how the story is broken up with quick chapters that are basically police interviews of either Carey or James. Something big happens on this bus trip, and you need to know what happened that landed them under police inquiry–assault? murder? I wanted to know where that was heading. And you would forget while we read tge story of what was happening between Rusty and Mel but then you'd get the end of a chapter and remember, that's right they're telling the police what happened. It was a good hook but not enough to make up for an overall ho-hum story.
Because the real story isn't truly about Mel and Rusty, the focus of their story is their assistants: Carey and James. This is an enemy-to-lover story, but we never really get the whole enemy thing down. It is more James thought he was too good to be an assistant and Carey just didn't like him because of his attitude but secretly she admitted that he was too smart/good looking to be on the same level as her as simply an assistant. I think where it didn't work for me is that both James and Carey felt stuck in their jobs and the last straw was being forced to babysit the Tripps on this bus tour. Problem is that I couldn't get behind their feelings of being boxed in with these jobs.
James was an engineer and worked several years after graduating with a firm that just went through a scandal for stealing pensions. While we never get real details of what James engineered, we know for certain he didn't engineer their finances. James applied for a job as an engineer with the home improvement show (again engineering what? don't know) but Mel saw him and hired him as James's assistant with empty promises of doing engineer work. James jumped on it because he couldn't get another job at an engineering firm. What? He was an entry-level employee at a firm where the CEO stole the pension. No one is going to hire a young engineer with talent because his boss stole money? He probably never even met the big boss so how should this effect him? A smart company would grab up all the talent when this big firm when belly up.  James felt trapped in this assistant job because he needed something on his resume besides the big scandal job.  It's not like  James's whole life was in rural Wisconsin and he had no where to go.  James is from New York.  That's where his family is.  There has to be somewhere that doesn't care about the big NYC firm scandal.  We should also note that James didn't really do much assisting, leaving Carey to handle most of the couples schedule.
Carey has been working for the Tripps since she was 16, working at their first home good store. After ten years, Carey has just about had it with the Tripps and their escalating drama but she fears leaving because she has no other work experience and no college degree. She tried to leave once but Mel freaked out after she was called as a job reference. I could understand Carey's loyalty to Mel if Carey had no family and was treated as a member of Rusty and Mel's family all this time.   Take a kid with no connections and give her a feeling of family, of course she would be loyal. But that didn't seem to be the case. While Carey was not close with her family, she still kept in touch with them and Mel and Rusty had grown children but didn't seem to include Carey as one of their own. By this point in their relationship, Mel was definitely used to Carey doing for her and didn't want that to end. We eventually see why Carey has become so important to Mel. But Carey should have used this to her advantage either to improve her situation with her job, or as things deteriorated between the couple, why couldn't she use Rusty as a job reference?  He seemed to support Carey.  Even if she has no other experience and no reference, Carey's been with Mel 10 years from their first store until the height of their career — must mean something, right? And after ten years, do you think a reference from your current boss might be skewed because they don't want you to leave? Carey was also paid very well by Mel and Rusty all these years and lamented not going to college (this is why she felt James was so above her and an assistant job). Why didn't she look into leaving to attend college either to study what she was good at or something new?
Sometimes you read a story and you know that the downtrodden character is stuck under someone's thumb and in this case, the only thing forcing these characters to stay is money. Money is important but I would only stay at a crappy job long enough to get a new job.  Neither of these characters were putting much effort into moving on, just whining and lamenting about their situation.
Romancewise, there wasn't much to their connection except bitching how much they hated what was happening to them and their new babysitting duty. Carey thought James and gorgeous but full of himself, but she also believed that he was overqualified to be just an assistant. And James didn't think too much about Carey until one day when he actually looked at her and realized she was actually pretty and suddenly he takes notice of her and her situation and wants to date.
This was a great idea which simply wasn't fulfilled and as a romance, didn't really ring the bell because there wasn't much to the connection between James and Carey except having sex with the only person available when you are stuck at the constant beck and call of your boss.
I usually love an author and read everything or I simply don't enjoy their writing and walk away. I even have a love-hate relationship with J.R. Ward and her BDB series. (I seriously need an intervention.) The odd thing about Christina Lauren is that some books I really like and some, like this one, I just don't, but I have to read each new story so I can weed out the ones I enjoy. It's an odd thing for me to pick up an author's book with trepidation not knowing where it's going to fall but I have had enough of the enjoyable that I don't want to walk away.
Related Posts