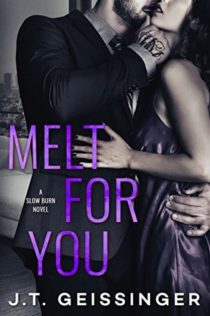 Melt for You (Slow Burn #2)
by
J.T. Geissinger

Series:
Slow Burn #2
Published by
Montlake Romance
on May 15th 2018
Genres:
Contemporary
Pages:
346
Format:
eBook



I received this book for free from in exchange for an honest review. This does not affect my opinion of the book or the content of my review.
This post contains affiliate links you can use to purchase the book. If you buy the book using that link, I will receive a small commission from the sale.
A wallflower gets seduction tips from a playboy athlete—until love changes the rules.

Socially awkward Joellen Bixby has a date every Saturday—with her cat, a pint of ice cream, and fantasies of the way-too-handsome Michael Maddox. She'd give anything to win over the unattainable CEO of her firm, but how can she when she blends in so well with her cubicle? The answer may be closer than she thinks.

Cameron McGregor is a cocky, tattooed Scottish rugby captain who just moved in next door. He's not Jo's type—at all—but the notorious playboy is offering to teach the wallflower everything he knows about inspiring desire. Though a lot of women have rumpled Cam's kilt, Jo is special. Far from the ugly duckling she thinks she is, in Cam's eyes she's sharp, funny, and effortlessly sexy. Now, thanks to him, Jo is blooming with confidence and has the man of her dreams within reach.

Unfortunately for Cam, he's just helped to push the woman of his dreams into the arms of another man—and now he's in the fight of his life to keep this beauty from getting away.
---
Cam and Joellen engage in a delightful battle of wit and the ultimate winner is the reader.
This is a perfect novel for any romance reader because every woman will empathize with Joellen Bixby, or more truthfully, everyone woman is Joellen Bixty.  Like Joellen, we each see our own flaws like a glaring beacon (too fat, too scrawny, too busty, not curvy enough, too shy, too awkward, too intimidating) and those flaws are the reason we can't ________ (find love, get that perfect job, lose weight, finish our education). Even the most "perfect" woman you know fights her own internal demons. And if we don't notice them for ourselves, there is always someone there to point them out for you. In this story, Joellen has grown up with a Miss America runner-up sister, a former model mother and a fashion photographer father. No matter how pretty Joellen is, she is always the ugly duckling in the group, and she is reminded of it constantly, whether it is the off-hand "were you adopted?" comment or reminders from her own family of how she is a catastrophic failure.
Joellen has spent the last ten years pining for her perfect man, who unfortunately is her boss. Michael Maddox, the CEO of Maddox Publishing is Joellen's Prince Charming, and even if he was not already married, she knows that someone like her would never have a chance with someone as special as Michael.
Enter bad-boy Scottish Rugby star Cameron McGregor who is taking some time off from the spotlight before the season begins and traded apartments with his cousin in New York. The only thing larger that Cameron's muscles would be his ego. He turns heads whereever he goes and women follow him with only the crook of his finger.
Well, all women except one particular quick-witted, salty lass across the hall who has caught his attention. Cam delights in all barbs thrown by Joellen, except for the ones she throws at herself. It is Cam who forces Joellen to see herself for all her glorious traits rather than allowing her to wallow in what she sees as her failings.
And when Joellen announces that Michael's marriage is doomed for divorce, it is Cameron who offers to show Joellen how to win her heart's desire which he hopes she realizes isn't a perfect Prince Charming, but a shaggy, rough Mountain man who can't get enough of her.  Just because he is always surrounded by people, doesn't mean that Cameron isn't as lonely as Joellen, and he is setting his heart on the smart-mouthed, kind-hearted beauty.
I couldn't get enough of the Cam and Joellen moments, but (and I hope to express this to you effectively), while their chemistry was off the charts, their sexual passion took way too long to show up.  Each moment between Cameron and Joellen sparkled and I smiled and laughed with each encounter. But this was written as a first person POV from Joellen and Joellen was romantically focused on Michael with only an occasional pique of interest in Cameron and the romantic interest we know is supposed to be coming from Cam is muted through Joellen's eyes because she isn't catching it. Part of that is her Michael-blockage and part of that is still her inferiority complex. We only get our first whiff of sexual attraction between the two when Cameron convinces Joellen that she should practice kissing with Cam so she doesn't mess it up when she finally gets to kiss Michael, and it is not Michael who fills her thoughts while doing it. I just would have liked to see more internal conflict in Joellen as she got to know Cameron better and as we see her esteem growing  for Cam while wiping a little more shine off of Michael as she got to know him better as well.  Cameron's interest was there from the begining and Joellen's realization of her feelings turned so sharply it was almost jarring.  These two develop an incredible bond but the hot and sexy doesn't show up until very late which is the only disappointment.
This was a stunning and entertaining story of two lonely people finding a love they never expected. Melt for You has definitely made a place for itself on my re-read shelf.
---
Favorite Scene:
I had a hard time picking a favorite Cam/Joellen scene.
I pound on the Mountain's door, still smiling.
When he opens up, my smile falters for a moment but then snaps back into place like it's magnetized. "Cool skirt, prancer. You look groovy in plaid. When're you going to invest in some shirts? You do realize it's winter, right?"
He heaves a huge sigh and looks at the ceiling, as if hoping for divine intervention. "It's a kilt, lass."
Of course I know that, but I enjoy giving him the business because it obviously irks him to have his kilt disrespected by calling it a skirt. "What's the difference?"
"What you wear underneath."
When I cock a brow, he smiles. "Ask me what I'm wearin' underneath."
"I feel like this is a trick to get me to look at your junk."
He looks insulted. "My 'junk'? Cameron McGregor doesn't have 'junk.' He has family jewels, thank you very much."
I bypass the ridiculous way he refers to himself in the third person. "Yeah, well your family jewels can stay safely under your skirt, buddy, because I'm in too good a mood to deal with a random penis sighting, thank you very much."
He lifts the edge of his kilt a few inches and grins, waggling his eyebrows. "You sure? It's a life-changin' event, I promise you, lass."
I snort. "No doubt, but I don't have the cash to bankroll the long and expensive relationship with a psychotherapist that seeing you naked would necessitate."
"Aha! You admit it would blow your mind!"
"I admit that I've seen people like you before, but I've had to pay an entry fee at the circus to do so."
He purses his lips and looks me up and down."Just make it easier on yourself, darlin', and admit you're wild for me and are dyin' to bring a few dozen little McGregors into the world."
"You're delusional."
"You're massively in love with me."
"I'm massively in dislike with you."
"You've finally figured out I'm the real man of your dreams."
"I've finally figure out how you got there. Someone left your cage door open.
We grin at each other while the stupid rap music blares into the hallway, eroding my hearing another few percent.
Related Posts