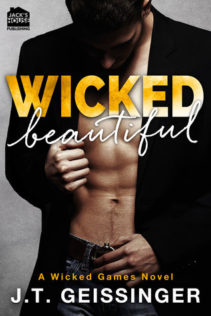 Wicked Beautiful (Wicked Games #1)
by
J.T. Geissinger

Series:
Wicked Games #1
Published by
Jack's House Publishing
on July 12th 2016
Genres:
Contemporary
Format:
Audiobook
Narrator:
Melissa Moran
Length:
10 hrs 44 min



This post contains affiliate links you can use to purchase the book. If you buy the book using that link, I will receive a small commission from the sale.
A ruthless businesswoman and the playboy who dumped her long ago find themselves embroiled in a high stakes game of love, lies and revenge.

Life coach and best-selling author Victoria Price has it all: a successful career, fabulous friends, a fantastic penthouse in Manhattan. What she doesn't have—and doesn't want—is a husband. Fifteen years ago her high school flame broke her heart so badly she swore she'd never love again. Now she makes millions teaching other women how to be just like her: a ruthless bitch.

Drop-dead sexy restauranteur and infamous playboy Parker Maxwell has only three rules for the women he dates: no questions about his past, no expectations for the future, and no spending the night. When he meets Victoria, however, he's willing to break his own rules if it means sating the explosive desire she arouses in him. What he doesn't know is that the alluring Victoria Price used to be the mousy Isabel Diaz, the girl he deflowered and dumped long ago.

Presented with a perfect opportunity for revenge, Victoria decides the game is on. But when her connection with Parker proves more than just skin deep, she has to make a choice: continue with her plan for payback, or risk her career, her reputation, and her heart by taking a second chance on love?
---



Heard such good things about this story but it just wasn't grabbing me.
I truly heard raves about this story.  It was humorous and sexy and it was on my TBR for so long.  The ebook was listed as free for awhile and a special price for also getting the audiobook.   I was set and I squeezed it onto my list.
I didn't mind that Victoria was a self-made millionaire teaching women how to be bitches.  Some people need to be taught that saying no and trying to get what you want out of life, might make you a bitch, but it will also make you happy.  She didn't seem to be trying to teach people to win at the expense of others so I no problem with her until she meets Parker and decides she can't be happy unless she destroys him as payback.
The premise of the story is that she goes to a restaurant with her BFF, who I loved by the way, Darcy is a blogger/food critic and she was bubbly and funny.    She finds out the restaurant is owned by Parker Maxwell, the man who broke her heart 15-years prior, when they were in high school.    Parker sees her and wants her.  Parker is a womanizer who doesn't do relationships (he doesn't feel worthy) and he puts on the charm even after his employee tells him that Victoria Price is the Queen Bitch and her seminars.
Here's the deal:  Victoria Price used to be known as Isabel Diaz, a poor latina/mexican girl from Texas.  She was in Love with Parker who although rich and privileged, his mother insisted that he go to public school.  She gives him her virginity.  The next day Parker disappears and turns out he was sent to Eton in England.  Isabel ends up pregnant. She writes Parker letters and never hears from him or sees him again until she arrives at the restaurant 15 years later.
From what I stayed for, Parker's father was a nasty, control freak and a bigot.   Parker's mother named him after a black musician, so his father wouldn't use his name, only called him "boy."    That kind of rich, bigoted asshat.
I could foresee the story plot right away where we would eventually find out that Parker never knew Isabel was pregnant, but still he had probably tried to contact Isabel.  His father sent him away as soon as he realized his son actually loved the non-white poor girl and separated them.  I am sure the father interfered with letter delivery somehow by paying off the mailman, whatever.  There was a note in the bio Victoria's assistant/tech guru put together which showed that Parker disappeared for two years after leaving college.  Possibly to find his lost love?
Somehow Isabel came into enough money to have extensive plastic surgery done (bribed by the rich asshat to get rid of the baby?) and reinvested herself as Victoria Price.  Tech guru buried any connection between Isabel and Victoria.
Victoria now has this grand plan to make Parker drool all over her and dump him painfully as payback.  It was kind of stupid and considering how desperate she seems to be for Parker, it appears she will be hurt the most because Parker isn't going to be happy he was played by the woman he was (possibly) pining for as much as she was for him.
Victoria at one point is upset that Parker didn't realize who she was, even though she says in the beginning about all the plastic work she did so she didn't look like the poor latina girl anymore.  At one point she flips her hair back and that makes Parker pause and sparks a distant memory.  I would have thought a moment when she actually laughed, a real laugh something you can't change with surgery, might have been more memorable than a hair flip, but he laugh does do anything for him.
Part of me wanted to just skip to the end to find out what happened with the baby.  Did she miscarry?  Is her mother raising the kid who would be about 14 at this point in the story?
I was interested in the answers to what happened 15 years ago, but I wasn't feeling the whole punish him with seduction.  There was nothing fun, funny or entertaining about what I had read so far, except her friend Darcy.  This is one of those story plots that leaves me feeling like that was too much to forgive and have a HEA.  We were going to find that Parker was just as devastated as Isabel/Victoria about being separated 15 years prior.  He would never knew about the baby if Victoria had that information buried.   But how does he forgive her after she sets out deliberately to hurt and humiliate him, knowing he didn't recognize her instead of confronting him and demanding an apology or her forgiveness.
I cheated and read a few of the 1 star reviews on Goodreads and got some of my answers and also a lot of notes about the really crappy ending so Yay for me for saving about 8 hrs of my life not finishing this.
Related Posts