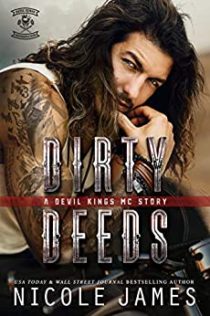 Dirty Deeds (Devil Kings MC, #1)
by
Nicole James

Series:
Devil Kings MC #1
Published by
Self Published
on December 10th 2020
Genres:
Contemporary
Pages:
222
Format:
Audiobook
Narrator:
Ryan West
,
Virginia Rose
Length:
8 hrs 15 min


I received this book for free from in exchange for an honest review. This does not affect my opinion of the book or the content of my review.
This post contains affiliate links you can use to purchase the book. If you buy the book using that link, I will receive a small commission from the sale.
Kara Harbinger's only crime is having a court judge for a father. One who just happens to be presiding over the criminal case of the President of the Devil Kings MC. The DKs are about to use the biggest Achilles' heel he's got to bend him to their will, to buy his decision, to buy his very soul.
Reno—
I want nothing to do with this job, but I can't get out of it.
As a member of the Devil Kings MC, my life is a violent existence hinged on loyalty to the oath I took: Devil Kings before all else. I'm the club's muscle, the brother they give the vicious, vile jobs, the dirty deeds. When it comes to my club, I do whatever they ask, whatever they need.
Then I see Kara, all sweet and innocent with her soulful eyes and sexy body. She's a bright light in my dark existence. In her eyes, I see an escape from the brutal life I've lived for so long, a life void of feelings, emotions and light. She gives me the faith to believe I can have more, to believe I can have everything.
What do I do when my VP wants her taken as leverage to use against her father? What do I do when one look at Kara threatens everything I thought I held dear? What do I do if they want me to put a gun to her head and end her life? I'll have to convince her to trust me if I have any hope of getting us both out of this alive.
Kara—
He's the only one who can save me.
I'm not supposed to want a man like Reno. He's dangerous—a lawless, badass, alpha biker. I know I should be afraid, but the way he looks at me, with hunger in his eyes makes me want to become his. I believed the lies he told me. I thought he was a good guy. But when he takes me hostage, everything I thought about him is turned on its head. Now he expects me to trust him, even as he holds me captive. How can I trust a man whose loyalty is to his club, a club that wants me dead?
---
The audiobook presentation was absolutely perfect!
I was offered an audiobook copy of Dirty Deeds by Nicole James. I usually avoid Motorcycle Club stories since the characters are more violent than I usually enjoy. From the description, I hoped that Reno would be more like the overprotection heroes that we see in the military/black op type romances, but I was sadly wrong. I am going to try to review the story on its merits without my usual prejudices toward this type of story.
Let's start out by discussing the wonderful audiobook presentation of this story. Ryan West gave voice to Reno and he was a wonderful choice. His gruff voice and demeanor gave me the perfect picture of Reno, the biker enforcer. Virginia Rose was also was great choice for the young college student, Cara. Both allowed me to get a good picture of the characters, and presumably it West who voiced the rest of the bikers in both the Devil Kings MC and the Evil Dead MC (who are featured in another series by James). Generally when a book is narrated that it in dual POV, the male narrator gives voice to all the characters in his chapter and the female gives voice to all the characters in her chapter. I always find this distracting because it is one of those things that jerks me out of a story. If you have one narrator doing all the voices, then you get used to all the characters even if their characters of the opposite sex aren't quite right. You do get used to it and follow along, but when they start switching off, especially when giving a different voice to a secondary character it is very distracting.  It's worse if one gets the character perfect then it makes the other narrator that much worse in trying. In Dirty Deeds, while the narrators switched off on the chapter narration, Virginia Rose kept jumping in voicing anything spoken by Cara or any of the female secondary characters, and Ryan West would jump in and voice comments by Reno or the other bikers. This type of presentation allowed you to really immerse yourself into the narration. I have found very few audiobooks presented this way when more than one narrator being used and it is a shame since it really is a better presentation. While Nicole James has several series out, this appears to be the first book presented in audiobook version. I would give five stars for the audiobook presentation alone.
As I indicated before, Motorcycle Club series are usually the type of book I automatically pass on but the description on this one made me think that Reno would protect Cara, maybe even abducting her from her abductors and keeping her hidden and safe.  Well, not so much.
In Dirty Deeds, the President of the Devil Kings has been arrested and is facing Federal charges. He could be facing 30 years in prison. The VP of the club, Rat, comes up with the plan to abduct the Judge's daughter who is attending college at the University of Alabama and hold her hostage until the Judge lets their President go with no prison time. Because the Devil Kings are in located in Georgia, they need to get permission to cross over into the Evil Dead MC territory, which is how the cross-over comes in between the series.
When Reno first goes to the Evil Dead clubhouse, he is amazed that there are families having a picnic at the headquarters and kids are running around and laughing. It appears they have none of this type of interaction at the Devil Kings MC and their dilapidated warehouse clubhouse. So there immediately is some foreshadowing that Reno wants and expected joining a MC to be like what was happening at the Evil Dead MC. I had hope that this discontentment would by the end, lead to either Reno running to the Evil Dead with Cara for protection or eventually get his own club cleaned up so that it becomes a real family.
When Reno first sees a picture of Cara, he reminds her of girl he liked in high school who flirted with him but then walked away to be with the quarterback of the football team. This goes to show you that no matter who you are, shit that happens to you in High School screws you up forever! This starts Reno on a bit of an obsession with Cara which leads to him following her to a bar while they are still staking her out and buying her a drink and convincing her to stay around after her friends leave the bar. Her sucky friends allow her to stay alone at a bar late at night without making sure she gets home safely but in this case, after quick closet sex with Reno, he at least makes sure she gets home safely.  This part of Reno's stalking and meeting Cara ahead of time and their attraction is the only that keeps me from being completely against their relationship at the end of the book but we'll come back to this.
Except for the sex, nothing is going right for Reno during this entire job.   When Reno and his friend Rusty finally get the call the grab the girl, the RV they were going to hold her in breaks down and they have to go for Plan B.  Reno keeps telling Cara that he won't harm her and that she should stop giving them a hard time, and in Reno's mind, he will protect her as much as he can but he knows that the order will probably come down to kill her.  Cara is a little naïve but she's not a complete idiot.  She knows that she has seen their faces.  Reno introduced himself to her by his given name and once the connection is made between the biker gang and Reno, the police would have no problem finding her abductors.  Cara knows she isn't getting out of there alive and tries to escape.  It was a little ridiculous for him to keep insisting that she calm down and getting angry when she fights back.
Of course with most court actions, things get delayed and what should have lasted days, has lasted for weeks.  This allows abductors and abductees to get to know one another and they settle into a routine waiting for the next course of action.   Then they find out that Rat has made a new deal with the Judge.   If he wants to see his daughter again, he needs to make sure their President is sentenced to maximum time.  It seems that Rat is very happed being the ad hoc President and has no interest in turning the gavel back over.   Now Rusty and Reno have a choice to make between their MC and the young girl they have come to know.
This was still a little too violent for me.  While there was no rape, there were several scenes that fell just short.  Reno swears to protect Cara, but then Rat and some other club members stop by and send Reno and Rusty off to do an errand, one that Reno can't turn down for his "boss."   This leaves Cara alone with five club members and the only thing that saved her was the fact that they were getting stoned and drinking before they started tormenting her and getting "excited" about her fear.   If they decided to start their fun right away,  Reno and Rusty wouldn't have made it back  in time to stop it and I was even surprised that they didn't continue regardless since Reno and Rusty were lower in the chain of command.   He promised to protected her and then he had to back down at the first push by a higher authority.
There was also an huge age difference between Cara's 20 and Reno's 31 and even more in a level of maturity since Reno's 31 years were harder lived.  Cara's father's house is an estate behind gates with a housekeeper.  That level of rich.  We knew that Reno's interest in Cara was piqued when he saw her picture.  We also know that before the abduction, Cara hoped to hear from Reno again because he was nothing like the boys she has met before (no kidding!). I began to feel that the more Cara protested that she loved Reno, the younger and sillier she sounded.  If not for the night in the bar at the beginning of this story, I would not have been able to get passed the feeling that Cara was suffering from Stockholm Syndrome.  All those weeks were Reno was sleep spooned up next Cara and their long talks could easily confuse a young girl who was already questioning what she wanted to do with her life.   I also can't see her rich Federal Judge father going along with his only child running off with the violent biker who abducted her without having her tossed into a psyche ward for deprogramming (again; Stockholm Syndrome).   She also goes from little rich girl to biker chick with a hitch.
While the story did hold my attention to the point that it gave me moments of anxiety, I found it hard to root for Cara and Reno's HEA as we neared the end and Cara started to seem less mature while pleading to stay by Reno's side.
I don't plan to read any other stories in the series but that goes back to my general MC dislike but some of the characters from the prior series were kind of interesting and if MC stories are on your list of favorites, you might want to look at Nicole James's Evil Dead MC series.
Related Posts