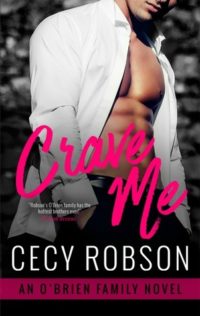 Crave Me (O'Brien Family #3)
by
Cecy Robson

Series:
O'Brien Family #3
Published by
Self-Published
on February 28th 2017
Genres:
Contemporary
Pages:
278
Format:
eBook



This post contains affiliate links you can use to purchase the book. If you buy the book using that link, I will receive a small commission from the sale.
RT Book Reviews proclaims that the O'Brien Family series from award-winning author Cecy Robson "has the hottest brothers ever!" And in Crave Me, it's time for the sole sister in the family to discover love.

Wren O'Brien isn't your typical female. As the only girl from a loud Irish family with seven siblings, she prefers fast cars to lip gloss and bad boys to good men. It's the reason she's nursing a wounded soul and keeping her distance from a dangerous ex.

Evan Jonah is running an empire and just moved from the lavish thoroughfares of London to the gritty streets of Philadelphia. When he walks into the nearest dealership, he's expecting to find a reliable vehicle to handle the brutal winters, not a sexy female car rep with killer legs.

Wren doesn't know why "Hotness in a Suit" asked her out. She doesn't expect a great time or a night of passion that knocks her on her ass. But that's exactly what Evan shows her.

She also never counted on how hard and fast she'd fall. But men like Evan—good men with even better hearts—don't desire tough-talking Philly girls for long.

Evan has never met a woman like Wren. But he's up for the challenge and ready to prove her wrong.
---





I am craving more myself. I am putting Wren and Evan on my short list of favorite couples. I absolutely loved this story!
I mean it. I absolutely love this story and I want to read it again. Cecy Robson always makes me cry, but this time it was in a good way. Wren and Evan are so opposite they are perfect together. Wren is the only girl in a family of seven children. Wren is larger than life. She is someone who always stands out in a crowd especially considering all her big, strapping brothers, and as she says "I came out of the womb mouthing off."
Evan is a more reserved personality. I think everyone is compared to Wren. He is just an all around sweet guy. He is trying to save the U.S. division of his tech company which had been mismanaged and rather than just closing it up and firing all those workers, he risks the entire company's future on saving it and the people who work for him.
Evan stops at the dealership where Wren works to buy a car that will be better in the snow and sees Wren. From that moment he is hooked. "I didn't believe in love at first sight until I saw you." But this isn't an insta-love story. While Evan and Wren have an insta-attraction, Wren ends up working for Evan and helping him to save his company. They agree while they are working together that they shouldn't be sleeping together but in working together, they get to spend more time with each other than the dedicated CEO would have been able to give Wren otherwise. It also kept them in close quarters and allowed them to get to know each other much better. It is months of this close working relationship and spending day after day with each other that allows them to really get to know each other before they begin to add sex back into the mix.
I just loved watching these two building on their connection while working hard to save Evan's company. They shared the ups and downs of that together.
It was only the raging asshat of an ex-boyfriend and several of overprotective big brothers that were gumming up the romance. "Aw, come on. You and the others kept the key to my chastity belt too damn long. I would think you'd be happy Evan bit that lock free with his teeth."
Crave me is such a good romance and no one earned their HEA more than Wren and Evan. Even though this is the third story of the series, you can feel free to jump right in. I think you need to stop reading this review and download a copy. Or maybe even look over LTC's article on chastity belts and penis cages, as well as information for keyholders.
---
Favorite Scene:
Too many great scenes. Must pick just one. Most of my copy is highlighted.
I prove to Wren how much I wanted to know her over a five course meal I never wanted to end. I can't remember the last time I spoke at length to a woman I barely knew. But everything she had to say made me crave more.
I roll to a stop in front of her garage, barely managing to park with how hard I'm laughing as she shares another story from her childhood.
She slaps at my arm as I set my Explorer in park. "I'm serious," she says. "I'm like fifteen, Finn's thirteen, and the rest of my brothers are practically grown-ass adults. But holy shit, my mother and Grammie–God rest her soul–walk into the house, see half the neighborhood kids in the living room, and Angus lifting Seamus up for a keg stand, and it's like the world stops spinning and we know we're all fucked."
I cup my hand over my face, barely able to catch my breath. "Evan, my mother is five feet nothing and Grammie's osteoporosis had kicked in so bad by then, we could have legally registered her as a midget in thirty-two states. But they might as well have been mutant lumberjacks swinging axes by the way everyone was jumping out the windows, trying to get away. 'You're supposed to be in Florida,' Finn says like a dumbass, half a second before my mother grabs him by the throat."
"And what were you doing?" I manage, my hand falling away.
"What do you mean what was I doing? I was running for my life like everyone else!" She grips my arm. "Picture this, hordes–I'm talking hordes of teens racing down the street like some kind of freak evacuation. I was knocking people out of the way, speeding ahead, and Grammie still caught me–by the hair!"
The visual alone is enough to make me laugh uncontrollably.
"That tiny woman snatched me off the street, two blocks away, and dragged me back home, yelling that I was going to hell and begging the God Almighty not to strike me dead and take her with me." She holds out her arms and throws her head back, her voice morphing to that of an elderly woman with a thick Irish accent. "It's not me time, God. It's not me time, Jesus. Oh, sacred Mother, keep me from killin' this child."
I fall forward, holding onto the dash for the support.
"Just so you know, her prayers weren't answered," she says. "She still knocked me on my ass, and I spent the rest of the summer teaching the Sacraments to kids who looked like rejects from The Grudge." She made a face. "But it was either that or be sent straight to a convent, so I went with the creepy kids and prayed I wouldn't find one lurking under my bed. God, I think at least two of them grew up and joined the circus or some shit."
I'm no longer laughing. You need air to laugh and I ran out long before this. "You think it's funny," she says, wagging her finger at me. "But you've never had your ass kicked by an old women with ninja-like reflexes capable of wielding Catholic guilt like a light saber."
Related Posts