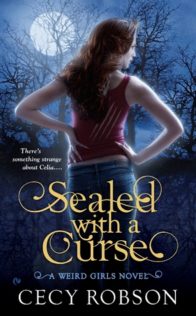 Sealed with a Curse (Weird Girls, #1)
by
Cecy Robson

Series:
Weird Girls #1
Published by
Signet Eclipse
on December 31st 2012
Genres:
Paranormal/Urban Fantasy
Pages:
360
Format:
eBook



I received this book for free from in exchange for an honest review. This does not affect my opinion of the book or the content of my review.
This post contains affiliate links you can use to purchase the book. If you buy the book using that link, I will receive a small commission from the sale.
---
Celia Wird and her three sisters are just like other 20-something girls—with one tiny exception: they're products of a backfired curse that has given each of them unique powers that make them, well, weird…

The Wird sisters are content to avoid the local vampires, werebeasts, and witches of the Lake Tahoe region—until one of them blows up a vampire in self-defense. Everyone knows vampires aren't aggressive, and killing one is punishable by death. But soon more bloodlust-fueled attacks occur, and the community wonders: are the vampires of Tahoe cursed with a plague?

Celia reluctantly agrees to help Misha, the handsome leader of an infected vampire family. But Aric, the head of the werewolf pack determined to destroy Misha's family to keep the region safe, warns Celia to stay out of the fight. Caught between two hot alphas, Celia must find a way to please everyone, save everyone, and oh yeah, not lose her heart to the wrong guy—or die a miserable death. Because now that the evil behind the plague knows who Celia is, it's coming for her and her sisters. This Wird girl has never had it so tough.
---
Cecy Robson's debute novel, Sealed with a Curse, focuses on Celia Wird and her sisters, brutally nicknamed "the weird sisters" since school. The sisters were just plain old humans who were cursed at birth. But that curse became a gift…sort of. Celia can shift into a tiger. Just don't get her too close to any other animal spirit, or she can end up shifting against her will. No new puppies for these sisters. Taran is the supersexy/badass sister who can harnesses the power of fire. Shayna can turn any metal into a blade and any wood into a weapon. ("Luke Skywalker could suck it. He had nothing on Shayna.") Little sister, Emme, has the ability to heal her sisters. She can also use The Force…I mean, she can move things with her mind. Together these sisters are formidable, but they have been trying all their lives to stay under the supernatural radar, not wanting their odd presence known to be the weres, vampires and witches that live nearby.
That was going well for them until Taran had a date gone bad with a vampire and it took all four sisters to bring him down. They were then "requested" to show up to Vampire Court to be held accountable for their actions. When it was determined that the vampire was acting under bloodlust, they were excused with the Court's apologize, but now it is too late. Nowadays they have supernatural stalkers hiding in their bushes trying to get a look at the weird sisters of Tahoe.
Now the very elegant, powerful and very rich Master Vampire, Sir Misha Aleksandr is fascinated by the lovely and spirited Celia and he wants her help to find out who is attacking his family. Of course, he would also do anything to get Celia into his bed.
While helping Misha hunt down infected vampires might not be every girl's dream date, it does bring Celia face to face with the gorgeous, sex-on-a-stick Alpha werewolf, Aric Connor. Aric and his pack of werewolves believe themselves to be guardians of the earth and it is their duty to protect the humans from the bloodlusted vampires, not Celia's. So Aric will do anything to keep Celia safe…and out of Misha's bed.
Although Celia attempts to get these two powerful, supernatural alpha males to work together to protect the poor, unsuspecting humans who are being treated like blood-filled tic-tacs by the infected vampires, it seems Misha and Aric are more concerned about who gets to play patty cake with Celia.
With vampires and werewolves drawing battle lines in the sand, it is up to Celia and her sisters to find out who is behind the bloodlust, keep the locals safe…and to keep that wereraccooon out of their garbage. Dude, put on some pants!
THOUGHTS:
This was an incredibly entertaining story. It had a great blend of humor, action and romance. It was written in a first person perspective, told by Celia, who is funny and quirky and it is delightful to be in her head. You can see why all the delicious supernatural hotties want a bite out of the charming Celia. This 20-something is not as popular with the boys as her sisters, due to her inner-tiger scaring them away, so she is uncomfortable with all the attention she is receiving, but not to the point it is awkward. She's more baffled.
There is a prequel that I have to pick up which I am sure focuses on all the sisters.
I don't know yet if this is a series or a trilogy, but it seems Book #2 (which comes out July 2nd) is also told by Celia. I can't wait to see where that goes.
Although I don't believe this is marketed at a young adult book, I will note that there are no sex scenes and only a few subtle sexual references such as "making my girly parts tingle". It was delightful and entertaining without the full sexual assault that some books have. Maybe you could share this with your older teens (parent's discretion).
Definitely pick this up if you like your paranormal with a twist of fun.
Received an ARC from the publisher. Thank you.
---
Favorite Scene:
This is one of those stories with a little of great little scenes all throughout the book, so trying to pick one favorite was really hard.
"Have you done this before?"
Aric nodded. "Fairly frequently. Our young wolves like to roughhouse. Learning to realign bones prevents them from mending incorrectly, since our healing ability is so fast." He shrugged. "Otherwise we'd have to re-break their bones every time they got hurt."
I didn't know Aric. Not really. But for some odd reason, I trusted him. "Okay. Whenever you're ready."
And that's when Aric took of his shirt.
The soft fabric skimmed over perfectly golden skin and rock-hard abdominals tight enough to launch a brick into orbit. A whisper of hair traveled the length of his belly button to where his jeans hung low on his hips.
Holy…
Aric stopped removing his shirt when he pulled it just above his small, erect nipples. This wasn't real. This was some kind of Hollywood hottie video shoot on TV and all I wanted to do was hit pause.
"What's wrong, Celia?"
I whipped around to face Mrs. Mancuso's house, mortified to be actually gawking and possibly drooling.
I focused hard on Mancuso's lawn jockey. It was forty freaking degrees and the breeze from the lake had picked up. I should have been cold, but Aric and his eight-pack warmed my core just fine and dandy. "Wha—what are you doing?" I managed to stammer, whereas my tigress insisted I should shut the hell up, turn back around, and enjoy the show.
Aric edged his way around to face me, removing and twisting his shirt around his neck with each step before fully slipping it on backwards to the clean side. "I have to hold you against me in order to adjust your shoulder. There's blood all over the front of my shirt. I didn't want to get any on you." He explained.
"Thanks," I said a little too high-pitched for my normally husky voice. "I appreciate that."
Aric quirked a brow, but when he inhaled my scent his eyes widened with surprise. He was silent for several seconds before gesturing to my arm. "Are you sure you want me to do this?"
There were many, many things I wanted Aric to do, and none of them pertained to my busted shoulder. Yowza. I needed to take a cold shower, and possibly invest in electronic devices.
"Celia?"
Right. I focused on the pain and hoped I wouldn't go down like a wimp. I nodded and closed my eyes. "Go ahead."
Aric's strong arms wrapped me in a bear hug, his contact hard and gentle all at once. For the second time that night, his body heat encased me. My face fell against his muscular chest. My God, the aromatic blend of his scent mixed with musk from battle drove my tigress insane. Don't purr. Don't purr. Oh, Jesus, please don't let me purr.
Aric's voice tightened. "Your heart's racing…"
"S'okay."
Related Posts