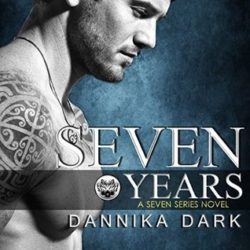 Seven Years (Seven, #1)
by
Dannika Dark

Series:
Seven #1
Published by
Tantor Audio
on November 11th 2014
Genres:
Paranormal/Urban Fantasy
Format:
Audiobook
Narrator:
Nicole Poole



This post contains affiliate links you can use to purchase the book. If you buy the book using that link, I will receive a small commission from the sale.
It's been seven years since Lexi Knight lost her brother in a tragic accident. On the anniversary of his death, her brother's best friend shows up unexpectedly - a man she hasn't seen since the funeral. He is no longer the boy Lexi once knew, but a dangerous-looking man with tattoos and dark secrets. He broke her trust and abandoned her family, yet what he reveals makes it impossible to stay angry.

Lexi has been secretly infatuated with Austin since childhood, so finding out he's a Shifter just makes him sexier. Dammit. Austin Cole has returned to the city where he grew up, and just in time. He's lived a hard life these past seven years, and the shadows of his past are threatening to destroy Lexi's family. It's time that she learned the truth about her brother, but there is a shocking twist that Austin never saw coming. Now he must protect her family when her mother and sister wind up in mortal danger. Will Lexi learn to accept the truth about who he is, and can Austin salvage a relationship from the ruins of their past?
---




I just couldn't take the heroine's stupidity and her constant need to be rescued.
Dannika Dark was on my list of authors that I wanted to try.  Last month Audible had one of their sales on the First of Series books and I saw this one and decided to give it a try.
The story begins seven years to the day that Lexi Knight lost her older brother in a motorcycle accident.  It is never a good time of year for Lexi and her usual depression over the event is even stronger this years when she see Austin Cole back in Town.  Austin left almost immediately after her brother's funeral.  Austin and Wes were so close, and Austin was like a member of her family, Lexi lost two of the most important people at the same time.   When she finally forces Austin to confess why he abandoned them after the funeral and where he has been for the last seven years, he confesses that Wes's death wasn't an accident.  He was looking for trouble where he shouldn't and was murdered, and Austin left to take care of the man who killed him.   He also confessed that he was a shifter, and while Lexi doesn't believe him, she does listen.  The whole thing was introduced in almost a "yada, yada, yada, breeze over the facts" way.  Since this was the first of the series, we might have wanted to outline the shifter basics in this first book but whatever.
This story should have been right up my alley, except I was not excited about the writing and I was quite disgusted with the heroine's constant need to be rescued from attacks and sexual assaults (plural!) which mostly were situations that she put herself in.
I got halfway through Chapter 8 before I just couldn't take it anymore and clicked it off in the middle of another scene where she almost gets date raped by her ex-boyfriend, but we will get back to that.
I don't know if it was just the narrator but Lexi is a  bit of a sad-sack.  Yes, it was the anniversary of her brother's death and she is very depressed.  She drinks a lot.  She has also been working at the same candy store since high school and doesn't seem to have any kind of ambition.   Her next door neighbor and only friend is a stripper.  So is she was well paid candy girl or is her friend a shitty stripper because their downstairs neighbors are a couple of drugged up college kids, so this isn't the best apartment building in town that she is living in.
In the first eight chapters, she is almost assaulted by her ex-high school boyfriend, who she lost her virginity to, and then broke up with him.  He just happens to be back in town and when she won't come with him to hang with him and his friends, he walks her to her car and then lifts up her skirt and starts rubbing himself up on her.  She is rescued by a sudden appearance of Austin.
Lexi recently broke up with her most recent boyfriend after she caught him boinking the town bimbo in Lexi's Toyota.  He didn't even have the courtesy to stop said boinking when caught "because a guy can't stop when he's that far into it."  It took catching him having sex in her car for her to realize what a prize this jerk was?  We start the story where Becket  is blocking Lexis's path and telling her that they need to talk.  He's that guy the one that definitely doesn't hear anything he doesn't want to.  Lexi keeps telling him they are through and he keeps coming back and saying that they need to talk.  He screwed up and they need to get past it.  She then takes out her little sister out for pizza and is cornered once again by the ex-boyfriend who "needs to talk" and she is all but screaming in the restaurant for him to get away after he grabs her.  When she returns to the main room, her little sister is gone and after a frantic search, she finds her outside with Becket walking down the street.  Lexi thinks that he was luring her away but Lexi doesn't do anything about it.
Lexi then gets stuck up a tree running from a giant dog (wolf?) and has to call Austin to rescue her.
She is trying to sell her car and she takes it to meet some guy who calls in a run down mall parking lot (by the dumpster) and he is trying to get to her to go to dinner with him and will pay twice the value of the car if she will.   She does manage to get out of there without assault but still gives him her phone number (home number since she is the last human without a cell phone) even though she has a bad feeling about him, but suddenly he has a nice smile.  I started thinking he might be a vampire and was glamouring her but it was the middle of the afternoon.
Lexi does get a "bad feeling" about all the situations that she keeps putting herself in, but she is very good at ignoring that primal instinct that most people use to protect themselves.  Such as when her neighbor called the cops on the downstairs neighbor's too loud music and a man in a T-shirt and jeans shows up and flashes a badge-like object and even though she didn't complain and didn't want to get involved, she gives this "cop" her name, phone number and tells him yes, she lives alone,  all the while not feeling comfortable with talking to this man.
So the final straw for me was when Lexi is home sick with the flu, since she works in a candy store which is always filled with germy kids.  Her stalker ex-boyfriend comes knocking on her door to once again talk about why she should take him back and to give her the title to the car since he knows she is trying to sell it.  Lexi is sick and lying around the house in her tiny tank top and underwear yet even after he has constantly grabs at her and won't take no for an answer, she lets her stalker boyfriend in without stopping for a moment to throw on some shorts or sweatpants, etc.  So after a brief moment of "Lexi, you look like shit."  He starts groping her up and rubbing up on her and declaring how he misses her.   She is just starting to remember in her fevered haze that she doesn't want Becket to touch her when lo and behold Austin shows up at her door to once again save her from a sexual assault.
I only know about Austin showing up because I went just a little bit farther so I can write this review.  As soon as stalker boyfriend started groping her on my drive home, I reached over and shut off the story and listened the evening commuter traffic rather than listen to any more of that shit.
Austin was giving off the obsessive shifter vibe with Lexi.  I don't know if he was just in love with her since they were young and she was "too young" before he left town or was she a fated mate, but since he got back in town, Austin just kept showing up at all Lexi's sexual assaults but then again, they seem to be a daily event for Lexi.
There were a lot of odd acting people in the story from the cop at the door, who or what was the wolf-dog that treed Lexi, the odd co-worker, the guy in the parking lot and the stripper-friend.  I would have be interested to see who was hiding what secrets and who was friend or foe, but nope, I just can't listen to Lexi being stupid anymore.
This is one of the few times I actually asked for a refund from audible.
Related Posts