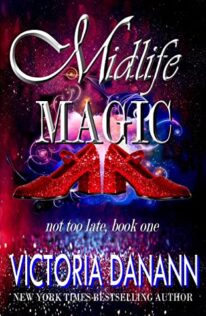 Midlife Magic (Not Too Late #1)
by
Victoria Danann

Published by
Andromeda LLC
on December 23, 2020
Genres:
Paranormal/Urban Fantasy
Format:
Audiobook
Narrator:
Michella Moss
Length:
9 hrs 16 min
Source:
Amazon


This post contains affiliate links you can use to purchase the book. If you buy the book using that link, I will receive a small commission from the sale.
Listening length: 9 hours, 16 minutes
FOR ALL THE EVERYDAY HEROINES OVER FORTY WHO KNOW IT'S NOT TOO LATE FOR MAGIC!
If you can imagine yourself as a romantic and adventurous woman in midlife, who's come into her power and ready to claim a slice for herself, this Paranormal Women's Fiction book is for you.
The day after my forty-third birthday, my husband announced he was trading me in. His words, not mine. The news was unwelcome at the time, but honestly? I needed a good goosing to get up and find my way to the door.
So. I was freed from the manual of expectations authored by my ex that had, over the years, grown into an encyclopedia of what a wife "should" be and do. The freedom was the good news. The flip side was less happy. Due to living in a state not friendly to discarded wives, I was also relieved of the financial 'security' I'd spent a lifetime accruing.
Starting over? I didn't plan on it. Didn't see it coming. But pulling a sheet over my head and waiting for the end didn't seem like my style. Granted. I wasn't sure what my style was because I hadn't thought about freedom of expression since I was twenty.
I'd never been a fan of optimistic adages like 'it's not too late', but that was before my life was divided into two parts; everything that came before the mysterious package and everything after. Fate shot me with a lightning bolt of attitude adjustment and thrust me head first into an adventure that was unforeseeable to say the least. If you'd told me what my life was going to be like, I would have used every synonym for crazy you've ever heard.
I 'inherited' a curious antique store in a tiny, picturesque English village where the world of fae magic lives side by side with the mundane. But that's far from all. Eight times a year, I receive magical dignitaries and magical lowborn alike and mediate their disputes; some comical, some deadly serious.
It may be too late for super shiny hair, going without a bra, or sleeping eight hours without a potty break. But it seems that it's not too late for navigating magical politics, expatriating, romance, and saving the world.
---
A fun and unique take on the paranormal world.
At forty years old, Rita Hayworth, yes her grandmother was a huge fan, was having a life crisis. Her husband declared he was trading her in for two 22 year olds. And just when life hands you lemons as they say…Rita receives a letter that would change her life. Rita was asked to come see her English solicitor who would explain to Rita about her inheritance. Rita didn't know anyone who would leave her anything but a first class ticket to England was better than moping around.
With a what-the-hell attitude, Rita arrives in England and is given a beautiful self-driving and almost sentient Alfa Romeo to take her to the quaint little village of Hallow Hill, which is way, way…way off the beaten path.
She is dropped off at a little antique shop, The Hallows, which she is told she now owns along with a little apartment attached and her own housekeeper/cook.   Rita can't believe her luck—no, really she doesn't believe this is really happening. Yet, it gets even better.
Once Rita meets with the solicitor, she is told an extraordinary story that fae creatures and magickind live secretly among humans and while the fae live peacefully among humans, the magical beings have issues living amongst each other. This has lead to the establishment of a court system which is headed by a magistrate, someone impartial who sits for their lifetime as judge and to be truly fair, that judge is always human. Rita is told that the powers that be have chosen her to be the new magistrate.
Not only is the job a great honor but comes with perks like  the antique store, her fancy new car and a rather large bank account. Also being magistrate and living among magic folks will also give her a longer life and greater health benefits.   Rita is awed by the offer but isn't certain she is the right person for the job no matter what the powers that be believe. Rita needs some time to think it over but it isn't just the assets or the magic that is swaying Rita's decision, it is the quaint village and the people in it who are quickly winning her heart.
This story is broken into different books but appears to have one overall arc. The first book mostly introduces us to Rita and the little village of Hallow Hill as well as all the major secondary characters while we wait for Rita to decide whether or not to accept the position.  Not to ruin it, but of course Rita eventually accepts the job or else there is no story and the second book is  very short and takes us to Rita's first trials.  This series is broken into five stories (so far) and feels more like one continuing story.  You wouldn't want to just pick up book 3 and start reading and more than you would pick up a novel and start at page 200.
Usually I get annoyed with a character whose life is in the toilet and who hesitates at a chance to start anew, especially somewhere interesting where they are quickly accepted by the locals and where money would not be a concern.  Really?  Why not give it a chance?   But this time, I was behind Rita's hesitation.  Learning about magical beings is cool, but being told you will be their new magistrate and deciding all issue between individuals and even the different fae realms could be daunting for someone who doesn't feel qualified to act as a judge and really knows nothing about the different groups of magickind or what type of issues would be presented to her for judgment.   Accepting a lifetime appointment that you aren't sure you are qualified for would be daunting but by her 100th "if I stay…" it was getting annoying.
I absolutely loved the characters here.  Our main character, Rita, is intelligent, honest and down-to-earth and as she begins her stint as Judge, we see more and more of this level-headed thinking which creates a tizzy in the fae world.  We also have Keir, the sephalian created to be the protector of the magistrate, and the hottie, love interest for Rita. Lochlan the fae court clerk and Rita's go-to person for all things fae related.  Mysterious Esmerelda who weaves beautiful materials as well as doling out words of wisdom.  Sweet Maggie who runs the antique shop.  John David, a vampire who the town kept at arm's length until Rita steps in and includes him in her epic daily lunch invites.  So many interesting characters.
With so much to focus on and the use of court cases to make interesting points such as how one fae race sees another as less and how they treat each other.   There is so much possibility for storylines.  In fact, all of these court cases are the focus and I think the antique shop is underutilized.  The items for sale mysteriously show up and some of urbane and some are mystical.  This could give us additional interesting plot issues or side stories but I don't think we spend enough time in the shop.
I audiobooked this series and the narrator does a great job distinguishing the characters, especially considering we have all these secondary characters and then new characters showing up for court appearances.
Related Posts