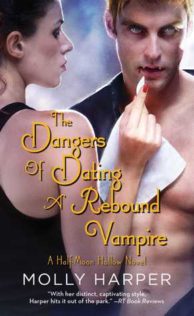 The Dangers of Dating a Rebound Vampire (Half-Moon Hollow, #3)
by
Molly Harper

Series:
Half-Moon Hollow #3
Published by
Pocket Books
on March 24th 2015
Genres:
Paranormal/Urban Fantasy
Pages:
339
Format:
Audiobook
Narrator:
Amanda Ronconi
Length:
9 hrs 13 min



This post contains affiliate links you can use to purchase the book. If you buy the book using that link, I will receive a small commission from the sale.
---
[box style="rounded" border="full"]I just love Molly Harper and her backwoods town of Half Moon Hollow. I was a bit annoyed to be left hanging after the novella I'm Dreaming of an Undead Christmas which was released in December of 2013 and left us hanging in the middle of Iris's baby sister, Gigi Scanlon's story. Although you could follow along without reading the novella first, I would definitely recommend starting with Undead Christmas or you'll miss all the stalking vampire parts. [/box]
Gigi's story began with the novella, I'm Dreaming of an Undead Christmas. I remember being quite ticked off when it ended abruptly. I was unaware when I started it that it was an incomplete story but now that Rebound Vampire is out, grab a copy of both so it flows better. In the novella, Gigi was applying for a summer job with the Vampire Council and she was being stalked by a ghost? a vampire? we weren't sure because he moved so fast Gigi never got a clear glance at him. We were left wondering if someone sent him after Gigi? Why was he hiding from her, yet stalking her? Is he shy or does he mean her harm?
We pick up as Gigi gets ready to start her summer job at the Vampire Council office. She is part of a team that is going to program a database where vampires can search their descendants, like an anti-ancestry.com. Her team consists of three other tech-geeks, including a nerd named Marty who quickly crushes on Gigi. This makes it harder on Gigi when her team names her Team Leader, leaving it her job to go to Ophelia and tell her Marty doesn't seem to know anything about programming.
Ophelia has never been much of a friendly, works-with-you kind of boss, but she especially has it in for Gigi. Gigi has helped her best friend, Jamie, work through the complex vampire-friendly college application progress to get enrolled into the same college that Gigi attends. As Jamie's blood mate, Ophelia isn't happy with either Jamie and Gigi's friendship or Gigi's attempts to "steal" Jamie away. So Ophelia is happy to leave Gigi saddled with a co-worker that will hinder her work with the Council.
Meanwhile, Gigi gets kissed/attacked in the Council's parking lot by the same vampire she's been fantasizing about for the last few months. It is only her brother-in-law Cal's obsession with safety that saves Gigi from being a vampire snack. When she gets home and tells her family what happened, Cal decides he is going to have one of his old friends look into the situation for them. Nick walks into the house to find — surprise, surprise — that it's Cal's friend, Nick, who is the stalker/attacker but he doesn't remember ever meeting or stalking or kissing Gigi. Gigi's not sure if she is more confused or just angry that Nick doesn't remember her at all. Especially since she's been daydreaming about his kiss since Christmas.
Since Nick is the mysterious attacker and has been stalking Gigi since the Fall, and doesn't remember any of it, Iris and Cal want Gigi and Nick to stay away from each other until they have more answers. So being smart adults, they meet secretly and simply hope that Nick doesn't try to attack Gigi again.
Gigi's work at the Council office points out a prior case where a witch bespells a vampire to go on a killing spree. With the help of relocated Irish witch Nola, Gigi goes on a Witch Hunt at the Council's office to try and figure out who and why someone might have a grudge against Nick enough to turn him into a psychotic killer.
THOUGHTS:
I love Molly Harper's series. She brings fun to her paranormal worlds and makes vampires even more entertaining. This was as enjoyable as the rest in the series and brought an intriguing question of what was going on with Nick and who was responsible.
I was left with at least one question that I don't believe was completely answered and one item which I think will bring a (small) change to the series that I am not entirely happy about. We'll see what the next book brings and whether we'll get more satisfactory answers in the future.
I have listened to all of Molly Harper's novels on audiobook, and even if I had read this story, I would still hear all the characters in Amanda Ronconi's voices. She was a wonderful job giving each character it's own personality.
---
Favorite Scene:
We wandered closer to the edge of the woods, ducking into the trees. I stopped just a few feet in. Far enough that Iris wouldn't be able to see us if she glanced out the window, but not so far that I couldn't see the lights of the house. That counted as some semblance of common sense, right?
Nick cleared his throat, leaning back against a tree. Despite my desire to look just as casual, I did not want to risk bark scrapes or getting my hair caught in low hanging branches.
Nick tilted his head studying me. "If I recall, the last time we were together you were interrupted before you could ask me anything."
"I suppose my first question would have to be, are you an evil vampire hellbent on my death and/or destruction?" I retorted with more snark than I probably deserved to use.
"I am not evil. That I am aware of," he said evenly, though he sounded as if he were about to laugh. "And I do not think I am hellbent on your destruction. Though my actions apparently lead you to believe otherwise."
"Which I suppose is your way of saying that you don't why you're going into anti-Gigi fugue states." I muttered.
"I really have no idea, but for now can we pretend that we are two normal people on a normal outing in which we are exchanging the background information one would expect to learn when one of them is not blacking out large portions of his history?"
"You mean the kind of conversation that usually takes place before getting to second base with somebody?"
He leaned forward, trapping me against the trunk of a large oak tree by placing a hand on either side of my head.
"I am not familiar with the base system. But I am fairly certain we did not get to any of the interesting ones. As a man, I insist that I would remember touching a body like yours. The sense memory alone would be enough to carry through to my conscious memory."
He flashed that megawatt grin at me and my lady bits did a little happy dance. It just wasn't fair. The man should come with a warning label — Caution: May Cause Panties to Spontaneously Combust.
Okay, Scanlon, you are a grown, modern woman with plenty of practice controlling your hormones. This is no different from any date with any attractive man. You just have to set boundaries and keep the blood directed above your waist. You'll be fine. Now, keep him at a distance so you can concentrate on producing words of more than one syllable.
I reached up to toy with the collar of his shirt. "Well, I'm combining the lovely languid kisses with the aggressive biting attempts which rounds up to second." Traitorous lady bits! Clearly the parts of my brain not controlled by pheromones had lost the fight. They were probably tied up and shoved into a storage space somewhere in my ocular motor section, the part of my brain which controls the eyelash fluttering and giving Nick the come closer looks. Stupid trampy brain parts.
Related Posts