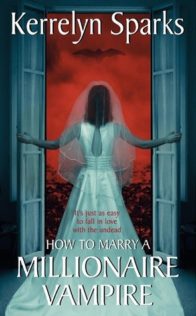 How to Marry a Millionaire Vampire (Love at Stake, #1)
by
Kerrelyn Sparks

Series:
Love at Stake #1
Published by
Avon
on July 26th 2005
Genres:
Paranormal/Urban Fantasy
Pages:
371
Format:
Paperback



I received this book for free from in exchange for an honest review. This does not affect my opinion of the book or the content of my review.
This post contains affiliate links you can use to purchase the book. If you buy the book using that link, I will receive a small commission from the sale.
---
So what if he's a bit older and usually regards a human female as dinner, not a dinner date? Yes, Roman Draganesti is a vampire, but a vampire who lost one of his fangs sinking his teeth into something he shouldn't have. Now he has one night to find a dentist before his natural healing abilities close the wound, leaving him a lop–sided eater for all eternity.

Things aren't going well for Shanna Whelan either…After witnessing a gruesome murder by the Russian mafia, she's next on their hit list. And her career as a dentist appears to be on a downward spiral because she's afraid of blood. When Roman rescues her from an assassination attempt, she wonders if she's found the one man who can keep her alive. Though the attraction between them is immediate and hot, can Shanna conquer her fear of blood to fix Roman's fang? And if she does, what will prevent Roman from using his fangs on her…
---
One of my favorite stories!
Roman Draganesti is a brilliant scientist and the inventor of synthetic blood. He is also a vampire and the inventor of Fusion Cuisine, flavored blood for vampires. When he loses a fang testing a Vampire Artificial Nutrition Needs Appliance (i.e. sex doll with an artificial pulse, in the hopes of making realistic sex dolls for his vampire brethren), he has until morning to find a dentist and have it fixed. The machine itself can't help but remind the reader of the reason why sex dolls were created to begin with (Hitler's kinky solution covered by Lovegasm.co if you're interested in reading more), but the story uses it more as a plot point truthfully.
Shanna Whelan is a dentist but there's no way she's putting an "animal" tooth in Roman's lovely smile. Shanna is also in hiding from the Russian Mafia. Now the Russians have sent in a vampire assassin to find her and eliminate her and the only one who can protect her is another vampire.
I know what you are thinking. A story about a vampire and a dentist!! Really?? I said the same thing, but I kept coming back to it and wondering how a story like that was going to play out. I'm so glad I finally gave in and picked up a copy. This is one of the series which I enjoy the most. This book, in particular, is still on the top of my favorite all time stories. Kerrelyn Sparks writes her stories with such witty and sexy banter between her characters. I can't help but laugh throughout this series.
I just so enjoy Roman and Shanna and I am especially happy that they show up frequently throughout the series. Roman is the owner of Romatech, the laboratory that produces the synthetic blood, and employs most of the other characters that we meet throughout the series. He is also the Coven Master of theEastern United States.
My one pet peeve, which was corrected with the next story, Vamps and the City, was the "harem" which Roman keeps as Coven Master. All these women are sitting around wearing the clothing of the time period which was in fashion when they were changed into vampires. Like there is any way a vampire could blend in and survive in the ever changing society when still walking around dressed like Scarlett O'Hara. Thankfully, they were modernized in the next story to blend in with society at large. So don't let that distract you from the overall story.
Oh — since I work in White Plains, NY, I am narrowing down the secret location of Romatech Laboratories, and will let you know when I find it.
We talked with Kerrelyn Sparks on 2/27/12 about her series.
---
Favorite Scene:
He would have to be very careful with his thoughts. Only think about safe subjects. No more thoughts about his mouth and which of her body parts would fit inside. No. None of that. He'd think about something completely different. Like her mouth and which of his body parts would fit inside. His groin stiffened. No! No sex. Not now. He needed his damned tooth fixed.
"Do you want me to implant your tooth now?" She tilted her head, frowning a bit. "Or shall we have oral sex?"
Roman stared at Shanna. Good God. Not only had she read him like a book, but she was apparently willing to have sex with him. Amazing.
Laszlo was gasping for air. "My God, how did she come up with such a-an outrageous-" He narrowed his eyes, switching his gaze to Roman. "Mr. Draganesti! How could you?"
How could he not, if Shanna was willing. Oral sex with a mortal? Interesting. Mortal sex in an examining chair. Very interesting.
"Sir!" Laslo's voice rose an octave. He twirled a button with his fingers. "There isn't enough time for-for two treatments. You have to decide between your-your tooth or your…" With a grimace, he glanced at Roman's swollen jeans.
My fang or my wang? The latter strained against his zipper, as if it wanted to leap out and shoot its mouth off. Pick me, pick me!
"Sir?" Lazlo's eyes were wide with panic.
"I'm thinking," Roman growled.
Related Posts