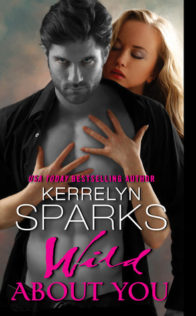 Wild About You (Love at Stake, #13)
by
Kerrelyn Sparks

Series:
Love at Stake #13
Published by
Avon
on November 27th 2012
Genres:
Paranormal/Urban Fantasy
Pages:
370
Format:
eBook



I received this book for free from in exchange for an honest review. This does not affect my opinion of the book or the content of my review.
This post contains affiliate links you can use to purchase the book. If you buy the book using that link, I will receive a small commission from the sale.
---
It's not every day that Elsa Bjornberg feels delicate, not when she hosts a home renovation show where she can effortlessly demolish a kitchen. But from the moment she meets Howard Barr, this bear of a man makes her feel like a woman. And the way he looks at her, as if she were a pot of honey he'd like to lick…

Howard is not like most men. For one thing, he's a shapeshifter. And he always thought his celebrity crush would never amount to anything more than drooling at Elsa on TV. When his meddling vampire employer gets involved, the star is suddenly within his grasp—and within a hair of her life. For an ancient curse forbids their newfound love, and Howard is suddenly torn between his desire for her and his desire to keep her alive.
---
In the Wanted: Undead or Alive, we last saw Howard chasing after werewolf packmaster of Alaska, Rhett Bleddyn, who disappeared with some vampire help. We find our why in Wild About You. Rhett Bleddyn like Howard is from Alaska. We learn right away that twenty years ago, on the night of the senior prom, Rhett was responsible for the death of Howard's first love and during the ensuing fight it was believed that Howard killed Rhett. Howard was then banished from Alaska. Now Howard knows that Rhett didn't die that night and Howard wants Rhett to pay for what he has done.
While Howard is away, Tino Draganesti lets out a secret to his mother which involves Howard's dream girl. After a little snooping, Shanna learns that Howard's dream girl is Elsa Bjornberg a/k/a Amazon Ellie from International Home Wreckers. Shanna has been unhappy about having to leave her White Plains home and move to the Dragon Nest Academy. So she decides to kill two birds with one stone and she invites Elsa and her team to renovate the carriage house on the grounds of the Academy.
When Howard returns from Alaska, he is not happy with Shanna's meddling, but he won't turn down the opportunity to get to know Elsa in person and see if she is the same person he has fallen for in his dreams.
Elsa has never felt dainty and feminine until she meets Hot, Hunky, Handsome Howard Barr. She realizes why Howard is so big when she sees him change into a grizzly bear. Howard will have his work cut out for him trying to convince Elsa that he is really a teddy bear at heart.
Elsa is very excited to work with Howard until she begins having dreams right after meeting Howard that are too like the stories that her aunts used to tell her about a family curse. What is worse is that soon Howard realizes that the curse sounds too much like the curse his grandfather tells stories about and both legends end the same—with the beast killing his lover.
Do they have to toss away the greatest love either has known? Neither want to believe that a curse can tear them apart, but should Elsa and Howard resist their feelings for Elsa's safety or fight together against the dangers facing them?
THOUGHTS:
Kerrelyn Sparks works her magic again. This time for sweet and cuddly Howard Barr. Howard has been around since the first books, always in the background, always as someone the group can depend on and we start to see Howard emerge from the background in Sexiest Vampire Alive when Howard goes with Gregori and Abby on their mission.
I would have liked to see a little more romance between Elsa and Howard since she did spend a lot of time being afraid of the family curse and coming to terms with Howard being a were-bear. This mixed in with the side story of Rhett Bleddyn and Elsa coming to terms with her family issues, we had a lot of ground to cover in the 236 pages we were given and the romance was only squeezed in between all the happenings.
Received an ARC from abovethetreeline.com courtesy of the publisher.
---
Favorite Scene:
"Please. I need more time."
"Elsa." He wrapped his arms around her and pulled her tight. "I'll give you all the time you need, but please don't spend it convincing yourself that I'm dangerous. Or that I'm going to hurt you. How could I hurt you when I'm falling for you?"
"Oh, Howard." She rested her head on his shoulder. "I do want to believe you, but this were-bear stuff is so…"
"Amazing?"
"Frightening." She leaned back to study his face. "What if you lose control?"
"I'm always in complete control. Of the bear, that is." He glanced won at his swollen groin. "Other parts seems to have a mind of their own."
She gave him a wry look. "Beast."
"Goldilocks." He kissed her brow. "Will you admit the truth?"
"What truth?"
He leaned close to whisper in her ear, "You liked my butt."
She swatted his shoulder. "Would you get over yourself?"
He chuckled. "I would actually prefer to talk about your naked body. If you could give me something to go on." His hand slid over the curve of her rump. "Oh, yeah, this is—"
"Will you stop?" She shoved him away with an exasperated look. "I'm still on shock, and you keep trying to feel me up?"
"Right." He nodded. "My apologies. He gave her a forlorn look. "I'm a bad little bear."
Her mouth twitched. "Can you ever be serious?"
"I'm serious about you." He smiled. "Seriously."
She gave him a bemused look. "And this is the personality of a grizzly?"
"Think of me as a big, cuddly, honey bear."
Related Posts