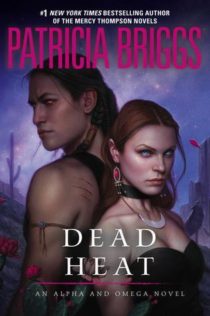 Dead Heat (Alpha & Omega #4)
by
Patricia Briggs

Series:
Alpha & Omega #4
Published by
Ace
on March 3rd 2015
Genres:
Paranormal/Urban Fantasy
Pages:
324
Format:
eBook



I received this book for free from in exchange for an honest review. This does not affect my opinion of the book or the content of my review.
This post contains affiliate links you can use to purchase the book. If you buy the book using that link, I will receive a small commission from the sale.
---
[box style="rounded" border="full"]Charles and Anna have been together three years and their relationship has grown and solidified.   In Dead Heat, they visit an old friend of Charles which will address the problems associated with being a supernatural and loving someone who is human.  Dead Heat will also bring about some changes to their relationship and I am looking forward to seeing how those will be addressed. [/box]
Charles and Anna have been married over three years. Their relationship has survived the initial trials of the werewolves coming out to the humans and their bond has grown stronger. Anna would like to move their relationship forward and have a child. Anna has joined Charles's brother, Samuel, in trying to work out a solution to the fact that werewolf females cannot carry babies to term, and whether modern medical science can offer a solution to this age old problem. Although Anna believes Charles would like a child, he has offered very strong objections to this idea. Anna needs to figure out the deep down reason Charles won't discuss children with her if she can ever think of convincing him.
To get Anna off this track, Charles wants to focus on her upcoming birthday. He knows just what he wants to get her and one of his oldest friends is just the man to see — especially since time is running out for Joseph.
Dead Heat addresses the problem of being a supernatural and making friends with humans. We have seen why characters like Bran have little association with humans and for good reasons. In prior stories, Patricia spotlights this with Carter Wallace, the local veterinarian who was friends with Bran and whose werewolf son convinced him to try to change when he was dying. When Carter couldn't control the wolf, it was Bran who was forced to kill him. Compared to the werewolves, fae and vampires, humans are so fragile and have such a short life span and to get attached to one just leads to heartbreak.  You can imagine after the first dozen friends you watched die of old age, you would give up on getting too attached to one.   We are the supernatural equivalent of a pet goldfish.  *flush*
Charles met one of his closest friends, Joseph, right after World War II.   There was a time when they were as close as brothers and before Anna, Joseph was the person Charles turned to for stability.  Now in his eighties, Joseph is dying. Charles hasn't been to visit his friend in twenty years. The reason being two-fold:  He realized twenty years ago that his friend was aging and it hurt knowing he would lose him, and also when you are over two hundred years old, the passing of twenty years isn't as significant as it is to someone who only has a few decades to live. In visiting these old friends, we, along with Anna, get to see Charles in a new light.
We again see the issue of age in human vs werewolf in Joseph vs his father.  Joseph's father is the local werewolf Alpha and of course, looks like he is in his twenties.   Hosteen does not want to lose his son, and wants Charles to force the change on Joseph. Changing someone without their consent is punishable by death, but even if it was not outlawed by the Marrok, this is not something that Charles would do to his friend.  Joseph accepts aging as part of his humanity and has no desire to become a wolf even knowing he is dying.
The story is full of discussions of life and death, and included with this is the loss of young life.  The fae are still segregating themselves from the humans and whether they are intending to wage a war with the human or are just pointing out that there are more dangerous of fae that they have control over, but someone has let one loose a dark fae known as the Doll Collector. This fae likes to take and keep human children and leaves a fetch in their place. Charles and Anna will once again work with FBI agent Leslie Fisher to track down the fae before he can take any more children.
This was a great story both in terms of investigating and finding the fae who was taking the children, but also in dealing with the problems of human vs supernatural. If human friends are presented in a series, it is usually in the here and now or discussion of those long dead.  Here we watch and discuss losing a decades old friend to the ravages of time.
THOUGHTS:
This was another great story. I really enjoy the world the Patricia Briggs created and when I finished this, I just wanted to start them all again, including the Mercy Thompson series. If I didn't have a list of review books and a blog to post for, I probably would be doing just that.
I have enjoyed getting to know Charles and Anna and seeing their relationship develop. Fair Game was released in 2012 and Dead Heat is 2015.  It is hard enough to wait a year for the next story in a series, and I hope that it will not be more than that to read the next chapter for Charles, Anna and the Montana pack.
Received an ARC from the publisher in exchange for an honest review.
---
Favorite Scene:
She opened her mouth to tell him about the things in the thick file Samuel had sent her, but she reconsidered. Maybe if she went at the problem from a different direction she'd get better results.
"Alternatively," she said, "because science is having trouble with magic, I thought maybe someone who dealt with magic would have some ideas. I called Moira–"
He turned back to her, and some chance of light brought out the bones of his face and outlined his shoulders. He was so beautiful to her. His Salish heritage gave him bronze skin and rich, almost-black hair and eyes. Hard work and running as a wolf gave him the muscles that defined the contours of his warm skin. But it was the core of integrity and…Charlesness that really made her heart beat faster, that swamped her with knee-weakening desire.
Not just lust–thought who wouldn't lust after Charles? She savored the whole of him, and thought again, Who wouldn't lust after Charles? But she was consumed with the desire to claim him, to wrap herself in his essence.
Charles allowed her to understand the line in the marriage vows about "these two shall become one." That sentence had annoyed her immensely when she was nine or ten. Why should she give up who she was for some dumb boy? She'd taken her objections to her father, who had finally said, "When and if 'some dumb boy' loses his mind and agrees to marry you, then doubtless he'll also be happy to take that phrase out."
Anna had taken out the "obey" part when they married. She didn't want to lie. Listen to, yes–obey, no. She'd had enough of obeying for ten lifetimes. She had, however, left in the part about "one flesh."
With Charles she didn't lost herself, she gained Charles. They were a united front against "the slings and arrows of outrageous fortune." He was her warm safe place in the storm of the world, and she…she thought that she was his home. She wanted his children.
"Absolutely not." he said, and for a moment she thought he was reading her mind because she had lost track of the conversation. But then he said, "No witchcraft."
She wasn't stupid. He was throwing out any obstacle he could find. She would back off except for the deep belief, born of the mating bond they shared, that he wanted a child even more than she did.
"Don't fret," she told him. "I won't do it the way your mother did." Unless there are no other options. "I actually thought that Moira might have some insights for Samuel. I thought it only fair to call and warn her that I've sent him after her…he sounded quite intense about the whole thing."
He raised his head like a panicked horse. "Ah. I misunderstood. Good."
Charles like children. She knew he liked children. Why did he panic over the thought of their child? She considered asking him. But she'd tried variants of that; he'd given her a series of answers that were true as far as they went. She was pretty sure that he didn't know the real answer. So it would be up to her to figure it out.
Once she figured it out she would be able to see if there was a way around it. The panic she could work around–and if he honestly didn't want children, well, she'd deal with that, too. But it was the sadness that lingered behind the panic, the sadness and longing her wolf knew was there, that made her dig in and fight. Anna style.
Related Posts