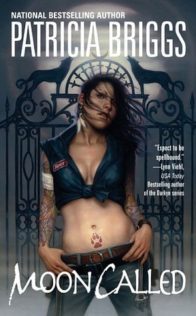 Moon Called (Mercy Thompson, #1)
by
Patricia Briggs

Series:
Mercy Thompson #1
Published by
Ace
on January 31st 2006
Genres:
Paranormal/Urban Fantasy
Pages:
288
Format:
eBook



This post contains affiliate links you can use to purchase the book. If you buy the book using that link, I will receive a small commission from the sale.
---
Mercedes "Mercy" Thompson is a talented Volkswagen mechanic living in the Tri-Cities area of Washington. She also happens to be a walker, a magical being with the power to shift into a coyote at will. Mercy's next-door neighbor is a werewolf. Her former boss is a gremlin. And she's fixing a bus for a vampire. This is the world of Mercy Thompson, one that looks a lot like ours but is populated by those things that go bump in the night. And Mercy's connection to those things is about to get her into some serious hot water.
---
Mercy is a "walker" who can turn into a coyote, but who was raised by werewolves, and not just any werewolf, by Bran, the Marrok (or leader of all the werewolves).
Mercy lives an ordinary life, well, sort of…she owns her own garage which she bought from a retiring Fae named Zee, and she is friends with a vampire named Stefan who has a VW bus painted to look like the Mystery Machine from Scooby Doo.
She also shares a property line with the local Alpha of the Columbia Basin pack named Adam Hauptman and his teenage daughter, Jesse.  Adam keeps a powerful Russian witch on retainer for hiding the werewolf's presence from the humans. Pretty much an average, ordinary life.
When a runaway teen shows up at her garage, she quickly smells that he is a werewolf and this young werewolf is not part of a pack. Mercy offers him a job so she can keep an eye out for him. When a werewolf and a human come looking for him, Mercy is forced to help him defend himself. After blood is shed, Mercy calls Adam in to take care of the young Wolf and introduce him to pack life.
But things aren't that simple. The people who are looking for Mac are daring, or just stupid enough to attack Adam in his home. Mercy helps Adam defeat the intruders, but not before Adam is seriously injured and his daughter, Jesse, is kidnapped. Mercy needs to find a more dominant werewolf fast because once Adam regains consciousness, his injured wolf will be uncontrollable until he is healed. The only ones Mercy knows that are strong enough to control a powerful Alpha like Adam is Bran and his sons.
Mercy might not be part of Adam's pack, but she is now embroiled in what might be a pack war. She has to find out who attacked Adam and who would have taken his daughter.
THOUGHTS:
I was recently offered a review copy of the upcoming Night Broken (which is Book #8 in this series) so I did a search of the Mercy Thompson series and it sounded right up my alley.  I decided to take some time to catch up and get to know some of the characters.
This is a much better Sookie Stackhouse type of story plot, meaning she is not part of any specific group, but she keeps getting dragged into pack or vampire business. In this series, Mercy is a preternatural creature since she is half human/half walker. She is immune to some magic and she can shape shift into the form of a coyote. She is not a part of Adam's pack (even though Adam told his pack Mercy was his) but she gets drawn into pack business when Adam is badly injured, and something makes her afraid to call in his pack for fear that there is a traitor in the pack. Who else would try to attack an Alpha in his own home?
She has several preternatural connections who she contacts to assist her in helping Adam heal as well as tracking down who would abduct his daughter.
I like that although Mercy is brave, she is not stupid. She doesn't just jump into a fight unprepared. For example, when Mac is tracked down by a werewolf and a human. Mercy knows she can't out power the werewolf and the human has a gun. She watches and observes and it isn't until Mac is being attacked that she jumps in, using the element of surprise and getting the werewolf to chase her while using her brains to outmaneuver his bulk.
This story wasn't non-stop action since it was the first in the series and involves a lot of introduction of characters, including explaining the dangers of the werewolves and the vampires in general, and how the Fae have been forced into the public eye and how the werewolves are considering joining them. We are also introducing the base characters of the story: including Mercy, Adam, Jesse, Zee, Stefan, Bran, Samuel, several members of Adam's pack as well as Bran's pack, and Mercy's relationship with each of these characters.
It was good storytelling and interesting world building and it held my interest throughout. I have already started Book 2 where we start by Stefan asking Mercy to make good on the favor he did her helping find Jesse.
Personally, I think Olivia Wilde would be a perfect Mercy Thompson.  Can someone get casting on the phone?
---
Favorite Scene:
"What happened?" he asked, his voice softer than the first snowfall in winter.
"It's complicated," I said, holding his gaze for two full seconds before I turned my head and gestured toward the body. "The dead one is there. If he belongs to you, he is new—and you haven't been doing your job. He was as deaf and blind as a human. I was able to take him by surprise, then he was too ignorant to realize that the wound wouldn't close as fast as usual if it was given by a preternatural creature. He let himself bleed out because he was too caught up in the chase to—"
"Enough, Mercedes," he growled as he strode over to the dead wolfman and knelt beside him. He moved the body and one of the corpse's arms flopped down limply on the ground.
Mac whined eagerly, then bowed his head and pressed it against my thigh so that he couldn't see.
The sound drew Adam's attention from the body to the boy at my feet.
He growled. "This one isn't one of mine—and neither is that."
"So gracious," I said. "Your mother should be complimented on your manners, Hauptman."
"Careful," he whispered. It wasn't a threat, it was a warning.
Okay. He was scary. Really scary. He'd probably have been scary even when he was just a human. But it wouldn't do to let him know he intimidated me.
"Adam Hauptman," I said politely to show him how it was done. "Allow me to introduce you to Mac—that's all his name I know. He was attacked by a werewolf in Chicago about two moons ago. The werewolf killed his girlfriend, but he survived. He was taken by his attacker and put in a cage. A man who sounds a lot like the Chicago Alpha Leo sold him to someone who held him inside a cage in a semitrailer and used him for what sounds like some sort of drug experiments until he broke free. Last Friday he showed up at my door looking for work."
"You didn't inform me that you had a strange wolf on your doorstep?"
I gave him a put-upon sigh. "I am not one of your pack members, Adam. I know this is difficult for you to fathom, so I'll speak slowly: I don't belong to you. I am under no obligation to tell you anything."
Adam swore harshly. "New werewolves are dangerous, woman. Especially when they are cold and hungry." He looked at Mac, and his voice changed completely, the heat and anger gone. "Mercy, come here."
I didn't look down to see what he'd noticed in Mac's face. I took a step, but Mac was wrapped around my left leg. I stopped before I fell. "Uhm. I'm a little stuck for the moment."
"For a smart girl, you're pretty stupid sometimes," he said, his voice rich and gentle so as not to startle the werewolf by my side. "Locking yourself in a garage with a new wolf and a dead body isn't the smartest thing you could have done. I don't have a connection with him yet. It would help if you have his real name."
"Mac," I murmured. "What's your name?"
"Alan," he said dreamily, coming up to his knees so his face was pressed against my belly. "Alan MacKenzie Frazier after my grandfather who died the year I was born." The friction of his movement rucked my shirt up and he licked my bare skin. To an outsider it might have looked sensual, but the abdomen is a vulnerable spot on the body, a favorite of predators. "You smell good," he whispered.
He smelled like werewolf, and I started to panic—which wasn't a very useful thing to do.
"Alan," said Adam, rolling the name on his tongue. "Alan MacKenzie Frazier, come here to me."
Mac jerked his head away from me but tightened his arms painfully on my hips. He looked at Adam and growled, a low rumble that caused his chest to vibrate against my leg.
"Mine," he said.
Adam's eyes narrowed. "I don't think so. She is mine."
It would have been flattering, I thought, except that at least one of them was talking about dinner and I wasn't certain about the other. While Adam had Mac distracted, I reached behind me and grabbed my big crowbar from the shelf directly behind us. I brought it down on Mac's collarbone.
It was an awkward hit because I didn't have much leverage, but the collarbone, even on a werewolf, is not hard to damage. I heard the bone crack and wrenched myself out of Mac's grip and across the garage before he recovered from the unexpected pain.
I didn't like hurting him, but he would heal in a few hours as long as I didn't let him eat me. I didn't think he was the kind of person who would recover from murder as easily as he would a broken bone.
Related Posts