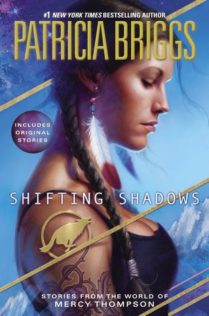 Shifting Shadows: Stories from the World of Mercy Thompson (Mercy Thompson #0.1, #0.6, #0.8, #1.5, #4.5, #5.5, #7.4)
by
Patricia Briggs

Series:
Mercy Thompson #0.1
,
Alpha & Omega #0.5
Published by
Ace
on September 2nd 2014
Genres:
Paranormal/Urban Fantasy
Pages:
450
Format:
Audiobook
Narrator:
Alexander Cendese
,
Lorelei King



I received this book for free from in exchange for an honest review. This does not affect my opinion of the book or the content of my review.
This post contains affiliate links you can use to purchase the book. If you buy the book using that link, I will receive a small commission from the sale.
---
Shifting Shadows is a collection of short stories from the World of Mercy Thompson. Some feature Mercy and her friends and some do not. Patricia Briggs has a wonderful storyteller and she has created an interesting world of Urban Fantasy. These stories give you a taste of her Mercy Thompson series, as well as several stories that don't feature characters from her Mercy Thompson series so you can simply enjoy the stories and see if Patricia Briggs is for you.
---
The Mercy Thompson series are told in the first person by Mercy. A few of these stories are fill in scenes from her books that didn't fit since there were told by Mercy. So it gives you extras views but it will give spoilers if you haven't reached those stories yet.
We also get to spend time with Warren and Kyle as well as Ben.  It is nice to get a little deeper into these characters. Ben is challenged to not swear for a month and it is quite entertaining to see him almost struggle to speak without his expletives.  There is a back story on Samuel and Ariana.
As you can probably guess, Alpha and Omega is the novella which began the Alpha and Omega spinoff series.  We never spent much time with Charles in any of Mercy's book but we kind of knew him as Bran's scary powerful and unsocial son.  I hadn't jumped on his spin off but now I have picked up the first three audiobooks in this series and am looking forward to those.
The remaining stories involve vampires, ghosts, witches and fae which will all follow the world building rules which is presented in the Mercy Thompson series.  These were all very entertaining stories.  It reminded me of Stephen King novels when he would give you a full back story on a character who was just crossing the street (and about to be killed), but by the time King killed off the guy, you were so intrigued and invested in this guy you were sad he died.   I enjoyed these little peeks in the windows of others who live in Mercy's world.
I found it interesting that Patricia Briggs gives a brief description of what prompted the story or what guidelines she was presented in the previously published stories. For example, for the story Gray , she needed to write a story featuring a color and a holiday. It is interesting the stories that are created for the different anthologies that these stories were originally part of.
THOUGHTS:
I am a big fan of Patricia Briggs' writing and Mercy Thompson and friends. So I enjoyed all the stories presented in this collection. If you are looking for a new paranormal/urban fantasy author, this would be a great way to check out Patricia's work without making the full commitment to an entire series.
I have listened to this entire series by audiobook. Lorelei King brings Mercy and the gang to life for me.  She has a very natural narration style and gives voice to a cast of characters.  This was my first time listening to Alexander Cendese, but I thought he did a wonderful job narrating for Samuel and for David.
Received a review audiobook from Brilliance audio in exchange for an honest review.
---
Previously Published Stories
Alpha and Omega The first novella about Anna and Charles, which led to a whole spin-off series.
Gray An vampire buys the home where she lived with her husband, which has fallen into disrespair. She begins remodeling the place, only to find that old and beloved ghosts still linger.
Fairy Gifts Mining towns are rough and human life is cheap. In the turn-of-the-century Butte Montana, a young man, turned to a vampire, struggles with his nature and eventually finds a measure of redemption in an unlikely place.
Seeing Eye White witches are rare, and seldom as powerful as their morally-compromised counterparts. In this story, a blind witch teams up with a werewolf on a mission.
The Star of David Being a werewolf can wreck havoc on family relations. This is a story of how murder and deception can bring a family together . . .
In Red, with Pearls Warren is a werewolf, and a private detective. This is a noir-flavored story about some truly terrible neighbors and why you should always treat a werewolf nicely.
New Stories
Silver This is probably the only depressing story I've ever written, and it was a hard story to write. This covers how Bran and Samuel were first made into werewolves, and how Samuel first fell in love with the Ariana. Of course, as we learned in Silver Borne, things have to take a tragic turn.
Outtake One After the tragedy of Silver, I had to remind myself that with long life comes the opportunity to overcome the past, and forge a better future. Samuel and Ariana have another chance at love, and they're determined to make it work. This is an outtake from Silver Borne
Roses in Winter A young girl survives a werewolf attack, and is transformed into a werewolf. When she wasn't able to control the wolf, she was moved to Bran's pack. The law is absolute: if a werewolf cannot learn to control the wolf, they must be destroyed for the safety of all. With hope fading, Asil intervenes.
Redemption Ben's got a quick temper, and a quicker tongue. He's also made a bet that he can stop swearing for a week, and it just might change his life.
Hollow A wealthy recluse is haunted by a terrible ghost, and asks Mercy for help. What could possibly go wrong?
Outtake Two A bit that I wrote in Adam's viewpoint for Night Broken.
---
Favorite Scene:
This is from Alpha and Omega:
"I think maybe you are the key to Leo's mystery."
She couldn't help a snort of derision. "Me? Leo needed a new doormat?"
He leaned suddenly forward, knocking his chair over as he swept her off of her own and stood her on her feet. She'd thought she was used to the speed and strength of the wolves, but he stole her breath.
As she stood still and shocked, he prowled around her until he came back around the front and kissed her, a long, dark, deep kiss that left her breathless for another reason entirely.
"Leo found you and decided that he needed you," he told her. "He sent Justin after you, because any of his other wolves would know what you were. Even before your Change, they'd have known. So he sent a half-crazy wolf because any other would have been unable to attack you."
Hurt, she flinched away from him. He made her sound special, but she knew he was lying. He sounded like he was telling the truth, but she was no prize. She was nothing. For three years she had been nothing. He made her feel special today, but she knew better.
His hands, when they came down on her shoulders, were hard and impossible to resist. "Let me tell you something about Omega wolves, Anna. Look at me."
She blinked back tears, and, unable to resist his command, raised her eyes to glare at him.
"Almost unique," he said and gave her a little shake. "I work with numbers and percentages all the time, Anna. I might not be able to figure the odds exactly, but I'll tell you that the chances that Justin picked you out to Change by sheer chance are almost infinitesimal. No werewolf, acting on instincts alone, would attack an Omega. And Justin strikes me as a wolf who acts on very little else."
"Why no? Why wouldn't he have attacked me? And what is an Omega?"
It was evidently the right question because Charles stilled, his former agitation gone. "You are an Omega, Anna. I bet that when you walk into a room, people come to you. I bet complete strangers tell you things they wouldn't tell their own mothers."
Incredulous, she stared at him. "You saw Justin this morning. Did he look calm to you?"
"I saw Justin," he agreed slowly. "And I think that in any other pack he would have been killed shortly after he was made because his control is not good enough. I don't know why he was not. But I think you allow him to control his wolf—and he hates you for it. You should not be ranked last in your pack." His hands slid down her shoulders until he held her hands. Oddly that felt more intimate than his kiss had. "An Omega wolf is like the Indian medicine men, outside of the normal pack rankings. They had to teach you to lower your eyes, didn't they?  To submissive wolves, such things are instinctive. You, they had to beat down. You bring peace to all those around you, Anna," he said intently, his eyes on her. "A werewolf, especially a dominant wolf, is always on the edge of violence. After being shut in an aircraft with too many people for hours, I came into the airport craving bloodshed like a junkie craves his next fix. But when you came up to me, the anger, the hunger left."
He squeezed her hands. "You are a gift, Anna. An Omega wolf in the pack means that more wolves survive the Change from human to wolf because they can find control easier with you there. It means that we lose fewer males to stupid dominance fights because an Omega brings a calmness to all those around him. Or her."
There was a hole in his argument. "But what about earlier, when you almost changed because you were so angry."
Something happened to his face, an emotion she didn't know him well enough to read, except to know that it was strong.
When he spoke it was with the visible effort, as if his throat had tightened. "Most werewolves find someone they love, get married, and spend a long time with their spouse before the wolf accepts her as his mate." He dropped her gaze and turned away, walking across the room and giving her his back.
Without the warmth of his body, she felt cold and alone. Scared.
"Sometimes it doesn't happen that way," he told the wall. "Let it rest there for now, Anna. You have been through enough without this."
"I am so tired of being ignorant," she spat, suddenly hugely angry. "You've changed all the rules on me—so you can damned well tell me what the new rules are." As abruptly as the anger had come, it was gone, leaving her shaky and on the verge of tears.
He turned and his eyes had gone gold, reflecting the dim light of the room until they glowed. "Fine. You should have let it be, but you want truth." His voice rumbled like thunder, though it wasn't very loud. "My Brother Wolf has taken you for his mate. Even if you were nothing to me, I would have never allowed such abuse as you have suffered since your Change. But you are mine, and the though of you hurt, of being able to do nothing about it, is an anger that even an Omega wolf cannot easily soothe."
Related Posts