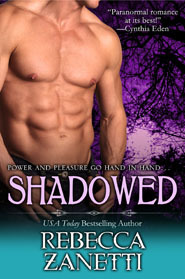 Shadowed (Dark Protectors, #6)
by
Rebecca Zanetti

Published by
eKensington
on October 3rd 2013
Genres:
Paranormal/Urban Fantasy
Pages:
289
Format:
eBook



I received this book for free from in exchange for an honest review. This does not affect my opinion of the book or the content of my review.
This post contains affiliate links you can use to purchase the book. If you buy the book using that link, I will receive a small commission from the sale.
---
Jase Kayrs was the fun brother. The warm, charming, easy-going brother of the vampire leaders. Until he was taken and tortured by demons with their evil mind tricks for nearly five years. Upon his return, he's dark, violent, and not the man they all thought they knew. Not the man he once was. He's haunted that the only reason the demons would have let him live was to use him as a weapon against his family—but he can't figure out when or how he'll explode. Plus, once again the demons are after Jase with a vengeance…or rather, a female demon he rejected is out to destroy him.

Then the king asks Jase for a favor…a big one. To mate with one of their allies in order to save her. She's everything that's good and light in the world…while he's at home with darkness. Yet he agrees…knowing mating may be the only chance to save them both.
---
Jase Kayrs, the youngest of the Kayrs brothers, was always the happy, fun-loving brother. But five years ago he was captured by the demons and was tortured both physically and mentally. By the time his brothers located him, he had given up all hope and had been praying for the peace of death. Jase was so desperate for the torture to stop that he almost agreed to mate with the demon leader's sister, Willa, but it was one of Brenna Dunne's paintings hanging on the wall of Willa's bedroom that centered him once again and gave him the courage to fight on.
So when the King asked Jase to mate with Moira's sister, Brenna, to save her from the poison slowing killing her, Jase didn't hesitate to agree. Since mates take on each other's strengths, it is hoped that Jase's vampire strength would boost Brenna's system to fight off the poison's effects, and Jase wants to gain Brenna's abilities as well so that he can finally destroy the demons…every one of them.
While big sister, Moira, is the seventh daughter of the seventh daughter and a powerful witch. Brenna is the unheard of eighth daughter of a seventh daughter, and a pariah among the witches. Brenna was born at the convergence of the winter solstice and the passing Pagurus comet. As the comet will soon pass once again on the night of the solstice, fulfilling a very vague prophesy which can be interpreted as Brenna gets great power or maybe, she destroys the world.  But all the factions are fighting to get to Brenna first; some want to use her and some want to destroy her before the solstice arrives.
Although Jase agreed to mate Brenna for a strategical reason, he is finding that being with her brings him the same feeling of peace that her painting brought to him during his torture. For the first time since his capture, Jase is actually feeling hope.
What happens if Brenna can survive the poisoning, the comet and the solstice?  Will Brenna lose Jase anyway to the rage which is burning inside him for revenge?
THOUGHTS:
I jumped this story up my TBR list. I just couldn't wait anymore. I have been dying for this story since I did an interview with Rebecca Zanetti back in 2012 and she hinted that Jase will be captured by demons.
As the series progressed we learned the years had passed and that they still have no location on Jase, and then in Kane's story, Provoked, we got a glimpse into how bad the torture was for Jase both physically and mentally. We also got a foreshadowing of the peace that Brenna would bring to Jase and maybe she would help him heal.
This story falls under my favorite trope of the wounded hero, and it did not disappoint. Jase is filled with rage at the demons. He is frustrated because his brothers are filled with guilt for failing to find Jase and they treat him like an invalid. Maybe he can't control his rage during a battle and maybe he can't go back underground without falling victim to a panic attack and maybe he can no longer control the elements like he used to, but he does not wanted be treated like he is damaged. It is only Brenna who looks past his anger and treats him like she always did.
Brenna has always had an attraction for Jase and therefore, agrees to the mating, but she fears that she will lose everything if she looses her heart to Jase since he is determined to fulfill his suicidal mission to destroy all the demons.  But whenever Jase is with Brenna, he turns towards her healing kindness and she will begin to become more important to him than his vengeance.
I believe Rebecca Zanetti has at least two more short stories that will come out before she gets to Janie's story which would be the conclusion of the series.  Young Janie is now 24 and she has known since she was a child that the destiny of the war and the world would be in the hands of herself, Kalin (the leader of the evil Kurjans) and Zane (half vampire/half  we're-not-so-certain and a soldier for a warring army that might not be on the same side as our vampires).   After this last story, I'm getting to the point I can't wait.   I have to see how it all turns out in the end. Please, please, please, finish the story.
Received an ARC from netgalley, courtesy of the publisher in exchange for an honest review.
---
Favorite Scene:
He hesitated. "Please."
A low laugh rolled from her stomach. "That had to hurt."
"You have no idea." His upper lip quirked. The man was dominant and used to giving orders. No doubt asking went against his every instinct.
"I'm not less than anybody else." For her entire life, she'd had to prove her worth and that she wasn't some anomaly.  For her one mating, she intended to be strong enough to engage completely. "No dampening pills."
Watchful intelligence lived in his gaze. "When you bit me yesterday, my blood should've made you stronger for days. Yet it only lasted a couple of hours." He reached for her arm and tugged her off the sofa.
"I'm not weak." She landed on her knees between his legs. What was he doing? Heat uncoiled in her gut.
"I know." Threading both hands through her hair, he tilted her head back until she looked up at his angled face. "But you're not strong right now, either."
Her neck elongated. Vulnerability and need washed through her. She dug her nails into his hard legs. "I will be. After we mate."
A dark flush covered his high cheekbones. His eyes flashed into a sizzling green. Heat from his thighs pressed in on her. "Speaking of which, are you all right with the contract?"
Flattening her hands, she pushed away to stand.
But she didn't move. The vampire easily kept her in place.
She tilted her head, intrigue and warning swishing through her. Without question, she was out of her element with the formidable Kayrs brother. "I'd prefer not to be on my knees as we discuss this."
His eyes darkened.
Her widened.
Lowering his head, his lips brushed her jugular. "You're so strong you don't need dampening pills? Then get off your knees." Low, rough, his voice rumbled right through her skin.
A long shiver wandered down her spine. She swallowed. Aye. Definitely out of her element. She pushed again, this time putting all her strength into it, and once again didn't move. "Stop playing games," she breathed.
"Who's playing?" His fangs slid into her flesh.
Pain. Dark pleasure. Need. Hurt edged with a sharp desire spiraled through her to pound between her legs. God. She arched her back, her mouth opening. He drank deeply, taking what he needed—taking what he wanted.
A low growl rumbled from his chest.
Rough, his tongue sealed the wound. The fingers in her hair flexed, shooting erotic pain along her scalp. He lifted until his gaze met hers, his face an inch from hers. His lips within reach.
Lust and determination tightened the skin across his sharp bones.
Her chest panted out breath.
He slid to the edge of the chair and loomed over her, his thighs bracketing her. Trapping her. Then his mouth covered hers. The kiss the other day had been nothing. A mere meeting of mouths.
This one was Jase Kayrs in full force. Deep and hard, he took. Holding her when he wanted her, he did as he pleased. dark pleasure cascaded from him and heated the air around them.
She opened to him, helpless beneath his onslaught. His tongue claimed her mouth, learning every curve. Firm lips, strong hold, devastating motion. All she could do was feel. So much pain, so much pleasure, so much damn demand. He tasted of red wine and determined male. The world narrowed to him.
The kiss went on forever. He didn't touch her anywhere else, yet her entire body burned for him. Desperate and primed. Slowly, he softened his assault and leaned back.
Clarity rushed into her brain. She'd never been able to match him. He watched her, his eyes hard, his sharp features wearing that male express that said, I warned you. Now you're on your own.
Deep down, where reality and hope commingled, she understood without a doubt he'd break her heart. Even deeper, she knew it was too late to turn back.
Related Posts