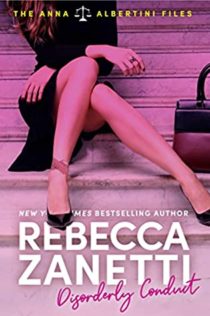 Disorderly Conduct (The Anna Albertini Files #1)
by
Rebecca Zanetti

Series:
The Anna Albertini Files #1
Published by
RAZ INK LLC
on August 18, 2020
Genres:
Contemporary
Pages:
338
Format:
eBook



I received this book for free from in exchange for an honest review. This does not affect my opinion of the book or the content of my review.
This post contains affiliate links you can use to purchase the book. If you buy the book using that link, I will receive a small commission from the sale.
A fun, sexy, suspenseful new series from New York Times Bestselling Author Rebecca Zanetti!
Bullets and Kisses Can Burn
The last person Anna Albertini expects to see in an orange jumpsuit in District Court—a place she SO doesn't belong as a new prosecuting attorney—is Aiden Devlin, the man who'd saved her life when they were kids. For years, she has dreamed about him. Now here he is—his eyes blue, his chest wide, and his hands in cuffs.
Sure, Aiden says he doesn't want her help, and his ties to a deadly motorcycle club should give her warning. Yes, her new boss is a sexy Italian bad boy who might be using the case to climb to the top. Plus, the detective assigned to the case, with his green eyes and broad shoulders, wants her to stay out of his way.
With so much testosterone surrounding her all of a sudden, most women would find it hard to concentrate. This might be why the case leads Anna to yelp during a spa appointment, fall out of a tree, and chase a naked old man around the courtroom. It's a good thing Anna learned a long time ago to be her own hero, no matter how fast the bullets fly or the kisses consume.
---
A delightful new series by Rebecca Zanetti filled with intrigue, romance and laughs.
Anna Albertini has a wonderful new career and a bright future at the Prosecutor's office. At least that's what she thought when she woke up this morning but only a month out of law school, Anna couldn't have been prepared when she walked into the office to find the FBI arresting her boss on drug charges and confiscating all his files. Except those files which were thrust into her arms while she was told to head over to the courthouse and deal with her bosses felony cases.
Anna's head is already spinning when her past comes walking out in prison orange as her next case. How can Anna prosecute Aiden Devlin?   Anna was only ten years old when Jareth Davey abducted her, claiming she was now his wife, and it was Aiden Davlin who found Jareth's cabin and rescued her before Jareth could hurt her.  Aiden has been Anna's hero since that day. There is no way she can put him behind bars. Anna is sure this must be a mistake and she is determined to rescue Aiden like he once did for her.
Problem is Anna's new boss Nick Basanelli has come in to clean up the prosecutor's office and the only reason he is allowing Anna to remain is because she is too new to be part of the corruption. He is also determined to see Aiden prosecuted to the fullest extent of the law.
Anna's loyalties are so torn but at least she has her family and her sisters to lean on during this craziness.
I really enjoyed these new characters in this series.  Oddly, I had to keep reminding myself this was a Rebecca Zanetti story since it kept feeling like a Darynda Jones story.   Poor Anna, if she didn't have bad luck, she wouldn't have any luck. She is trying to save Aiden, who doesn't want to be saved. Her boss is either over protective or accusatory, depending on whether he wants to date her or realizes he shouldn't. Same goes with the Detective who she keeps running into (again, Anna's bad luck).  There is a Judge that keeps calling her Alberto instead of Albertini and is dressing in crazier and crazier outfits.
Although it is listed under Romantic Suspense this is not a straight forward romance which makes me cranky since, like Anna, I was already hero worshiping and enamored with Aiden Devlin.  I want Aiden to be a good guy and have a HEA with Anna. Except we not only have a romantic interest with Aiden, we also have Nick, Anna'e new boss, who is also showing an interest in Anna, as well as the Detective Pierce, who originally gives Anna the stink-eye because she keeps showing up in the middle of crime scenes but then wants to take her out as well.
Since this is the beginning of a continuing series, we get partial closure at the end of Book 1, but there are many story lines which will be continuing: What's up with Aiden? Jareth Davey is still free and is he coming for Anna again? Is Nick everything he seems?
I really enjoyed these characters as well as Anna's extended family. There is certainly enough material to keep us going for a many more books and I am looking forward to getting more answers and solving the mystery of Aiden Devlin.
---
Favorite Scene:
I turned as the defendant loped his way to the front. He was in his late seventies with thinning grey hair. Folds of skin down his neck made him look like a hungry chicken.
"Hiya hot stuff," he whispered in my ear as he sat down at the table Clark had vacated. A large olive trench coat encased Monroe's skinny body, and furry brown slippers with beaver heads covered his feet. Maybe he and the judge would get along fine.
I lifted an eyebrow and opened his file to read the charges while the judge did the same thing. I tried not to giggle as I read about the charge and the hilarious witness statements. Most of them were in support of the guy and asked that he not be charged. I glanced at Monroe. "Do you have an attorney?"
"Don't need one." He grinned.
It was his choice. "You were arrested for indecent exposure at the Elk's Lodge during bingo?"
"Yep." His chicken neck bobbed up and down. "I wanted to give them Lady Elks something to talk about. You know, not many of them are getting any now." His small brown eyes gleamed with conviction.
"Is this your first offense?" I whispered back.
"Offense?" His voice rose. "Are you kidding? I gave them a freakin' gift." He leaned toward me, across the aisle, and lowered his voice. "I got me some of them blue pills, and boy do they work."
Oh God.
The judge cleared his throat. "Alberto, is there a plea offer from the state?"
I didn't have time for this. "The state offers two months' probation conditioned upon Mr. Monroe keeping his clothes on from now on."
"Two months?" Charles jumped to his feet before I could respond. "Those old birds should be paying me for the show. Two months? No freakin' way."
The judge gave me a firm nod. "Alberto, please control your client."
"He's not my client, Judge. I'm the prosecution." I stood to my feet and leaned toward Charles. "Um, probation is not a big deal. You won't have to do anything."
He turned sharp eyes on me. "Maybe you don't understand what I am saying! I have blue and white pills. I'm the Beast–it's all about Beast now. Let me show you." He reached down and unbuckled the coat, shucking it to the ground. He was suddenly and completely naked.
The Beast? I yelped in surprise at the sight of his shriveled wanker, sunken chest, and bony knees. His skin was as close to waxy chalk as I'd even seen. I never wanted to get old. Ever. The courtroom erupted into surprised gasps and some laughter as Charles jumped across the aisle and up onto the prosecution table. He turned toward the crowd, shaking his flippy penis and singing, "Lookie here, praise the blue pill, lookie here…"
The Judge pounded his gavel on the desk.
I leaned down and grabbed the fallen trench coat before holding it up to Charles and averting my eyes. "Put this back on," I hissed as the bailiff reached for him from the other side of the table. Charles jumped down to my empty chair, grabbed my shoulder and levered himself to the ground, quickly dodging behind me. He sure was spry for an old guy.
The bailiff rounded the table and reached over my shoulder to grab at Charles, who used me as a shield. His gnarled hands dug into my shoulders. Please, God, don't let his penis touch my funeral suit. I'd have to burn it.
Related Posts