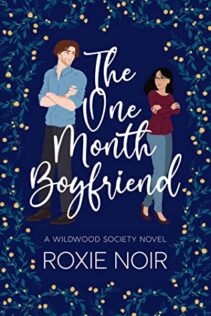 The One Month Boyfriend (Wildwood Society, #1)
by
Roxie Noir

Published by
Self Published
on May 24, 2022
Genres:
Contemporary
Pages:
424
Format:
eBook
Source:
Author



I received this book for free from Author in exchange for an honest review. This does not affect my opinion of the book or the content of my review.
This post contains affiliate links you can use to purchase the book. If you buy the book using that link, I will receive a small commission from the sale.
It's a simple agreement: for one month, Silas is my boyfriend of convenience.Once this is over, we'll go our separate ways. It's fake, after all.
I need some arm candy to prove to my ex-fiancé that I've moved on.He needs his old-fashioned boss to think he's ready to settle down.Perfect, right? Except for one minor detail: we can't stand each other.
Silas thinks I'm a stuck-up ice queen. I think he's a cocky, obnoxious jerk who's always trying to charm his way out of trouble – and succeeding. He's the beloved golden boy. I'm the awkward new girl in town.
It would be the worst idea ever, except… everyone falls for it.That's the thing about pretending to date someone: it looks just like real dating.And the other thing about pretending to date someone? It feels like real dating.
The heated kisses in my office: fake.The possessive way he touches me: fake.The night we spend together in a hotel bed: …maybe not so fake.
One month. Then this charade is over.
---
A lovely romance which shows that not everyone sees imperfect as "too broken".
Silas Flynn ruined Kat Nakamura first attempt at teaching Intro to Earth Science, arriving hung over, if he arrived at all, and being a general disruption to her class.   Then he showed up with a six pack as a bribe for a better grade, bringing the whole issue to the Dean and leaving Kat in an anxiety meltdown.  It maybe a decade later and while most adults might have moved on by now, Kat and Silas are each still holding a grudge.
Silas now needs a fake girlfriend for a work function, and even if Kat didn't have crippling social anxiety, she wouldn't help him out.   Never say never because next thing you know Kat's ex-fiancé just shows up in town. His company bought out Kat's company and he will be in town for the next month to integrate the new employees and maybe cut some redundant jobs.  As if that isn't bad enough, he's going to be sharing her office "as long as she can act professional over her feelings for him."
Now Kat would fake date the devil himself to show her cheating ex she has no interest in ever seeing him again. Kat and Silas might bot be able to stand each other but they are both willing to pretend to be the happiest couple in town between now and labor day if it's the last thing they do
In this story Kat has severe anxiety disorder and Silas is suffering PTSD from his time in the marines. They both expect to be shunned by the other until they realize not only have they misjudged the other in their dealing all those years ago,  but that they each understand the other better then anyone else. Silas helps Kat through an attack and helps her avoid situations which would cause a trigger, and we learn that Silas needs a date because he has given up dating since he is plagued by nightmares and flashbacks and is tired of the condescension or pity.   Kat helps Silas after his PTSD is triggered,  and afterward he expects Kat's pity and never dreamed what she does next.
Silas's work situation is almost nonexistent in this storyline except as the reason Silas agrees to the fake dating.   The narrative focuses more on Kat's ex and since Silas also had a past encounter with Kat's ex while in the military, we really never needed Silas's work issue since he was delighted to help Kat torment a man he hated.  But actually that plot points begins to get lost in the simple joy of Kat and Silas spending time together and enjoying each other's company
I enjoyed this story of Silas and Kat each finding that one person who understands them and doesn't see them as broken or damaged.
---
Favorite Scene:
"Do we have a strategy?" she asks.
Her legs are crossed under the soft red skirt of her dress, and I've got one arm slung around her. The condensation from her glass trickles over the knuckles of her hand, leaving wet spots on the fabric, and her hair whispers against my skin as she turns her head.
One might have been the wrong number of drinks. A couple more and I could numb this out. None and I'd have a little more willpower, but one drink dulls my judgement exactly enough that I cant quit looking at her but also won't do anything about it.
"When we find them, we hang around and call each other babe a whole lot," I say.
"That's the activity. What's the objective?"
She takes another sip, and I watch her swallow before I answer. The damn cherry is still in her glass and God, I want to grab it, just to see what she'd do. Right now I feel thirteen all over again, a stupid mess of warring impulses and urges that I can't quell and can't satisfy.
"Ruin their good time?" I say, swirling the dregs of my own drink. "Annoy them until they leave the resort early?"
"Hmmm." She leans her head back onto my arm. The cherry's still there, her glass pretty much empty.
"His girlfriend's not an innocent victim in all this, is she?" I ask, the though suddenly occurring to me. I've been so wrapped up in Kat's vengeance that I kinda forgot there was someone else involved, too.
"His girlfriend who was fucking my fiancé behind my back?" she asks dryly. "Nah."
"Did she know?"
I realize it's a bit late to ask, but still.
"She was his assistant," Kat snorts. "Yeah, She knew."
"Jesus."
She just shrugs and drains her drink until there's nothing but ice and a single maraschino cherry left, bright red in the dark, fucking taunting me to steal it from her. Fuck. I don't even like cherries that much, but I do like riling Kat up.
"Any idea what they're planning on doing here?" I ask her, after a long silence because I need to say something, to have a plan.
"I don't know, Silas." Kat sighs, exasperated. "It's a resort. There's a pool. There's hot tubs. There's a river and some trails and some tennis courts, I think."
"I half-listened to a phone call, I didn't record them and memorize their plans," she says. "I'm not even sure we're at the right place, remember?"
I finish the last watery dregs of my own drink, then put the empty glass on a side table, fighting a grin at the edge in her voice.
"I'm starting to think you lured me out here for the pleasure of my company," I tease her, and Kat huffs out an explosive little laugh.
"Definitely not."
"You sure?" I ask, eyeing the cherry in her glass. It is calling my name. "Because it seems like–"
I grab for the cherry. It takes me a second, because everything in her glass is wet and slippery and I'm trying for the stem but I get the fruit instead, and the second Kat realizes what I'm doing she yelps and tries to stop me.
Her glass spills to the couch, getting freezing water and ice over both of us, and she's got one hand around my wrist, hauling my hand forward, and with the other she'd trying to dislodge the cherry but we're both slippery.
"You asshole," she hisses. "Goddammit, Silas. Give me that."
"You weren't eating it."
"I wasn't eating it yet."
"There's gotta be some sort of time limit," I point out as her fingers slide around mine. We're mangling this cherry and I can hear her breathing, feel the heat of her hand locked around my wrist. She's surprisingly strong.
Then she stops and looks at me, eyes narrowed. I grin back at her.
"You could say please," I say, my voice comes low and scratchy as tires on a gravel road.
Then her mouth is on my hand and I don't have another thought, because as she sinks her teeth into the cherry they scrape my fingers and then there's the hot heat of her mouth against them, the slide of her tongue on the pad of my thumb, her hand still holding my wrist, and then she's got the cherry but her lips close around my fingertips and there's a flutter of teeth and tongue and she's sitting up straight, plucking the stem from her mouth and chewing her prize and looking at me like she just won the Superbowl or something.
All I can do is watch her mouth and listen to my heartbeat crash against my ribs. I wait, breathless, for her throat to move in the dark. It does. She licks her lips.
The next second my mouth is on hers.
Related Posts