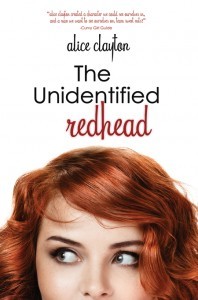 The Unidentified Redhead (Redhead, #1)
by
Alice Clayton

Series:
Redhead #1
Published by
Gallery Books
on October 15th 2013
Genres:
Contemporary
Pages:
318
Format:
Audiobook
Narrator:
keili Lefkovitz
Length:
8 hrs 14 min



This post contains affiliate links you can use to purchase the book. If you buy the book using that link, I will receive a small commission from the sale.
---
When Grace Sheridan returns to Los Angeles to become a working actress, it's a second shot at a life-long dream. With some help from her best-friend agent, will that dream become a reality—or at thirty-three, has Grace missed her chance at the big time? And when an unexpected sizzling romance with Jack Hamilton, the entertainment industry's newest "it" boy, threatens to shine an uncomfortable spotlight on her life, how will that affect her career…and his?

Funny, borderline neurotic Grace is perfect in her imperfections, and the sexual chemistry between her and charming yet blissfully unaware Jack is off the charts. With laugh-out-loud dialogue and a super-steamy romance that will get your heart racing, sneaking around in L.A. and dodging the paparazzi has never been so fun.
---
Grace Sheridan is back in L.A. to try once again to become a star. When she first graduated from college, she and her friend Holly headed straight to Hollywood. Holly has become a successful agent, opening her own agency, but Grace's star never rose and she ended up going home for the last decade. Now she is older and more mature, and she's ready to put in the work necessary so this time she'll become a success.
At her first Hollywood party, Grace meets Sexy, Scientist Guy—I mean, the up and coming star, Jack Hamilton, who will be playing the sexy, scientist guy in Time. Grace and Jack hit it off from their first meeting, and although Grace is distracted by the age difference of her 33 vs his 24, his gorgeous curls, brilliant smile, sparkling eyes and great wit are quickly winning her heart.
Grace and Jack are so caught up in their whirlwind romance and how much they enjoy their time together, Grace keeps forgetting Holly's warnings to them both to keep a low profile. Jack's star is about to soar and fans aren't going to be happy if their dreamy sexy, scientist guy is taken. Grace tries to back off when the paparazzi and the fans swarm, but Jack is not the least bit interested in giving up his time with Grace for fan fantasies.
Grace finally gets her chance to shine at an audition which lands her a coveted part in an upcoming play—on Broadway. Will Jack and Grace's burgeoning romance be able to surviving the 3,000 mile separation as well as Jack's swarming (and young) fans?
THOUGHTS
I freakin' love Alice Clayton and I just love Grace and Jack! This story is two things: Sexy and funny! I don't know which banter was better, Jack and Grace or Grace and her best friend, Holly. If there wasn't great banter being tossed around, Jack and Grace were busy having sexy, naked time which was sexy and fun all at the same time.
I listened to this on audiobook and narrator Keili Lefkovitz truly brought Grace to life for me.
I nearly spit my lemonade across the room listening to this book. I had to pass my Ipod on to my girlfriend who began by indicating she wasn't into listening to books. By the scene below, she came back to me that she was really into the story. The next instant message I received was that she almost spit her coffee all over her desk. Redemption! I knew she'd love it.
What kind of author would even think of throwing seagull poop into a story? This woman is some kind of crazy in the head. Incredible!
I wasn't a third of the way through the story before I was checking out the rest of the Redhead series and I did an actual happy dance when I saw that there is a third book due out in December. The only thing that made me sad was that the audiobook for Book 1 was just released on July 17th. I will have to find the time to read Book 2.
After you have finished Wallbanger, you have to grab copies of the Redhead series. You will LOVE Jack and Grace.  When your done, get back to me on what liquid was involved with your spittake.  We'll have a contest.
---
Favorite Scene:
An hour later with the party finally winding down, I was in the kitchen getting some crackers to begin soaking up the five dirty martinis I had sucked down. I was leaning on my elbows on the granite countertop thinking about how my head was going to hurt tomorrow when I heard someone come in.
"Hello again." I heard a British voice say.
I looked up, still half lying on the counter. "Hello, yourself. Did you have a good time tonight?" I asked before shoving a saltine in my mouth.
"Oh, no. Crackers. That's never a good sign. Too much?" He asked.
"Maybe, if you consider three more than I usually have too much." I grimaced, remembering the last time I had been hung over. I was really not looking forward to tomorrow.
"I find that the best cure for a hangover is to just keep drinking." He said, smirking. He walked toward the other side of the counter, placing his hands on either side of me.
"Yes. Well, that's because you're like 17 and capable of shit like that. I, on the other hand, will wake up tomorrow feeling like something died in my mouth with my eyes puffed up like cabbages."
"Well. That's a really descriptive picture. I'm almost tempted to stick around and see that." He laughed. "And I'm 24, not 17, for future reference." He added.
I arched my eyebrow at him. "Young pup, I used to be able to drink and dance all night, get one hour sleep and go to work the next day still looking fabulous. Ah, to be young and foolish again."
I stretched my arms over my head and then back behind me, trying to work the kinks out. When I looked at Jack, I realized I had just thrust my chest in his face, and he was letting his eyes linger.
"Are you looking at my boobies?" I asked, doing a little shimmy-shake.
He froze, and then burst out laughing. "Yes. Yes, I guess I'm looking at your boobies. They're quite nice boobies." He managed to choke out between laughs.
"They are quite nice. That's true. And all mine. You probably don't get to touch a lot of bona fide, natural boobies here in L.A. but there are still a few of us rocking the real stuff." I laughed along with him.
"I also think you like men looking at your boobies. Why else did you put sparkles on them?"
He finally looked me in the eye again still chuckling.
"What are you talking about?" I looked down at the girls and then I noticed that I did have a few sparkles on my cleavage. "Oh, yeah. I guess I did. I put on a little shimmer body lotion before I got dressed tonight."
"Girls sure do weird stuff, especially you American girls. So much shimmer and sparkle. Who told you tits were supposed to sparkle? Sorry, boobies." He said correcting himself.
"You can say tits. Although I prefer boobies. I also like ta-tas." I said with a straight face.
"How about love pillows?" He retorted.
"Breasticles." I said.
"How about flap-jacks." He said, struggling not to laugh.
"Nice. But it doesn't hold a candle to sweatermeat." I managed to get out before laughing so hard I sprayed saltines all over the counter.
He joined me and I actually had tears streaming down my face as we started wiping up my cracker-spittle.
Holly walked in at that moment, took one look at us and started shaking her head. "Oh, boy. What the hell is going on here? Never mind. Jack, your ladies are looking for you. They're salivating all over the entryway. It's time to take them back to your place. Grace, why are there cracker crumbs all over your cleavage?" She asked, staring at my saltine-encrusted chest.
We both started laughing again as I extended my hand. "Jack, it was nice to meet you. I hope next time I can contain myself a little more. Enjoy your threesome." I said with a wicked smile.
This guy was great and I was excited to have maybe made a new friend.
He took my hand. "Grace, it has been interesting to the say the least, and you're sparkly boobies are beautiful. Enjoy your hangover."
Related Posts