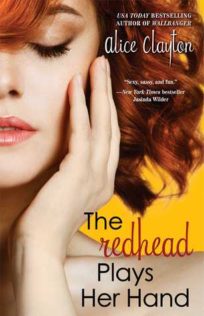 The Redhead Plays Her Hand (Redhead, #3)
by
Alice Clayton

Series:
Redhead #3
Published by
Gallery Books
on December 17th 2013
Genres:
Contemporary
Pages:
320
Format:
Audiobook
Narrator:
keili Lefkovitz
Length:
6 hrs 26 min



I received this book for free from in exchange for an honest review. This does not affect my opinion of the book or the content of my review.
This post contains affiliate links you can use to purchase the book. If you buy the book using that link, I will receive a small commission from the sale.
---
We're so excited to be talking with the incredible Alice Clayton about wallbanging, her crazy redhead and where she'll be taking us in the future.
---
Grace has landed the lead in a new TV series—but when the director asks her to lose fifteen pounds, she goes public with her weight struggles and suddenly develops a huge fan club who support her right to have curves. But between that and the public's continuing fascination with her "are they or aren't they" relationship with Jack, Grace begins to wonder if anyone's really interested in her because of her upcoming TV series, or if it's all speculation about the size of her ass and her bedroom partner.

Meanwhile, Jack is voted the Sexiest Man Alive and becomes a little too enamored with the party-hard lifestyle. Grace vows to give him the space he needs to find himself, but then he begins to spiral down from lovable Brit to Hollywood brat. People are talking, but are Jack and Grace? Her career is on the rise, and his continues into the stratosphere, but will she be able to catch him if he falls? Will they ever be able to just be a couple who can hold hands when they walk down the street?
---
There is no question in the blossoming relationship between 33 year old Grace Sheridan and 24 year old Jack Hamilton, the young Jack has been the rock of the relationship so far. Grace has had 33 years to grow her neurosis and in The Redhead Revealed, those insecurities almost tore Jack and Grace apart. But in this next addition to the series, the pressure of stardom is starting to get to Jack. He just wants to be able to walk down the street with his crazy girl.
Jack is a very private person, but between the paparazzi continuing to follow him and Holly's edict that he and Grace need to keep their relationship quiet, Jack's patience is wearing thin. He starts spending time with his co-star Adam Kasen, binge drinking and partying into the wee hours of the morning. Adam is a former It boy who's volatile, diva attitude made him an unbillable star when no one was willing to work with him. This Has Been has found a way back into the limelight as Jack's BFF and if he has to drag down Jack to stay there, he has no problem with that, and Jack isn't exactly fighting his own downfall.  Grace feels that Adam is just using Jack to raise his dulled star back into the headline, but Jack is too busy partying and blowing off steam to listen to reason.
Meanwhile, Grace is dealing with her own Hollywood up and downs. Grace's critically acclaimed role of Mabel from the off-Broadway play has being picked by Venue and being modified for small screen. But the producers have some pre-production notes to go over with Grace, including a need for her to loose 15 lbs ASAP. Grace thought she had won her battle over her weight gain, but in Hollywood terms her size 8 figure is plus-sized and the producers don't want to see the chubby Grace doing a naked love scene.  Grace is determined that she will not be turned away by Hollywood again, and if she has to go on a cucumber and air diet and runs a few hundred additional miles in an attempt to drop the required weight so she can stop hiding her body behind plants and books, then that's what she'll do. When the paparazzi come across a photo of a very overweight Grace from before her return to Hollywood, Grace is surprised to find such huge public outcry in support of her fight with her weight.
Between Jack's fans still attacking Grace on the internet, the producers cutting down her self-esteem and living on great big bites of air, Grace is trying to keep Jack from shooting his own star out of the sky. Stories of the parties and the drinking are increasing and it is no exaggeration that Jack is out of control, but can she save him from his own self-destruction if he doesn't want her help?
After fighting so hard for his relationship with Grace, will Jack's own behavior be the undoing of the best relationship either has even known? As the night of Grace's premier approaches, will Jack be there to support her or will it be his turn to flake out on Grace?
THOUGHTS:
I just LOVE Grace and Jack!! They are one of my favorite literary couples.  Alice Clayton has such a way with writing. The witty banter, the crazy antics and the titillating relationships blend together to make such enjoyable and unforgettable characters and stories.
Grace is the type of character that women can relate to between her weight and body issue, but she is also so fun and witty that you can see why she captured the heart of fun-loving Jack.
Where in The Redhead Revealed, we wanted to step in and shake Grace for her breaking up with Jack, in Redhead Plays Her Hand, it is Jack who will be earning the reader's wrath for risking his reclaimed relationship with Grace.
I know that Alice Clayton has finished with her tale of Jack and Grace, but I would happily read more and more of their story if she ever changes her mind. When I got my hands on this ARC, I didn't even bother putting it on my TBR list. I downloaded and opened it right away. There was no way I was waiting to enjoy this one.
Received an ARC courtesy of the publisher in exchange for an honest review.
---
Favorite Scene:
"Shall we?" I asked Holly, nodding toward the dance floor.
"Hell yes, I need to shake my ass," she affirmed, draining her glass and moving beyond the velvet ropes. Adam was busying himself with the blondes and had already lost interest in us.
"You coming?" I asked Jack.
"I'm watching." He smirked, leaning back against the leather and taking another bottle off the waiter's tray as he passed by.
"That's no fun, George." I teased, backing away.
"Depends on what you're watching." He winked, taking a sip of his beer and licking his lips as a shudder ran through me.
I continued to back away, turning around at the velvet ropes and making sure to add a little extra sexy to my hips, knowing he was watching. I joined Holly on the dance floor as the music changed to a new song, heavy bass pumping through the club. I threw back my head and gave myself over to the beat. Holly and I carved out our own dance space, losing ourselves in the song and the vibe. Screaming synthesizers and angry guitar buffeted everyone on the floor, hands groping and hips bumping as collectively we thrashed. Song after song we danced, energy spiking and spiraling throughout.
Sex poured through the speakers, oozed onto the floor, and inflamed everyone as we danced. It was dark and enveloping, hot and sticky, sweaty. I pulled my hair back from my face and felt hands on my hips, pulling me back against another body. I smiled, looking over my shoulder at who belonged to the hands. Just another guy at a club, looking for someone to dance with. Tall and handsome, his hands moved me, and I looked over his shoulder to find Jack.
Still sitting in the red leather, his eyes burned into mine as he took in the sight of me dancing with another man. I raised my arms up, the hem of my little black dress sliding farther up my legs. I let my hands tangle into his hair, feeling my body press along his, sliding low and then back up again, my fingers now tangled behind his neck as we moved together. I turned to grin at my partner, noticing that his boyfriend had appeared and was dancing behind him. Moving slightly, I slid in between the two, feeling both men encircle me, one leg sliding inside my own, grinding me hard. I let my head fall back against my new partner, feeling the beat of the music slip inside and pound my brain.
I closed my eyes and could feel the bass drugging me, relaxing me more than alcohol ever could. I was spun quickly, and as I smiled at Holly, lost in her own world with a very good-looking guy who couldn't be older than twenty, I glanced at the VIP section, wondering if Jack was still enjoying the view. I felt hands dipping lower on my legs and dragging my dress higher than was probably appropriate, and I was pulled back suddenly, a very wet mouth finding my neck and sucking hard at my shoulder. I began to turn when that very mouth was pressed against my ear.
"Fucking Nuts Girl, do you know what you do to me?" my Brit whispered, teeth sinking into my skin and shocking me still. My eyes rolled back in my head as I felt him, hard and thick against my back. I reached up, but he grabbed at my hand, turning it and pinning it behind me, holding me tightly. He pressed my hand against him, letting me feel exactly what I had done to him. I moaned, the beat pulsing and continuing to assault as he turned my face to the side. Kissing the side of my neck, he thrust himself against my hand, and I couldn't resist giving him a squeeze.
He groaned low in his throat, and he released my hand, encircling my waist with his strong arms, pulling me even more flush against him, moving now with the music. I wrapped my arms around his neck, and one of his hands came up to tweak my nipple, causing me to gasp.
"I thought you didn't dance," I said, pushing my hips into his, relishing in the lust that was cooking on this dance floor.
He turned me roughly in his arms, hitching one of my legs up high around his hip, his fingers dangerously close to my panties. He playing with the lace, slipping underneath and grazing me, watching as my eyes grew wide.
"I'm not dancing," he breathed, then crushed his mouth to mine. In the middle of the dance floor in the middle of Hollywood, Jack Hamilton pressed his fingers against me, hidden from the crowd and only known to me. Working to the beat, he thrust, the green on fire in his eyes as I struggled to keep upright.
"Jesus, what you are—Ohhh," I moaned. Knowing how dangerous this was made it sweeter, and I was on the verge within seconds of his skin meeting mine.
"I love watching you," he panted, keeping me pulled tightly into him, totally at his mercy, his hand hidden between our bodies.
"Yes, yes! God, Jack, yes." I panted, riding his hand shamelessly, my nails digging into the back of his neck as he hissed in pain.
"You ready?" he asked, his eyes on mine as I got close, so close, so very close. I nodded, incapable of speech, lost.
"Great, let's go," he grinned, removing his hands and straightening my dress. I stumbled slightly, and he grasped my hand, pulling me through the club. Waving at Holly, he motioned toward the door as she smiled back, mouthing to me, "Call you tomorrow."
I was stunned, my skin still warm from his touch, still tingling from what had just happened. I shook my head to clear it, not believing I had let things get carried so far away. I left him guide me to the door, and he released my hand as we neared the entrance. "I can't wait to get you home," he whispered in my ear, that grin that always made me smile stretching back across his face.
"I'm gonna get you for that, George," I warned, sighing as he pursed his lips in a silent kiss.
"Counting on it." He winked and leaned back into the door.
Which opened to a barrage of flashbulbs.
Related Posts