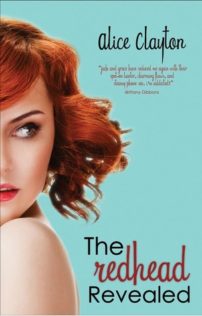 The Redhead Revealed (Redhead, #2)
by
Alice Clayton

Series:
Redhead #2
Published by
Gallery Books
on November 5th 2013
Genres:
Contemporary
Pages:
320
Format:
Audiobook
Narrator:
keili Lefkovitz
Length:
7 hrs 18 min



This post contains affiliate links you can use to purchase the book. If you buy the book using that link, I will receive a small commission from the sale.
---
Life is sweet. Grace Sheridan has just won her dream role in a new off-Broadway play, and the talented hunk flooding her phone with scintillating texts and scandalous photos is Jack Hamilton, the twenty-four-year-old "it" Brit whose Hollywood career is about to climax faster than . . . you know. So what if their steamy relationship is bicoastal and under wraps, or that L.A. fangirls are grabbing Jack's ass?

Absence does make the heart grow fonder and the libido hotter, but their few weekend visits feel more more like fast food than the five-course dinner they crave. And then—the creator of Grace's new show is the man who broke her heart back in college, and he seems to have written the play just to make amends with his leading lady.

As rumors spread that Jack and his lovely, leggy ex-girlfriend have gotten back together, Grace starts to wonder about her own feelings. Can lust alone keep our favorite, feisty duo together, or will Grace find herself back in safer, more familiar arms?
---
When we left Jack Hamilton and Grace Sheridan in The Unidentified Redhead, Jack's film Time was just about to premiere and he was scheduled for a worldwide promotion tour. Grace has landed a part in an off Broadway show which was written by her old college friend and one-night-stand Michael O'Connell.
Jack and Grace make magic together but could they hold it together while on separate coasts? Jack is the new "It" boy in Hollywood. He's only 24 and finding fame quickly. His fan base is growing as the days race by toward the premiere.
Grace is in New York, working hard on rehearsals and re-writes to the show. Grace and Michael are spending a lot of time together while working on scenes and they are rekindling their college friendship and getting closer as the weeks progress.
Jack and Grace are discovering the joys of phone sex but it doesn't quite fill the void of not being in each other's arms. Even though Jack manages to sneak some time in with Grace while in New York and Grace makes it back to LA for Jack's premiere, the strain on their relationship is starting to hurt. Jack and Grace are still under orders from his manager to keep their relationship quiet so Jack's fans can believe he's available, and while he tells Grace that every time he tells a reporter "I'm not seeing anyone special" means "I Love You, Gracie", Grace's courage starts to falter when pictures start emerging of Jack out on the town with his old girlfriend, actress Marcia Veracruz.
But all hell breaks loose when Grace comes back to LA for the premiere of Time. Although Grace shows up on the arm of her gay friend Nick, she makes the mistake of giving her name to a reporter and they start to take a good look at the redhead on the red carpet. Now the press is starting to question the relationship between the 24-year-old Jack and the 33-year-old Grace, and worse Jack's fans are out for redheaded-blood and are roasting Grace all over the internet.
And the biggest question of all is, can a woman with Grace's neurosis survive under the crushing weight of public disapproval or will she give in to all her self-doubt and toss away the greatest love of her life?
THOUGHTS:
I freakin' love Alice Clayton, and I just LOVE Jack and Grace! I can't tell you how excited I am that there's a third book coming out soon. I have been scoping all the ARC sites almost daily to see if a copy pops up. I have a green light from Gallery Books so I will be there to grab the first copy if it shows up, and there is NO way I am putting on the TBR list and making it wait. I am jumping on that immediately.
I would recommend the audio books for The Redhead Series since I think Keili Lefkovitz does an incredible job of bringing Grace to life. She brings out her neurosis and her joy and her love for both the theater and her Brit. I waited between Book #1 and Book #2 for the audio book release rather than satisfying the need to immediately continue the series. It was worth it.
Sadly, there are only three Alice Clayton books out there and I just can't get enough. Her books are the kind you want to wipe from your memory so that you can experience them again for the first time and you can be surprised by all over again by the fun, the laughs and the tears. Personally, I am all over anything Alice Clayton writes.
---
Favorite Scene:
One night he called late, really late. Or I should say really early. It was after four a.m. East Coast time.
"Hello?" I mumbled.
"Hello yourself," he whispered thickly.
I rolled over to look at the clock. "Are you okay? What's wrong?" I asked, sitting up in bed.
"Nothing's wrong. Does something need to be wrong to call my girlfriend in the middle of the night?" he asked, his voice a little rough.
"No, of course not, but it's crazy early here, Jack. Are you sure nothing's wrong?" I pressed as I lay back down.
"Wrong, no. Weird, yes, definitely," he said, his voice still sounding strange.
"What happened, love?" I asked trying to push back a yawn.
"Some girl grabbed my ass tonight! And then another girl—oh, hell, Grace. Are you sure you want to hear this?"
"Hmmm, I don't know, do I? Tell me, you didn't grab her ass back, did you?" I laughed, trying to let him know I was okay, and he could share without judgment.
"I was walking out to the car after leaving this club, and there were cameras, of course," he muttered.
This was a fairly new development. He was recognized more and more–and not just by fans. Paparazzi were taking more and more pictures of him, and it was not uncommon for me to see him on E! or TMZ at least once a week. It was weird seeing your guy on Entertainment Tonight, but that's how we rolled.
"Okay, so there were cameras. Did you keep your ball cap pulled down low?" I asked, trying to get him to laugh. It was standard for him to wear the ball cap every freaking day now, and if the cameras caught him in it, I teased him mercilessly.
"Ha-ha. I did have it on, yes. Well, anyway, I was walking out to the car, and this girl came out of nowhere and tried to…well…she tried to…"
"Did she kiss you?" I asked.
"She tried to, yes. But she didn't. Grace, I swear I did not kiss her," he said firmly.
"Hey, it's cool, George. I know how aggressive they can get. You should have seen me the first time I saw New Kids when I was in high school. My friends and I followed their bus halfway across town before we realized we were actually following a group of senior citizens on their way to Branson." I laughed, remembering how sad we were when we pulled in behind them at the Flying J truck stop and saw the shuffleboard set disembark.
"You followed the New Kids' tour bus? Why are girls like that?" He asked, laughing along with me. I could feel him calming down, even over the phone. Jack did not like crowds, as a rule, and when he had a lot of people looking at him, it made him extremely self-conscious. Tonight he just seemed to need to hear my voice, and I loved that I could soothe him.
"I would explain it if I could," I said. "All I know is when we saw them perform earlier this year, Holly and I both screamed like we were fourteen again. It brings something out in us—it's hard to define. I felt exactly like I did when I saw them the first time, like no time had passed. I think that's why you have so many older fans as well, why you're cornering both the teen and the cougar market." I giggled. "You remind us of when we were young enough that squealing was expected."
"Hmmm, and they've called you a cougar, Grace. Are you just using me for sex?" he teased, his voice silky and thick at the same time.
"I'm not quite a cougar yet, love, but I'm for sure just using you for sex," I answered, my voice trailing off.
"I knew it," he said, laughing.
We were quiet for a moment, and then he sighed.
"What is it?" I asked, sliding deeper into the covers.
"I just miss you. I miss being in your bed," he said quietly, and I could hear the desperation in his voice. I felt it too. It was not just the physical love he gave me, but the simple touches we took for granted when we saw each other all the time. I missed him washing my hair almost as much as the intense orgasms he had granted me daily.
"I do too, love. I miss the way you hold me–especially where your hands always end up." I giggled.
"You mean on your beautiful boobies?" he whispered.
God, I missed him.
"Oh, love, I wish I was there. I'd scratch you head and let you fall asleep on me," I said, almost able to feel his weight.
"Would you let me hold your boobies" he chuckled.
"You don't even have to ask, George. My boobies are your boobies," I teased, feeling my heart finally beat again in a normal rhythm.
"Hell yes they are! I'm going to make a little sign for you to wear that says 'These are spoken for,' and then everyone will know your boobies are mine."
"Mmm, I love when you get all caveman on me. Will you throw me over your shoulder and carry me back to your cave?"
"Yep, and then I will ravage you before making you cook me up some T-Rex." He laughed.
"That sounds heavenly, Sweet Nuts, just heavenly," I sassed, choking on a yawn.
"Shit, Grace. I forgot how early it is there. I'll let you get back to sleep. I'm sorry I called you in the middle of the night," he said, horrified now.
"Do you feel better," I asked.
"Well, yes. I do actually," he said sheepishly.
"Then you call my ass whenever you want. That's what I'm here for–that and the blow-your-mind phone sex."
We laughed.
"I miss the shit out of you, Gracie," he said quietly.
"I know, George. I miss you too." I smiled into the phone.
Related Posts