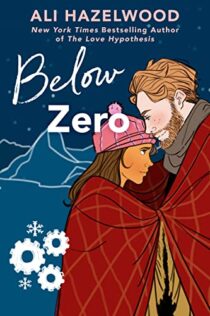 Below Zero (The STEMinist Novellas, #3)
by
Ali Hazelwood

Series:
The STEMinist Novellas #3
Published by
Berkley
on April 5, 2022
Genres:
Contemporary
Pages:
124
Format:
eBook
Source:
Netgalley



I received this book for free from Netgalley in exchange for an honest review. This does not affect my opinion of the book or the content of my review.
This post contains affiliate links you can use to purchase the book. If you buy the book using that link, I will receive a small commission from the sale.
From the New York Times bestselling author of The Love Hypothesis comes a new steamy, STEMinist novella…
It will take the frosty terrain of the Arctic to show these rival scientists that their chemistry burns hot.
Mara, Sadie, and Hannah are friends first, scientists always. Though their fields of study might take them to different corners of the world, they can all agree on this universal truth: when it comes to love and science, opposites attract and rivals make you burn…
Hannah's got a bad feeling about this. Not only has the NASA aerospace engineer found herself injured and stranded at a remote Arctic research station—but the one person willing to undertake the hazardous rescue mission is her longtime rival.
Ian has been many things to Hannah: the villain who tried to veto her expedition and ruin her career, the man who stars in her most deliciously lurid dreams…but he's never played the hero. So why is he risking everything to be here? And why does his presence seem just as dangerous to her heart as the coming snowstorm?
To read Mara and Sadie's stories look for the novellas Under One Roof and Stuck with You available now from Berkley!
---
Of the three short stories, this one makes the best use of the time jumping for suspense.
The STEMinist Novellas are all short stories featuring best friends Mara, Sadie and Hannah, each engaging in a different science. Each of these women studied and pursued difficult professions. What I like best about Hannah is the fact that Hannah didn't start out in school as a overachiever. Most times these top level scientists make the rest of us appear stupid as they make advance science look so easy to them. So it is nice to have a character like Hannah who wasn't much of a student and didn't care to even try until that moment when she started obsessing about Mars. When NASA scientists dropped the first rover on Mars, Hannah knew in that moment where her destiny lies. She wanted to be part of NASA and anything to do with Mars. So the girl who had little interest in education suddenly makes the grade, and adding on learning everything to do with coding computers and creating robotics in her desire to get into NASA. Hannah showed us that not everyone is a super-student. You just need to know what is most important to you and then focus on getting there.
In one of her final classes, Hannah needed to do an interview and since one of her best friend's Mara Floyd, had a cousin who worked at NASA, Hannah was set up to meet engineer Ian Floyd. A great big, red-headed mountain of a man. Hannah and Floyd had great chemistry and Hannah wanted to go back to Ian's place but Ian wanted to take Hannah to dinner.  You see, as well as being a bad student, Hannah also had a little self-esteem problem. She has come to believe that people who get to know her, don't like her. She doesn't have a great relationship with her parents and until Mara and Sadie forced her to be friends and roommates with them, Hannah didn't really have any friends. So Hannah keeps her relationships to one night stands and Ian wanted more.  And I liked that Ian held out for more instead of jumping on the opportunity to jump Hannah.
When Hannah graduates and gets a position with NASA, she one again meets Ian and I like that Ian didn't hold a grudge that Hannah never agreed to go out with him. He was excited for Hannah that she achieved her dream job  with NASA and still hoped he could convince Hannah to go to dinner with him.
As I mentioned before, all these short stories jumped from the present issue to the past history between chapters as a lure. I needed to know what was that one thing that went wrong to sour what we see in this easy  relationship. In Hannah's case, her work with NASA brought her to a wasteland part of Norway that would be similar to Mars. Hannah was testing out the rover she created for the next Mars Mission when she falls into a crevice and her immediate boss let's her know that no one will be braving the fast-moving storm to get her out, but over the radio Hannah hears Ian say he is coming for her.  Ian who isn't even supposed to be there.  Ian who she didn't think would risk his life for her, even though we could see how interested he was in Hannah. So what happened between them and can Ian rescue Hannah before the storm hits. It was very stressful as Hannah faced the cold and dark trapped in the crevice.
I really like both Ian and Hannah and enjoyed their story very much.
---
Favorite Scene:
I'm itching to text Mara. Your cousin looks like a slightly jacked version of Prince Harry. Maybe you should have kept in touch?
"So." I cross my hands and lean my elbows on the table. "What does she have on you?"
He tilts his head. "She?"
"Great-Aunt Delphina." He blinks twice. I smile and continue, "I mean, it's a Thursday afternoon. You're in California for a handful of days. I'm sure you have something better to do than meet up with your long-lost cousin's friend."
His eyes widen for a split second. Then his expression levels back to neutral. "It's fine."
"Is it an embarrassing baby pic?"
He shakes his head. "I don't mind helping out."
"I see. A baby video, then?"
He's silent for a moment before saying, "As I said, it's not a problem." HE looks like he isn't used to people pushing him, which is unsurprising. There is something subtly removed about him. Vaguely distant and intimidating. Like he's not quite reachable. It makes me want to get closer and poke.
"A baby video of you…running around in the kiddie pool? Picking your nose? Rummaging around the back of your diaper?"
"I–"
Sudoku Boy drops off my iced tea in a plastic cup. Ian's eyes follow him for a few seconds, then return to mine with an interesting mix of stoic resignation. "It was more of a toddler video," he says cautiously, like he's surprising even himself.
"Ah." I grin into my tea. It's both too sweet and too sour. With a subtle aftertaste of gross. "Do tell."
"You don't want to know."
"Oh, I'm positive I do."
"It's bad."
"You're really selling it to me."
The left corner of his mouth curves upward, a small hint of amusement that's not quite fully there yet. I have an odd stray thought I bet his smile is lopsided. Beautiful, too. "The video was taken at Lowe's. With my older brother's new camcorder, sometime in the late 90's," he tells me.
"At a Lowe's? Can't be that bad, then."
He sighs, impassive. "I was around three or four. And they had one of those bathroom displays. The ones with model sinks and showers and vanities. And toilets, naturally."
I press my lips together. This is going to be fun. "Naturally."
"I don't really remember what happened, but apparently I need to use the restroom. And when I saw the display I was…inspired."
"No way."
"In my defense, I was very young."
He scratches his nose, and I laugh. "Oh my God."
"With no concept of sewage systems."
"Right. Sue. Honest mistake." I cannot stop laughing. "How did Great-Aunt Delphina get a copy of the video?"
"Officially: unclear. But I'm fairly sure my brother made CDs of it. Sent them to local TV stations and whatnot." He gestures vaguely, and his forearm is dusted with freckles and pale-red hair. I want to grab his wrist, hold it in front of my eyes, study it at my leisure. Trace, smell, touch. "I haven't spent a holiday with the Floyd side of the family in twenty years, but I'm told that the video is a source of great entertainment for all age groups at Thanksgiving."
"I bet it's the pièce de résistance. I bet they press play right after the turducken comes out."
"Yeah. You'd probably win." He seems quite resigned. A big man wit a put-upon-but-ensuring air. In an utterly charming way.
"But how do you blackmail someone from this? How much worse can it get?"
He sighs again. His broad shoulders lift, then fall. "When my aunt called, she briefly mentioned uploading it on Facebook. Tagging the NASA official page."
I gasp into my hand. I shouldn't laugh. That is horrible. But. "Are you serious?"
"It's not a healthy family."
"No shit."
Related Posts