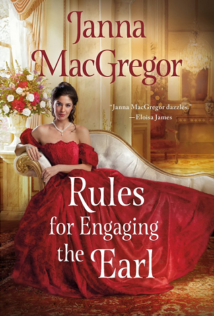 Rules for Engaging the Earl (The Widow Rules #2)
by
Janna MacGregor

Series:
The Widow Rules #2
Published by
St. Martin's Paperbacks
on April 26, 2022
Genres:
Historical
Pages:
384
Format:
eBook
Source:
Netgalley



I received this book for free from Netgalley in exchange for an honest review. This does not affect my opinion of the book or the content of my review.
This post contains affiliate links you can use to purchase the book. If you buy the book using that link, I will receive a small commission from the sale.
Get ready for lost wills, broody dukes, and scorching hot kissing all over London.
Constance Lysander needs a husband. Or, so society says. She's about to give birth to her late husband's child―a man who left her with zero money, and two other wives she didn't know about. Thankfully, she has her Aunt by her side, and the two other wives have become close friends. But still―with a baby on the way, her shipping business to run, and an enemy skulking about, she has no time to find the perfect match.
Enter Jonathan, Earl of Sykeston. Returned war hero and Constance's childhood best friend, his reentry into society has been harsh. Maligned for an injury he received in the line of duty, Jonathan prefers to stay out of sight. It's the only way to keep his heart from completely crumbling. But when a missive from Constance requests his presence―to their marriage ceremony―Jonathan is on board. His feelings for Constance run deep, and he'll do anything to make her happy, though it means risking his already bruised heart.
With Constance, Jonathan, and the new baby all together, it's clear the wounds―both on the surface and in their relationship―run deep. But when the nights come, their wounds begin to heal, and both come to realize that their marriage of convenience is so much more than just a bargain.
---
This was a sweet romance but nothing exceptional.
Constance and Jonathan were childhood friends with the potential of childhood sweethearts but Jonathan left town to go into the army. It was nearly a decade later when Constance writes to Jonathan and asks for a favor.  It seems that Constance's husband was a bigamist.  She doesn't learn this until after he died and she learned that she was pregnant.  Constance  needs another husband pronto since they are still trying to determine who was the real wife.  Jonathan would do anything for Constance, even marry her, although he never wanted a wife nor does he intend to stay with her.
Jonathan was badly wounded during the war and only just managed to keep his leg.  Jonathan tries to keep Constance in London and out of his country estate where he prefers to stay by himself.  But due to some mischief on the part of his staff, his wife  is invited to join him in the country.
Constance enjoyed having a husband and isn't happy about Jonathan trying to keep their lives separate.   Constance is determined to not only have a father for her daughter but a husband who loves her  and who she can enjoy in bed.   She just has to convince Jonathan of this.
I tried to get a review copy when I first saw a post on it months and months ago but it wasn't yet available. I stalked this book and pounced when it was finally was available for review.  Not only is the cover so very pretty, it contains my favorite trope–a wounded hero.   I had to have it.     I love my wounded/imperfect heroes but Jonathan was a little more whiny than I thought he should be about what amounts to an injured leg.   Other than being sulky about it, rather than working to overcome his injury, I liked him.  Constance was delightful.    They would be a nice couple and if only Jonathan could get out of his own way, they will have a wonderful life together. I could even see it beginning with Jonathan offering to help take care of the baby so Constance could get more sleep.
Jonathan's servants were quite funny as they plot and plans ways to get Jonathan and Constance together.
The biggest blah on this story, which only made it okay, besides Jonathan's big wound being more drama than injury, was the "bad guy" who stole Jonathan's idea for a training school and anytime Jonathan tries to call him out, starts with "too bad you're no longer a whole man" which sent Jonathan running to cry on his bed like a teenage girl.
There was much to like about the characters and the story but the plot was too weak to make this more than an okay story.
Related Posts