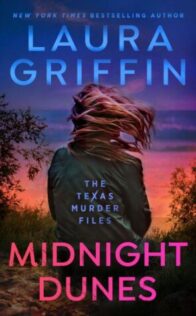 Midnight Dunes (The Texas Murder Files, #3)
by
Laura Griffin

Series:
The Texas Murder Files #3
Published by
Berkley Books
on May 24, 2022
Genres:
Crime Drama
Pages:
368
Format:
Paperback
Source:
Publisher



I received this book for free from Publisher in exchange for an honest review. This does not affect my opinion of the book or the content of my review.
This post contains affiliate links you can use to purchase the book. If you buy the book using that link, I will receive a small commission from the sale.
When the shocking discovery of a murdered woman's body disturbs the tranquility of tourist season, the police detective in charge of the puzzling case must work alongside the new filmmaker in town to pursue every lead in the new romantic thriller from New York Times bestselling author Laura Griffin.
After a scandal derails her television reporting career, Macey Burns comes looking for a change of pace in Lost Beach, Texas. She's ready to focus on her first passion--documentary filmmaking--and has a new job working for the island's tourism board, shooting footage of the idyllic beachside community. Her plans for a relaxing rebound are dashed when she realizes the cottage she's renting belonged to the woman whose body was just found in the sand dunes.
Detective Owen Breda is under intense pressure to solve this murder. Violent crimes are rising in his small town, and he can't stand to see anyone else hurt...especially not the beautiful documentarian who keeps showing up at the precinct.
With the clock ticking, cameras rolling, and body count climbing, Macey and Owen must use all their resources to find the killer without getting caught in the crosshairs.
---
I definitely need to read more Laura Griffin.
Macey Burns and her assistant have just arrived in Lost Beach, Texas. Creating a commercial to draw vacations to Lost Beach is Macey's first Job for her new production company which she started after the scandal that caused her to lose her job as a reporter. While Macey isn't upset about the job change, digging out facts is something that has become second nature. When she sees all the police and emergency vehicles not far down the beach from her rental, Macey goes to investigate.
Detective Owen Breda thinks of himself as second string to his older and more experienced brother, but since Joel is busy, the murder of Julie Murphy has been assigned to Owen. As he investigates, Owen keeps crossing paths with Macey. Owen is drawn to her more and more which is good because someone is trying to scare away Macey, or is the killer now fixated on her.
This was my first Laura Griffin story, although I have looked at several other releases, including Book 2 of this series. There was a nice flow to the story, an interest set of secondary characters and good suspense for a mystery.
I didn't rate it higher because I felt the romance didn't build well. When you have to build up and investigate a mystery and give us a solid romance, it doesn't always work. There were also a few things that I felt weren't explained well, such as why someone rented Macey a summer lease on a house which was previously rented by the murder victim, who, until Macey showed up, was only a missing person. Julie wasn't a summer renter, she was a local. I would have hoped that someone investigated the landlord who turned around and re-rented a house where a woman went missing for 2 weeks. Seemed a little rushed to me. There were a few little things like that where I didn't feel like we tied that up so why bring it up at all.
I do have a copy of her next release, Vanishing Hour, and I am looking forward to reading more by this author.
Related Posts