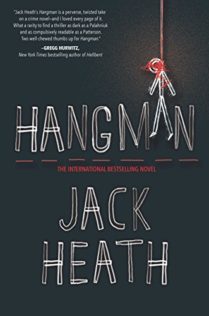 Hangman
by
Jack Heath

Published by
Harlequin
on January 1st 2018
Genres:
Crime Drama
Format:
Audiobook
Narrator:
Christopher Ragland
Length:
9 hrs 21 min



I received this book for free from in exchange for an honest review. This does not affect my opinion of the book or the content of my review.
This post contains affiliate links you can use to purchase the book. If you buy the book using that link, I will receive a small commission from the sale.
A 14-year-old boy vanishes on his way home from school. His frantic mother receives a disturbing ransom call. It's only hours before the deadline, and the police have no leads.

Enter Timothy Blake, codename Hangman. Blake is a genius, known for solving impossible cases. He's also a sociopath - the FBI's last resort.

But this time Blake might have met his match. The kidnapper is more cunning and ruthless than anyone he's faced before. And Blake has been assigned a new partner, a woman linked to the past he's so desperate to forget.

Timothy Blake has a secret, one so dark he will do anything to keep it hidden.

And he also has a price. Every time he saves a life, he takes one…

Already sold into five territories, Hangman is a mesmerising dissection of the criminal mind and a bulletproof thriller.

'Jack Heath's Hangman is a perverse, twisted take on a crime novel—and I loved every page of it. What a rarity to find a thriller as dark as a Palahniuk and as compulsively readable as a Patterson. Two well-chewed thumbs up for Hangman.' —Gregg Hurwitz, NYT-Bestselling author of Hellbent

'Jack Heath's writing grabs you by the throat, gnaws on your bones, and washes it all down with a hefty dose of funny. Sick, twisted, violent, and oh so good. In Timothy Blake, Heath has created a one-of-a-kind character. I hope.' —Emma Viskic, internationally bestselling author of And Fire Came Down

'Wild and original, HANGMAN stamps a high and bloodied mark on this dark genre. Hannibal Lecter will be adding Jack Heath to his reading list.' —Ben Sanders, internationally bestselling author of American Blood
---
Umm…umm…
I have some mixed feelings about this book. I have to confess I had to finish it and it was more than just the fact that I had to know who kidnapped this kid. It was a good story. The book jacket describes the main character as a sociopath. I was thinking along the line of Dexter, the serial killer who only kills criminals that he has proven are guilty and that the police won't be able to convict. Buuuut not so much. I was very disturbed by the fact that the main character is a cannibal. Although you do learn interesting facts like what parts of a human body you shouldn't eat, and you never know when that could come in handy. But sleep-eating is very disturbing when your favorite finger-foods are…um, fingers.
Timothy Blake is what you get if Sherlock Holmes and Hannibal Lecter had a baby. Blake notices the most innocuous things, psychoanalyze the parties involved and usually draws the correct conclusion. That is why the FBI director calls Blake in to assist on difficult cases. And if he can solve the case before the FBI, the director pays him in death row inmates. Since the story takes place in Texas, the U.S. leader in the death penalty, there are always plenty of choices for dinner. Tim is like the death row boogeyman. The inmates discuss the man who comes to the prison looking to pick out his next meal. It's like a cannibal lobster tank. Ooo…that one looks tasty.
Tim is called in to assist in a kidnapping case. A teenaged boy is abducted and his mother calls in the FBI for their help. Because the Director doesn't completely trust Tim, he gives him an agent babysitter to make sure Blake doesn't do anything illegal or cross lines that would affect the FBI's ability to prosecute the guilty parties.
Agent Thistle is brought in to watch over Blake. They have a good balance of good cop/cannibal consultant and Thistle actually comes to admire Blake since he seems to be working very hard to find the missing boy (and since she has no idea how he gets paid). And, yes, part of that hard work is because if the doesn't find the kid alive, he doesn't get his death row snack. But Blake does seem to have a moral compass, a very weak one, but it is there and it includes protecting Thistle from himself when mutual admiration causes Thistle to lose some of the fear the other agents have around Tim.
The name Hangman comes from the only financial income that Timothy Blake has since the FBI pays in body parts. He advertises under the name Hangman to solve any puzzle and people forward him money and puzzles to solve. Since that is the only money that he brings in, well, except for selling credit card numbers on the dark web, Tim lives on the poverty line. An orphan and former group home kid, Tim still only has two outfits to wear and his roommate is a drug dealer. He is sickly looking and has all the usual health issues of someone who is poor…really, really poor.
I have many, mixed feelings about this story. It was a really good crime drama. It kept me absorbed in the story. I am highly recommend this to anyone who can get past the whole cannibal thing because I don't think this is a story I am going to forget any time soon.
On thing which will make you want to punch author Jack Heath if you ever met him in person is the fact that he starts each chapter with a riddle…AND NO ANSWERS.
Narrator Christopher Ragland did a great job with his presenation of the characters.
Related Posts