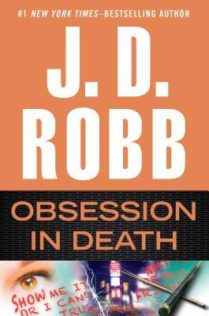 Obsession in Death (In Death, #40)
by
J.D. Robb

Series:
In Death #40
Published by
Berkley
on February 10th 2015
Genres:
Crime Drama
Pages:
404
Format:
Hardcover



I received this book for free from in exchange for an honest review. This does not affect my opinion of the book or the content of my review.
This post contains affiliate links you can use to purchase the book. If you buy the book using that link, I will receive a small commission from the sale.
---
[box style="rounded" border="full"]Even after 40 novels and a dozen novellas, I have to say this series is still absolutely amazing! She always brings something new to the series both in character development and story line.  I couldn't stop reading Obsession.  It was a walk down memory lane for series fans but it could still work as a stand alone or intro to the series for newcomers. [/box]
I know it is intimidating to look at a series that includes 40 novels. Everyone thinks, I can't start in so late in a series. As an avid reader (and re-reader) of this series, Obsession in Death had me going "no, no, no" once I recognized who it was from the past books that the killer was going after, but it was also written so it wasn't necessary to know the series.
Let's step back for those who haven't given this series a try. The In Death series takes place in the year is 2060 and it focuses on Lieutenant Eve Dallas of the New York Police and Security Department. Over the course of these 40 novels, Lt. Eve Dallas has worked alone in solving murders but most often she works with her partner, Det. Delia Peabody, her former trainer EDD Capt. Ryan Feeney, the rest of her homicide division and most particularly, her husband, Roarke, who she met in the first novel, Naked in Death. Of course, he's mega rich and mega gorgeous and takes care of our hard working homicide cop, but before you roll your eyes, you only need to read one book to go "I'm in."
In Obsession, a killer has been following the career of Eve Dallas and doesn't believe that Eve has been given the respect she deserves. The killer admires Eve and wants to be her friend and will prove this by killing those who have been disrespectful to Eve.
If the killer truly knew our Lt. Dallas, they would know that the deaths she investigates are personal to Eve. She will stop at nothing to bring justice for the dead whether or not she knew them or liked them in life. It doesn't take long for this obsessed killer to realize that the gifts being left aren't being properly appreciated by Eve.
This killer not only develops a taste for the killing, but quickly starts to unravel as they realize that not only does Eve not appreciate what they are doing for her, but that Eve is actively trying to put them in a cage. The killer realizes that in order for Eve to focus her attention on their true friendship, the killer needs to start getting rid of those who surround Eve and who absorb all her attention — like Peabody, Mira, Mavis, Feeney and even Roarke.
With everyone Eve cares about at risk, the clock is ticking quickly to stop the killer before the people she loves are killed in the name of friendship. When Eve realizes that the killer is picking the victims from her own case files, that screams cop or someone on the inside. It gets harder to watch your back when someone you thought you could trust might just be waiting to stab you there.
With a nail-biting ending, J.D. Robb a/k/a Nora Roberts proves that even after 40 books she is still going strong.
THOUGHTS:
I am a big fan of the In Death series. I love a good romance. I love science fiction. I love police dramas. I especially love a good police dramas where there is an ensemble cast working together to investigate the crime. These investigations can each be enjoyed separately. The only thing you would miss by grabbing a random story in the series in the growth of the relationships between the characters.
Although there are definitely some stories which were better than others, they are each creative in their plots. Some involve more science fiction plots, such as Fantasy in Death and Purity in Death, which used advanced technology to kill. Some involve tracking down an unknown killer and others about finding a known killer or several times multiple killer or conspirators.
What we do get in each and every story is the ever growing bond between the characters. Eve was abused and raped by her father, forced to kill him to survive, and at eight was thrown into a careless system of child care. She knew what she wanted and that was to be a police officer. But she had no friends and no basic knowledge of what to do with a friend. When the series starts, the only person she relies on and trusts is Capt. Feeney who was her former partner. She has learned to be wife and a friend through two years of continuing emotional growth on her part, sometimes forced on her by those who cared about her enough to push her boundaries. She is a much different character than when we were first introduced to her 40 books ago which is what makes it such a great series.
I challenge anyone who hasn't tried an In Death story to grab just one and I am certain you will want to read the complete series. With 40 novels to choose from, there are plenty to keep you busy. Feel free to comment and ask for a recommendation. Normally, I like to start from Book 1, but I was introduced to this series somewhere around Book 17. I started taking out the books from the library, but starting getting annoyed reading them out of order because I had to wait for them to be available. I knew I was missing something in the character relationships. Eventually, I just purchased my own so I could read them in order.
I listened to the majority of these novels by audiobook which is narrated by Susan Erickson. One thing I have missed from being fortunate enough to received an advance copy is Susan's narration. She does a fabulous job bringing these characters to life and when I read them, I still hear all the voices as she presents them.
Received an ARC from the publisher in exchange for an honest review.
[ilink url="http://www.heroesandheartbreakers.com/blogs/2015/02/twenty-years-and-still-alive-jd-robb-in-death-series" style="note"]Read more about the In Death series at H&H.[/ilink]
---
Favorite Scene:
She arrowed straight toward the bedroom, struggling to think how she could toggle around from cop to Roarke's wife in thirty minutes.
When it came to public appearances, she could barely manage it with thirty days' notice. Which, of course, she'd had. And forgotten.
Carnegie Hall–a benefit for…Oh, what the hell did it matter? She'd screwed up, again.
She dashed into the bedroom to see her husband completing the knot on his elegant black tie.
Christ, he was gorgeous. All that silky black hair framing a face artists and angels wept over. Madly blue eyes, full, sculpted mouth, bones that would keep him deliriously handsome after he hit the century mark.
He looked as if he'd been born wearing a tux. No one could look at him and see the Dublin street rat he'd once been.
"There you are." Ireland wafted through is voice as he smiled, as those magic eyes met hers in the mirror.
"I'm sorry. I'm sorry."
"No need." He turned, moved to her–a living poster for tall, dark, and handsome. He cupped her chin, brushed his thumb over the shallow dent in it before he lowered his head to kiss her. "Being a bit late isn't a crime–and I'll be with a cop in any case."
"Right. Well, I'll…" What? she wondered. What would she do?
"Your gown, shoes, bag, appropriate coat are all in the front of your closet. Jewelry, unless you want something else, in the boxes on your dresser."
"Okay, right." She got as far as the sitting area, then just dropped down on the sofa. Galahad changed directions from his journey to the bed and leaped up beside her.
"I have a feeling I'm overdressed for what we'll be doing this evening," Roarke commented.
"I'm sorry. I need a minute." She scrubbed her hands over her face, then just left them there.
"Eve." Amused resignation shifted to concern as Roarke went over, sat on her other side. "Is someone hurt?"
"Bastwick. Leanore Bastwick. She'd dead."
"Yes, I heard that on the media bulletin, assumed you'd caught it, and that's why you were late. But you barely knew her."
"It's not her. Of course it's her," Eve corrected. "But it's me. I didn't let it hit me until now. It can't get in the way."
"What can't?"
"It doesn't make any sense. But that's nothing new, is it? You have to remember a lot of the time it doesn't make sense."
"You're not." And the concerned him. "Tell me."
"Better show you." She pulled out her PPC, then glanced at the wall screen. "Put this up on there, will you? You'll do it faster."
"All right."
He took her handheld, keyed in a few commands. The wall screen went on.
And the image of the message from the crime scene flashed on.
"This was on the wall, over her bed. She'd been garroted. Fully dressed. Slight stun burns, center mass. No other signs of violence. No defensive wounds. She–"
"Hush," he muttered, eyes cold as he read the message.
So she said nothing more, just sat.
"Has Whitney seen this?"
"Sure. I went straight to him with it."
"And Mira?"
"And to her. The media liaison's handling the media liaisoning. You'll need to alert your people on that. Once this leaks, reporters are going to go batshit."
Hating that, just hating it, she pressed her fingers to her eyes.
"That's a simple matter to deal with."
"There has to be a solid wall of–"
"We'll deal with it," he snapped. "Have you had any other communication from this person?"
"No. I don't know," she corrected. "Mira's looking over correspondence, looking for tells. If she finds anything, we'll follow up. We're looking at her law partner, other people in the firm, personal acquaintances, lovers, family. Nothing's shaken lose there yet, but–"
"And is unlikely to. Has anyone sent you gifts, tokens, made any sort of advances?"
"No, Jesus." Rather than embarrass, as it had coming from Feeney, the question irked coming from Roarke. "Who's the cop here?"
"You are. You're my cop. You're standing for her, that's your job. But I stand for you, and you're the target here. The murder was a gift to you. As brutal and bloody as a cat dropping a dead mouse at your feet."
Scowling, Eve looked down at Galahad.
"Not this cat," Roarke said. "It's that feral, Eve. You're the target," he repeated, "and sooner or later the feral will turn on you. I'll change, and you'll bring me up to date."
"I'm not going to turn down the help, you're too good at it. And I could use another set of eyes, another viewpoint. But if you're going to be pissed about it–"
"Pissed?"
Rising, he pulled off the tie, the jacket. She felt another quick pang when she watched him carefully remove the little lapel pin she'd had made for him for Christmas.
Her wedding flowers–white petunias in mother-of-pearl.
"Why would I be pissed just because some murderous bastard's got a crush on my wife?"
"Could be a murderous bitch," Eve said evenly. "And you wife's a murder cop."
"Doesn't make her less mine, does it? The bastard–or bitch, if you prefer–claims to have given you justice. Now tell me how you spent your day."
"How I–" She got to her feet. "How the hell do you think I spent my day? Doing interviews, following leads, consulting, writing reports. Doing my damn job."
"Exactly." He sat on the side of the bed, removed his shoes, his socks–as outwardly cool as she was hot. "But to the killer's mind, he did the job for you. Justice was served. You're demeaning the gift, Lieutenant, and no one enjoys having their gift go unappreciated."
"So, what, I should've said thanks?"
"You could have passed the investigation on–of course you didn't, and couldn't being you." He walked into his enormous closet as he spoke. "I imagine the killer's quite torn. One one hand, you're doing exactly what he purports to admire about you, and on the other, he wants your gratitude for the gifts."
"I don't give a rat's ass if he's torn. I'm doing my job."
"And by doing it, you'll eventually twist the crush into rage or despair. I'd think either could be deadly." Roarke stepped back out wearing jeans and a black sweater. "On some level you know that, and you're already wondering how you can turn it quicker. Because until you do, and the rage or despair turns on you alone, someone else stands to be the next gift."
"How the hell do you know what he thinks, feels, wants?" she demanded.
"He's infatuated with you. And so am I."
The anger dripped away into a kind of grief. "He's killing for me, Roarke. It makes me sick inside."
"He–or she–is killing for himself." Roarke came back to her, framed her face with is hands. "You're an excuse. And you'll do better work when you fully accept that, and put all the blame–every bloody bit of it, Eve–where it belongs."
He kissed her again. "Now, we'll go into your office, and you can tell me all of it."
Related Posts