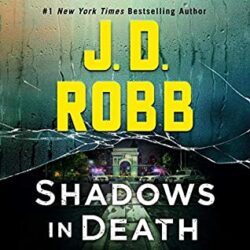 Shadows in Death (In Death, #51)
by
J.D. Robb
,
Susan Ericksen

Series:
In Death #51
Published by
Macmillan Audio
on September 8, 2020
Genres:
Crime Drama
Format:
Audiobook
Narrator:
Susan Ericksen
Length:
11 hrs 59 min



This post contains affiliate links you can use to purchase the book. If you buy the book using that link, I will receive a small commission from the sale.
10 hours, 30 minutes
Lt. Eve Dallas is about to walk into the shadows of her husband's dangerous past.
As it often did since he'd married a cop, murder interrupted more pleasant activities. Then again, Roarke supposed, the woman lying in a pool of her own blood a few steps inside the arch in Washington Square Park had a heftier complaint.
When a night out at the theatre is interrupted by the murder of a young woman in Washington Square Park, it seems like an ordinary case for Detective Eve Dallas and her team. But when Roarke spots a shadow from his past in the crowd, Eve realises that this case is far from business as usual.
Eve has two complex cases on her hands - the shocking murder of this wealthy young mother and tracking down the shadow before he can strike again, this time much closer to home. Eve is well used to being the hunter, but how will she cope when the tables are turned? As Eve and the team follow leads to Roarke's hometown in Ireland, the race is on to stop the shadow making his next move . . .
---
Another great investigation. I think N.R. has been holding out on us.
Lt. Eve Dallas is called to the scene of a murder in a park. Since she was out on the Town with her gorgeous billionaire husband, Roarke, he tags along to her crime scene. While Dallas is talking with the officers on scene and the witnesses, Roarke sees a familiar face in the crowd.  Lorcan Cobbe, a man from Roarke's past, a man who believes that he is Patrick Roarke's older son.  Cobbe is a man who has put his violent tendencies to use in his current employment — assassin for hire.   Figuring out who hired this man and putting them away is the easy part for Dallas.  The problem is that now that Cobbe is in New York, he's planning to stay for his own pleasure.
Cobbe believed he was the bastard son of Patrick Roarke and he has always wanted Roarke to acknowledge him as such and to give up the name Roarke to Cobbe.   Roarke's response all those years ago was to leave Cobbe moaning on the floor.   As Roarke says at one point, if Cobbe was really Patrick Roarke's son, he was so much like the old man, that he would have openly acknowledged it. While they had a contemptuous childhood, they haven't crossed paths again in many, many years.  When Cobbe sees Roarke at the scene, he believes it is fate bringing them back together.
Eve and Roarke realize quickly that Cobbe is planning to stay in NY until he gets his personal revenge on Roarke.   Dallas fears for Roarke but Roarke insists that Cobbe would cause him more pain by going for her and Somerset first. So they are very busy trying to keep each other safe while trying to flush out Cobbe.
I generally break these stories down into two catagories;  either we are focused on the investigation or we are more focused on building the relationships between the characters. In the last few books, I think we have had less and less in the way of building the relationships. Even though we deal with Roarke's past, we really don't learn anything new.   It is just more stories about his father and his shady past.  Just about everyone who matters knows about Dallas's past, and Roarke's past (the cops playing don't ask, don't tell). Dallas and Roarke as solid in their marriage and any fights lately are just B.S. and feel like the author threw them in because they needed a fight. Dallas and Peabody are a solid team. Even Dallas and Somerset have really put away their daggers and just play snipe at each other.
That being said, since there really is no more relationship building going on, we really need solid crime stories to keep our interest and the last few have been pretty good. What I like in this one is that we really didn't have to do the tedious door to door work.  We relied on the beat cops and other members of the team doing their assignments and narrowing down information for Dallas and Peabody to put together. We can sometimes spend the first third of a book interviewing witnesses on the first murder whose information is irrelevant once another body pops up and leads the investigation down another avenue. While it is important that the case breaking lead doesn't magically fall into Dallas's lap (which it has done once or twice), we didn't have to spend large parts of the books getting information that wasn't needed. And once the cops knew that Cobbe was gunning for Roarke, they were all said "he's one of us and nobody comes after us." So the former criminal is now part of the NYPSD whether he likes it or not.
The last few books have been an improvement after the stories dipped in quality somewhere between 40 and 50. I am still enjoying this series and hopefully these last books mean that N.R. has her J.D. Robb mojo back.
Personally, I am happy to be back in the audiobook section with this series because I think Susan Ericksen does a phenomenal job with these characters.
---
Favorite Scene:
When she walked inside, Somerset waited alone, which meant Galahad had gone upstairs with Roarke. Since she wanted to be there herself, she dispensed with the greeting insult. There was always next time and went straight to the point.
"Anything I should know?"
"There's lemon meringue pie for dessert."
"Not the best news I've had today but it ranks." She tossed the topper over the newel post. "No weird attempts at communication? No attempted deliveries?"
"No. He won't come at Roarke here."
"No, but he might try for you."
Somerset smiled as she started up the steps. She had to admit it was the sort of smile that could set your hair on end. "He'd be considerably disappointed."
"Watch your bony six anyway. You can always yank the stick out of your ass for an extra weapon." And score. Who said she couldn't come up with an on-the-spot insult. Considerably satisfied, she went straight to her office.
He'd opened a bottle. Stood in the process of pouring a second glass of red that practically glowed in the crystal.
The cat stopped rubbing against Roarke's legs to trot over and rub against hers. Then froze. Sniffed. He cast one baleful look up at her out of his bi-colored eyes before strutting away with his tail straight up in the air. She knew the feline equivalent of the middle finger when she saw it.
Roarke angled his head as he looked down at the cat, now sitting at his feet aiming lethal stares at Eve. "And what's all this?"
"There was a cat. It sat on my lap while we interviewed the cat lady. He's pissed." She aimed a lethal stare right back. "He'll just have to get over it if he remembers where his tuna comes from." She jabbed a finger at Roarke. "And don't say Somerset."
He only shook his head.
—————
Alone in hers, Eve wandered into her kitchen without giving the sulking cat a glance. She came out with a handful of cat treats and walked back to her command center. In under 30 seconds, as she scanned the paperwork from Santiago, Galahad leapt his pudge onto the counter. Still scanning, still holding the treats in her hand, she waited him out.
He padded over, gave her a butt on the shoulder with his head. "You want something?" He butted her again. Added a rub. "You know, there are gonna be times on the job when I encounter another cat. If you recall, I was on the job when I found you." She turned to him, shaking the treats in her hand. "You're the one I brought home." She set the treats on the counter.
Instead of pouncing on them as she expected, he rubbed against her again. Maybe with love, she thought.  Maybe to overlay the other cat's scent. Probably both. She gave him one long stroke, a scratch between the ears. "Plus, she meant nothing to me." Apparently satisfied, Galahad pounced on the treats. Equally satisfied all was forgiven, she went back to Santiago's report.
Related Posts