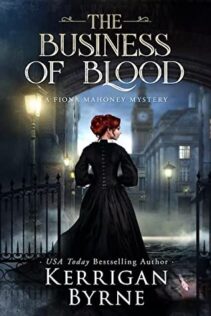 The Business of Blood (The Fiona Mahoney Mysteries, #1)
by
Kerrigan Byrne

Series:
The Fiona Mahoney Mysteries #1
Published by
Self Published
on October 20, 2019
Genres:
Crime Drama
,
Historical
Pages:
424
Format:
eBook
Source:
Amazon



This post contains affiliate links you can use to purchase the book. If you buy the book using that link, I will receive a small commission from the sale.
London, 1890. Blood and death are Fiona Mahoney's trade, and business, as they say, is booming.
Dying is the only thing people do with any regularity, and Fiona makes her indecorous living cleaning up after the corpses are carted away. Her childhood best friend, Mary, was the last known victim of Jack the Ripper. It's been two years since Fiona scrubbed Mary's blood from the floorboards, and London is no longer buzzing about the Ripper, but Fiona hasn't forgotten.
And she hasn't stopped searching for Jack.
When she's called to a murder in the middle of the night, Fiona finds a victim mutilated in an eerily similar fashion to those of the Ripper, and only a few doors down from Mary's old home. The relentless, overbearing, and irritatingly handsome Inspector Grayson Croft warns her away from the case. She might have listened, if she hadn't found a clue in the blood. A clue that will lead her down a path from which there is no return.As a killer cuts a devastating swath through London, a letter written in blood arrives at her door, and it is only then that Fiona realizes just how perilous her endeavor is. For she has drawn the attention of an obsessive evil, and is no longer the hunter, but the prey. Fiona Mahoney is in the business of blood.
But she's not the only one.
With intriguing twists, blood-chilling discoveries, and dazzling prose, USAToday Bestselling author Kerrigan Byrne shows that a woman's work is never done, even when she is sleuthing out a serial killer.
---
It's been awhile since a book captivated me to the point I couldn't put it down. The fiery Fiona has me as enthralled as the other characters in this story.
Fiona Mahoney is a woman who is forging her own path. There was a time when she wanted a husband and family. Fiona is now her own woman and doesn't want to give up her freedom or her business to a husband. You see Fiona has filled a void and created a business as a Post-Mortem Sanitation Specialist. Fiona cleans up after the dead.
Aiden Fitzpatrick, Fiona's first love and intended husband, went to war but when he returned, he chose to become a Catholic priest to atone for his actions during those battles. He left Fiona heartbroken and adrift. When her father and six brothers were killed by the Crown (the full story of that has still not been given), Fiona was also left destitute with little options for her future. Fiona received a letter from her childhood friend Mary Kelly to come to London and she would help set Fiona up in a reputable brothel. As a twenty-nine year old woman passed her marriageable prime, Fiona set off to the only future she believed available to her. She arrived in London in time to find her friend butchered at the hands of the infamous Jack the Ripper. With no money to her name, and now nowhere to go, Fiona accepted the monies offered by the landlord to clean up the room after her murdered friend and creating a new future for herself.
But cleaning up murder scenes, even in a busy City like London, doesn't bring in enough money right away to help a destitute woman become reputable and Fiona had to accept a few more questionable scenes of death, putting her in bed with the London's underworld. If anyone found out that Fiona was hiding murder scenes and more than a few bodies, the City's first Post-Mortem Sanitation Specialist would hang with the rest of the criminals.
Fiona's job, coming in after brutal deaths, does put her closer to the police and the city's coroner. This is helpful because Fiona is determined to do what the police have failed to–bring down the Ripper and get justice for her friend and the rest of those poor women in Whitechapel.
I love Fiona. That woman has spine. Normally I would be annoyed by a story where all the males characters were obsessed with the main heroine. *eye roll* But in this series, I really get it. Fiona isn't some great beauty. She is basically attractive but yet every man she meets is fascinated by her. This story takes place in regency England where women are featured as obsessive over ballrooms and marriages. Yet Fiona has created her own business cleaning up crime scenes. This allows Fiona to stand out in what is undoubtedly a man's world. This is considered such an odd decision for a woman and when she mentions to the police officer that it was either clean up after murders or become a prostitute and his response was that a prostitute would be a more reasonable profession. What?
Brave Fiona with her odd job, prim glasses and spine of steel manages to catch the eye of Police Inspector Grayson Croft, local mob boss Jorah Roth (a/k/a The Hammer) and his assassin/problem solver, Aramis Night Horse (a/k/a The Blade). I also liked the mix of types of characters, Fiona is Irish. The local mob boss is Jewish. The assassin is Native American. Even the Police Constable is looked down on because he is considered more low born than the other Constables and that should have kept him low in their ranks but sheer determination allowed him to rise in the ranks. Fiona's assistant is Chinese and she isn't certain he speaks English but they manage to work well together.
Another man who is intrigued by Fiona is Jack the Ripper. Her profession also keeps her in his sights. He is drawn to her, going as far as to write her a letter telling Fiona that the fact that she has kept virginity draws him since she is everything opposite of the prostitutes that he kills. This leaves Fiona wondering if she needs to stay pure to protect herself from Jack or does she give in and take one of these men as a lover.
Fiona might still be a virgin but she has many challenges to her once pristine moral character as some of what Fiona has done to survive is not quite above board. She is still in love with Aiden which is awkward as he chose the church over her but there is part of him that waivers toward Fiona. Just enough to keep dragging out her feelings. Fiona fears Croft will figure out some of her shadier work and because of those shadier dealings, she can't shake loose her relationships with The Hammer or The Blade.
The only thing that bothers me about this story is bringing in Jack the Ripper, the first and most infamous serial killers. First, his known kills are all documented but I believe the author is hedging on the fact that Jack the Ripper was never caught and can work her narrative to that fact creating this new "what happened to Jack after his last known kill." I just think it would have opened up more story possibilities if she created her own serial killer in a post-Jack-the-Ripper England.   Certainly prostitutes are still the favorite target for serial killers to this day so she could still create this world filled with blood that Fiona is mastering.
Most of the reviews on this story are raves and the biggest issue was the constant delay in the release of Book 2. Everyone wanted more Fiona. Now that book 2 is out, we can all lament how soon Book 3 will be available.  It is scheduled for October 2022 and let's hope the author sticks to it because I need to know what happens next.
Related Posts