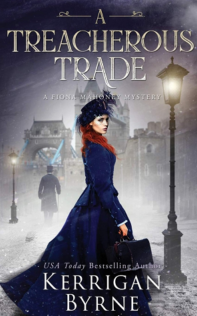 A Treacherous Trade (The Fiona Mahoney Mysteries, #2)
by
Kerrigan Byrne

Series:
The FIona Mahoney Mysteries #2
Published by
Self Published
on March 8, 2022
Genres:
Historical
Format:
eBook
Source:
Amazon



This post contains affiliate links you can use to purchase the book. If you buy the book using that link, I will receive a small commission from the sale.
**This Kindle edition is canceled. The new edition can be found here.
"Forgive me…for I have sinned."And nothing interrupts a good confession like a murder.
Fiona Mahoney stands in the ashes of her hopes facing her tempting adversary, Inspector Grayson Croft. Her sins are about to spill from her lips, when he says the one thing that could dispel all thoughts of revelation or redemption.
Someone is leaving the corpses of prostitutes in the streets, and a name is being whispered in the fearful shadows. The name against which Fiona would sell her very soul for vengeance.
Jack the Ripper.

Old enemies and new friends join Fiona as she chases a relentless evil through the streets of Victorian London. She'll pull upon every contact in her arsenal including Oscar Wilde, Arthur Conan Doyle, Inspector Aberline, "The Hammer" a charismatic gangster, "The Blade" an enigmatic assassin, and, of course, Jack.

---
Very promising series.  I can't wait for more.
Once again someone is killing prostitutes. This time not in the dark alleys of Whitechapel but in the sophisticated halls of the upscale brothel, The Orchard. Since the police don't seem to care about the death of a few unworthy women, Fiona Mahoney goes undercover to get answers. And if posing as a whore finally brings her face to face with Jack the Ripper himself, she will welcome her chance to make him pay for killing her friend Mary Kelly.
Fiona might have made a name for herself as a Postmortem Sanitation Specialist but undercover investigations might be just a little outside her grasp. Inspector Greyson Croft wants her safely out of the way and surprisingly so does local crime lord Jurah Roth (aka The Hammer).
As a virgin, pretending to be a prostitute is a stretch for Fiona because everyone seems to know at first glance that she's inexperienced. She also has a dirge of men wanting to help her solve that problem. Trying to pretend to service clients without actually having to service clients, isn't helping Fiona make friends among the other girls and that was the whole point of going undercover, to get the girls to confess something they might not want to tell the police and help Fiona solve the crime.
Things are getting out of control and Fiona is losing control not only of the investigation but her life.
We discussed the three top contenders for Fiona's affection, or at least her virginity, before. Of course, I like Inspector Greyson Croft. The biggest issue w Croft is the fact that he is very much the rule follower. If he ever finds out that Fiona has done work for the Hammer, he might not arrest her but that would be the end of their relationship, even though his own sister was once a prostitute. I don't think he would cover up what Fiona has been involved with. Bachelor No. 2 is The Hammer who promises to make the experience memorable but I don't think Fiona trusts him enough. I am interested in Fiona's response to The Blade, The Hammer's Assassin, but I don't know if I am channeling my love of Charles Cornick (Alpha and Omega) into this reserved yet dangerous Native American man.
How Fiona stays in business and pays all her employees while playing freelance detective I don't know.  She was doing all that work for the Hammer to make enough money to survive. Now she has a few women she rescued and has to pay a salary and she was not working for a few months after what happened in Book 1.  Now she is Pro Bono undercover and her assistant is doing all the work in the sanitation business and keeping most of the profits.  Probably the only thing keeping him from starting his own service is that he is Chinese and probably faces more prejudice than an Irish woman.  While the story was interesting, it definitely took us away from Fiona's basic premise of being the first Postmortem Sanitation Specialist.
There are some strong opinions voiced in this story about the suffering of women in a man's world which would be true then and some things are still very true even now. There were a few Soap Box moments that I actually agree with so I won't complain about them.
I have enjoyed Fiona and the other characters in this series. They are vividly written and the author fleshes then out more with each book. I can't wait to get an answer to the ending as there is a slight cliffhanger. And I want to read more about Fiona Mahoney.
---
Favorite Scene:
Fiona goes undercover with a pseudo name at The Orchard but isn't welcome with open arms by the other women…
"Oi, Viola, why the mask?" Belle asked, peeking over the railing from the floor above. "Katherine thinks you have been disfigured and now none of the places further west will have you."
"Actually…" I hesitated, the explanation I'd prepared suddenly feeling quite absurd. "My clients are partial to the mask; it helps them be more…revealing."
"Ah," Belle answered. "You're that kind of whore, then."
To what kind she referred, I had no idea, but I nodded nonetheless. Apparently, I was that kind of whore.
"Don't seem the sort," Izzy piped in from behind me.
"Well, you never know what sort people are until you have them alone and at your mercy in the bedroom." From where I drew that response, I had no idea.
And for the first time that night, the noises made by the women were those of agreement.
Progress, perhaps?
"Here ye are." Morag paused at a door to the third floor rather than the fourth, which was where I'd understood Alys's room to be situated. Or had I been misinformed?
"Butler will show your first appointment in when they arrive," Belle said brightly, as I passed her to where Morag held the door open for me.
Peeking inside, I noted that the trappings and draperies were not as well appointed as I'd imagined. Indeed, not even as fine as the room in which I'd found Jane off the great room galley.
"Wait." I whirled around. "This isn't Alys's room."
"We know."
My head lurched painfully on my neck as Morag shoved me inside with all the strength of our barbaric ancestors and slammed the door.
I immediately whirled and seized the latch, panic ripping through my veins with a dizzying rush. Against the weight of three women–maybe four, if Izzy had betrayed me–it didn't budge.
Treachery. Nola's voice rang out in my head.
"Let me out!" I demanded, my Irish accent slipping into my diction as a creature of rage and fear rose within me. "Open this bloody door or I'll–"
"Listen," Morag hissed through the keyhole. "Someone like ye canna expect to be one of us if ye're never in the trenches with us. Ye understand? Ye'll do this job, and we might talk Indira into forgiving ye for stealing Alys's place out from under her, ye haughty trollop."
Indira–had she put them up to this?
Job? No. No. I couldn't do a job. Not here. Not in this room, where the work was real.
"Isabelle?" I appealed to my ally, hating the plaintive desperation in my voice. Hating that they'd revel in it.
"I-I'm sorry, Viola…" Izzy's voice sounded small on the other side of the door. "Just…just do it this one time. Well and good, all right. And you'll get out of there, no harm done."
What sort of man would these professionals foist on someone they didn't like? Surely this was some trial by fire.
I couldn't imagine it.
Or perhaps I could, which was when I became truly terrified.
"No. No, you don't understand!" I banged on the door with the flat of my palm, ready to abandon the pretense altogether. "Please. Get Beatrice! You have to let me out."
Even through the shrill din of my horrified voice, I noted the soft click of a door on the adjacent wall.
My soul threatened to leave my body at the sound.
I jumped around, one hand pressed over my chest to keep my heart from escaping.
Two dark words would their way to me from the shadows, traversing the space between us with a lethality that slid through my body with the precision of a blade.
"Hello, Fiona."
Related Posts