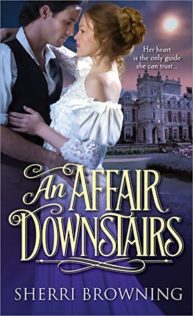 An Affair Downstairs (Thornbrook Park, #2)
by
Sherri Browning

Published by
Sourcebooks Casablanca
on January 6th 2015
Genres:
Historical
Pages:
384
Format:
eBook



I received this book for free from in exchange for an honest review. This does not affect my opinion of the book or the content of my review.
This post contains affiliate links you can use to purchase the book. If you buy the book using that link, I will receive a small commission from the sale.
---
[box style="rounded" border="full"]I got tired of Alice's naive girlish nonsense right away. Her decision to seduce Logan was completely selfish and not thought out. She was self-centered and reminded me of a more likable Lydia Bennett (Pride and Prejudice). She is playful and sweet. It was nice that she engaged Logan and was able to draw him out of his solitary life. She is too young and inexperienced to take into account the consequences that sleeping with Logan would bring for both her and Logan.[/box]
Lady Alice has decided she wants to follow in the footsteps of her maiden aunt, Agatha. She doesn't want to marry but she is a girl with a sense of adventure. She wants to have a wild affair and the man she has chosen is the Estate Manager of her sister's home, Mr. Logan Winthrop.
Logan is good at keeping people at arms length but Alice's ability to talk anyone into submission has finally worn down Logan. She used to follow him around asking questions about just about everything. It seems Logan doesn't mind her bothersome questions quite so much anymore. I liked that Alice had broken through and engaged the stoic Logan. It is the rest of the story that is frustrating.
This is not a story of Alice falling in love with an older man who her family doesn't approve of. Alice wants to have an adventure. She wants to have sex and Logan is an attractive man who works at her sister and her husband's estate who as Estate Manager is elevated above a servant position, so Alice decides he is a good choice to seduce to her whims.
Alice is completely overlooking the fact that although Logan wasn't the heir to his own family title, he left his town due to the fact that he is rumored to have killed a man. Yes, he did. Yes, it was an accident. Yes, there were extenuating circumstances. But none of this was even a concern to Alice that she might have been seducing a murderer who was avoiding conviction. Everyone likes Logan, so it must not be true.
Alice is also not concerned about the fact that Logan has rebuilt his life here at the Estate, regardless of his guilt or innocence back home.  He works hard to get where he was and is admired by the Lord of the house and the staff. The fact that if Alice gets what she wants from Logan and it is found out, Logan will be out of a job with no references and now not only will there be a question of murder, but he won't be trusted to be around young women wherever he tries to go.  Alice puts no thought into how this great affair might ruin Logan's future.
She also puts no concern to pregnancy. Maybe no one told her where babies come from, but if she knows enough about sex, you would think she has some inkling about that as well.
The more intriguing part of the story is what happened with Logan in the past and what happens when he returns to his family's home when his brother gets sick.  Even thought he wins the heart of Alice at the end, you might want to feel sorry for him instead of happy.
THOUGHTS:
My biggest problem here was that although this was a romance, Alice picked Logan to be her future lover because he was a single, attractive man who was available to Alice since he worked for Alice's sister and Alice spent a lot of time there. This wasn't a story about a lovesick Alice fawning over her one true love who was considered beneath her. She wanted a lover and he was the best choice of the men available.   She also went after him with no thought to any consequences to herself, to her newly married sister and her husband or to Logan himself.
Alice's sister does see that Alice is a little too focused on Logan and tries to get her an appropriate suitor. The neighbor's also want the same suitor for their daughter so at first he comes off as maybe having another motive to be spending time with the less financially advantageous Alice, like maybe he got the idea that Alice is loose since he saw her kissing Logan in the garden. It did turn out that he truly liked Alice. But again, in Alice's childish and selfish thoughts, once she gets Logan to have sex with her, and Logan is trying to do the honorable thing and convince her to marry him, Alice's next thought is do I was to sleep with Logan again or maybe I should try to seduce this other guy and try another lover to compare them.
Eventually she realizes her feelings for Logan and he succeeds and getting her to accept his proposal, but overall, I disliked Alice that even her attempt to grow up couldn't win me over.
Received an ARC from the publisher in exchange for an honest review.
Related Posts