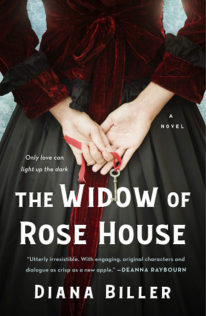 The Widow of Rose House
by
Diana Biller

Published by
St. Martin's Griffin
on October 8, 2019
Genres:
Historical
Pages:
352
Format:
Paperback



I received this book for free from in exchange for an honest review. This does not affect my opinion of the book or the content of my review.
This post contains affiliate links you can use to purchase the book. If you buy the book using that link, I will receive a small commission from the sale.
A young widow restores a dilapidated mansion with the assistance of a charming, eccentric genius, only to find the house is full of dangerous secrets in this effervescent Gilded Age debut novel

It's 1875, and Alva Webster has perfected her stiff upper lip after three years of being pilloried in the presses of two continents over fleeing her abusive husband. Now his sudden death allows her to return to New York to make a fresh start, restoring Liefdehuis, a dilapidated Hyde Park mansion, and hopefully her reputation at the same time. However, fresh starts aren't as easy as they seem, as Alva discovers when stories of a haunting at Liefdehuis begin to reach her. But Alva doesn't believe in ghosts. So when the eccentric and brilliant professor, Samuel Moore, appears and informs her that he can get to the bottom of the mystery that surrounds Liefdehuis, she turns him down flat. She doesn't need any more complications in her life―especially not a handsome, convention-flouting, scandal-raising one like Sam.

Unfortunately, though Alva is loath to admit it, Sam, a pioneer in electric lighting and a member of the nationally-adored Moore family of scientists, is the only one who can help. Together, the two delve into the tragic secrets wreathing Alva's new home while Sam attempts to unlock Alva's history―and her heart.

Set during the Gilded Age in New York City, The Widow of Rose House is a gorgeous debut by Diana Biller, with a darkly Victorian Gothic flair and an intrepid and resilient American heroine guaranteed to delight readers.
---
I intended to read a chapter or two to see if I had any interest and didn't put it down until I had finished the entire book.
The notorious Mrs. Webster has returned to New York and nothing is going to stop her from reclaiming her life — not even a ghost.
Alda Rensslaer was seduced at 16 by Alain Webster. As a sheltered and unloved girl, she was the perfect naive target for Alain who was 14 years older. He ruined her and arranged their marriage so that he could have her money. After ten years of physical and emotional abuse, Alda got up the courage and enough money to leave him. He wouldn't have cared but then murmurs started about Alda's constant bruises, so Alain distracted everyone by starting rumors about orgies and affairs which gossip came out in the newspapers and he once again left Alda ruined by society's standards. After her husband's death, Alda returned to New York and purchased an abandoned property known as Leifdehuis or Love House.
Alda's plan is to return the House to its former grandeur, all the while she will be documenting and photographing the work and she will then publish a book to sell to the up and coming middle classes on decorating. She is even willing to tout that the book is written by the notorious Mrs. Webster if it will help her sales.
Alda only has one major obstacle to her plan. The workmen and most of the town believe that her house is haunted and they refuse to return to work. The only way to get them back to work is to convince them, by a reliable source, that there is no ghost.
Professor Samuel Morse of the Morse Family — the first family of American science — has been trying to get Alda to let him study her haunted house. She agrees to let me and his equipment in in hopes that he will fail to find a ghost and then can convince her workman to return, and if he does find a ghost, can he convince it to, you know, move on and out so she can get back to work.
I sat down to peruse a few chapters to see if I was interested and I was caught up in the story of Alda, and whether or not her house was haunted. Alda's a nice person. Her parents suck. As a young girl, she fell under the pretty spell of Alain, and his hot/cold romance antics left her desperate to please him. He abused her physically and mentally and the rumors that he spread about her still ruin her life long after his death. She also has her brother-in-law coming around and blackmailing her and mentally abusing her further. The ghost investigation takes up a portion of the story, but at least half is focused on the romance between Sam and Alda.
While the story itself was interesting, I have to confess my love (just like all the women in the book) for sweet Professor Sam Moore. Sam is the epitome of the absent-minded professor. He is brilliant and his mind goes many different directions at once, mostly on inventions or on Alda. If you read J.D. Robb's In Death series, he reminds me of a young Dennis Mira, adorable and flighty. He's like an adorable little puppy. All he wants is to study the ghost and spend time with Alda and invent more things. He doesn't care about the gossip and is frustrated because Alda won't let him into her life. At first, she is afraid. Alain and Sam are polar opposites and she knows this, but she was also fooled very badly by Alain. She is afraid to be vulnerable again to another man. Once she trust that Sam won't hurt her, Alda realizes that she doesn't want to drag him down with her, even if it hurts him, and he makes sad little puppy eyes at he
I loved the entire Moore family but unfortunately, there is no indication that we will be coming back to this family for more stories. I want more time with the Moores.
---
Favorite Scene:
She thought the store was wonderful.
"What sort of things does your sister like?" she asked as they wandered deeper inside.
"Um. Well, she and my mother are collaborating on a fascinating potassium alloy–"
"Honestly, why did I even ask?" she muttered, turning and marching towards a nearby counter. "Perfume it is."
Sam laughed behind her, and the sound trickled into her blood like brandy, warming her from the inside out. The grim news of the morning, the leaden weight of the last several days, lifted a few inches, and she smiled. She hadn't been shopping in ages. This could be…fun.
And it was. They started at the perfume counter, where Alva selected one of the scents that had been all the rage in Paris when she'd left. From there they wandered past counters of jewelry and gloves, whole rooms of hats, entire stores of fabrics. She pointed him towards a pair of lusciously soft kid gloves, and he bought two pairs. One for Maggie and one for his mother. He selected a scarf in a bright blue pattern he liked for himself, and one he thought Benedict might like, an even a pair of slippers for his father. The man shopped like he thought–in all directions, but to great effect.
Eventually they collapsed, surrounded by parcels, at a table in the store's restaurant.
"Your sister is very lucky in her choice of brothers," Alva said, taking a welcome sip of delicately scented tea. "You've bought most of the store."
"She's a pretty good sister," he said his expression turning fond. "She's a lot younger than Benedict and I–I was twelve when she was born. All lungs and hair. Not so different from now, come to think of it."
"She has you wrapped around her little finger," Alva said.
"Completely," Sam said, grinning back at her. "The little tyrant."
"What's it like?" Alva said, blurted out the words before she realized how desperate they sounded. She tried to cover. "I mean, having such a close-knit family."
"It's wonderful," he said not even seeming to notice her awkwardness. "You should see us around Christmas.  My father gets really excited about a month beforehand, right after Thanksgiving. He starts hauling in decorations, some of which he only took down about two months before, and my mother gets mad because he insists on decorating the labs, too and invariably ends up disturbing some very important piles of materials, and after, Maggie usually blows something up, although, to be fair, that's not actually a Christmas-specific activity." He chuckled to himself, obviously replaying holidays past.
"I'm starting to think you're lagging behind your family in terms of explosions," Alva said.
"Oh, the women are far and away the worst offenders," he said, a distinct tone of envy in his voice. "It's because they work with chemicals the most–my inventions are usually more likely to only start fires, without an exciting explosion."
"Tragic," she said. "A mere fire is nothing without an explosion."
He nodded vigorously, and even more vigorously began to apply himself to the large slab of chocolate cake a waitress placed in front of him.
"Did you even order that?" Alva turned to look at the young waitress, who was clustered with two other girls, giggling and staring at Sam.
"Didn't I?"
"Never mind," she said, chalking it up to the perks of being very handsome and very famous. "Tell me more about Christmas."
"Well, it's really a pagan holiday at bottom, but several centuries ago the Christians–"
"Hilarious."
He smiled and took another enormous bite of cake.
Related Posts