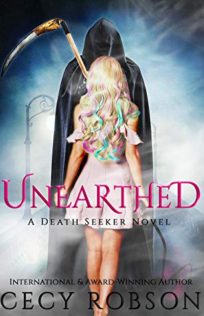 Unearthed: A Death Seeker Novel
by
Cecy Robson

Series:
Death Seeker #1
Published by
Self Published
on September 24th 2019
Format:
eBook



I received this book for free from in exchange for an honest review. This does not affect my opinion of the book or the content of my review.
This post contains affiliate links you can use to purchase the book. If you buy the book using that link, I will receive a small commission from the sale.
Fae was once a flourishing paradise. Until Death turned greedy and destroyed it, targeting the creatures who inhabited it. Those who survived escaped to Earth's realm, but Death wasn't far behind . . .

Olivia Finn is just another pixie trying to blend in among humans and hide from the death hounds who devoured her family. Clinging to the talisman that keeps her veiled from those who hunt her, she believes she is safe. . .. Until Death finds her and discovers she's immune to its grip.

Now that Olivia's power is unearthed, she is sought by Fae who see her as their savior and stalked by dark entities compelled to destroy her. Can she trust the King of the Dead who has sworn to train and protect her? Or should she obey her instincts that warn he desires more?

Olivia can no longer hide from Death. To survive, she must seek it.
---
Cecy Robson enraptures us with another amazing and creative series. I can't wait for more.
Death had come to the land of Fae. The Cù-Sìth no longer ferry the dead to their eternal rest. They have been killing indiscriminately and glutting themselves on the souls.   The fae hide from the Cù-Sìth in plain sight with the help of enchanted amulets and other objects which protect them from being seen by these hounds of death but if you were to lose your charm, the howls you hear will be your only warning as death hunts you.
Pixie Olivia Finn crossed from Fae to Earth when she was a child. Her father sacrificed himself for his family, but Olivia's mother and sisters were also hunted and consumed by the Cù-Sìth.  Like many of the Fae, Olivia is alone on Earth, and her a pixie without magic, or at least that's what she thought.  Olivia spends her day blending in with the humans while she goes about her job at the law office of MacGregor and Santonelli, or as best as one can when one is barely five feet with rainbow colored hair.  She also spends her day trying to ignore junior attorney, Ryker Scott. Ryker might be nice on the eyes, but Olivia still avoids him at all costs considering that his choice of clients even for a criminal defense firm leaves something to be desired.
Yet one fateful night when she loses her necklace and the hounds are baying for Olivia, she learns that she isn't the only one hiding.   Ryker Scott is more than just a lawyer.  He is the Ankou, the King of Death, the Fae's Grim Reaper. He also knows why Olivia is able to survive the Cù-Sìth. While Ryker is Death, this little pixie is Life.
Now that the Cù-Sìth are hunting Olivia, Ryker is determined to teach her how to draw out and command her abilities and use them to destroy the Cù-Sìth and free the souls they have trapped.   The fae are pinning all their hopes on Olivia to save them from their worse nightmares and free the souls of all their loved ones.  No pressure, right.
The time Olivia and Ryker spend together helps to focus Olivia's abilities but she will need more than a few weeks if she is going to go up against all the Cù-Sìth. And the old saying of opposites attract is certainly true since Ryker and Olivia are starting to forget the simple fact that Life and Death are antithetical.
Unearthed is just the beginning of the series but it is full of action and tension.  There are also so many unusual and fascinating characters. While I loved Olivia and Ryker and their dynamic, we also have Jane, the 800 year old druid; Bill, the gargoyle; Stevie, the pubescent dragon and even Olivia's human boss, Marco.  I enjoyed our interactions with each of these characters. I just love a story with a rich secondary cast of characters that help flesh out our hero and heroine.    There is also so much action going on that I had to re-read some scenes because I was reading so fast trying to see what happens.
I am so excited to see what happens next and what other characters we will be introduced to in the future.
---
Favorite Scene:
I had several scenes highlighted so it was hard to pick just one.
Before I can ask, he lifts my chin with his fingertip. His touch slides along my jawline, sending streams of heat and electricity through my skin, the sensation increasing as his hand cups the base of my skull.
Ryker leans in, his lips meeting mine, soft like silk for a man so hard. His tongue sweeps in for a taste prodding gently until I allow him in.
My lips part, searching him out. But then my tongue touches his, and I lose my ever-loving mind. The kiss, our kiss, that began so light and innocent turns hard and needy.
Ryker's mouth is a dark, bewitching realm that begs my tongue to explore. I regal in his deadly allure. My arms hook around his neck. His hands drag along my back.  Heat. Need. Want. This is what it means to lust and desire.
Ryker swears, leaving my mouth. He trails his lips over my throat and tangles his fingers through my hair. My heart throbs against his. My body demands more. I skim my hands down, digging my nails into his–
"Holy shit!"
Marco's voice slaps the horniness right out of me. He stands in the doorway with Stevie, clutching files as if they can shield them from the level of whoredom overtaking the room. If that's not humiliating enough, half the staff is gaping at us through the fishbowl office.
I jump out of Ryker's arms, a hell of an accomplishment considering how hard he held me, and, good God, were my hand gripping his ass?
"Hello, sir." Ryker clears his throat. "Is there something I may assist you with?"
Is this the best Mr. Harvard Grad can do? I grab the drink carrier, my purse, and the flowers, using all three to mask my severe case of nipple protudicus.
Ryker calls to me. "Olivia, wait."
I hold out a hand when he reaches for me. "Oh, no. No, no, no, no. So not going there. Sorry about that."
I run out of the office, past the stunned group of attorneys and PAs. Honestly, don't they have murderers to defend?
Stevie chases me, speaking not so softly. "Liv. You like, totally sucked face with Death!"
My face heats. He's so right. What was I thinking? I practically had sex with him across his desk. Forget that I threw my hard work and reputation out the window–I'm Life and I made out with the Grim freaking Reaper!
I reach my desk and dump everything rather ungraciously, spilling some coffee.
"How did he taste?" Jane croaks.
My head slowly swivels in her direction. How did she… We're on the other side of the office.
Jane points to her computer. "Olivia Tongued Ryker" is the subject line on the mass office email.
Nice.
Related Posts