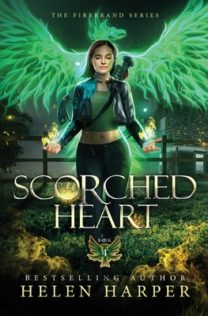 Scorched Heart (The Firebrand Series #4)
by
Helen Harper

Published by
Tantor Audio
on May 6, 2021
Genres:
Paranormal/Urban Fantasy
Format:
Audiobook
Narrator:
Ruth Urquhart
Length:
7 hrs 40 min
Source:
Tantor Audio



I received this book for free from Tantor Audio in exchange for an honest review. This does not affect my opinion of the book or the content of my review.
This post contains affiliate links you can use to purchase the book. If you buy the book using that link, I will receive a small commission from the sale.
My parents were brutally murdered when I was five years old. Their killer has spent the last twenty five years in prison for his terrible crimes - but I still have unanswered questions. After all, I am the phoenix. When I die, I am reborn in fire and brimstone. It happens again and again and again. I have no idea where my strange ability came from and nobody to ask.
Now another shocking murder has been committed in the small village where my parents died and there is evidence which suggests the killer is supernatural. The crime gives me the perfect reason to return to my childhood home. I can offer my expertise as a Supe Squad detective - and seek the truth behind what I really am.
The trouble is that I might not like what I find.
Scorched Heart is the fourth book in the action-packed urban fantasy Firebrand series. Events occur at the same time as The Noose Of A New Moon in the Wolfbrand series, although the books do not have to be read together to be enjoyed.
---
We get some answers but are we truly done?
Detective Constable Emma Bellamy is returns to the little village where her parents were murdered. Emma hasn't been back there since she was five years old and was sent to live with her uncle. She has returned because another man has been killed and they believe a supe might be involved. Since no one in the local policy department has experience with supes, they requested an expert from the Supernatural Squad in London.
Before Emma leaves, she confronts the man who has spent the last 25 years in prison for killing her parents but she doesn't like all the answers she was given. Emma asks why he didn't kill her as well, and he was horrified at the idea of killing a child. But when Emma goes back to the little house where she grew up, she sees the tell-tale scorch mark on the floor which clearly indicates that Emma died that same night as her parents and since she is the phoenix, she was resurrected.  So why would her parents' killer lie?
Hampered with an overenthusiastic rookie who is afraid of the supernaturals,  Footprints at the scene point not to a werewolf or vampire but a werebear?   Emma tries to figure out exactly what the evidence is pointing to but even a werebear shouldn't be able to shift back and forth from human from one moment to the next.    So is it a mythical werebear or a human trying to pin the blame on the supes?
Emma could really use the help of her vampire boyfriend, Lord Lukas Horvath but he is stuck in London trying to  ties up lose ends.  When another person is murdered, this one with a closer tie to Emma, there is not much doubt that someone is focusing on Emma and what happened to her parents all those years ago?  But if the killer is one and the same, have they been waiting 25 years to kill again or are the missing some vital piece of information?
This is a good series and I am enjoy Emma's investigations into the supernatural.  We get a lot of information in this fourth story of the series about her parents' deaths  and about Emma being the phoenix but there also seemed to be some unfinished business between Emma and Lukas with regard to their relationship and I wonder if there will be more stories to come.  Supe squad was assigned a new detective, who will come in as Emma's supervisor, who we meet in the spinoff series (we will get to that one later) and this could also add something to future stories as Emma has quickly earned the respect of the Supes in London and this new guy doesn't know how to play nice with the Supes yet.  I hope there are more stories to come.  With a crime investigation as the backdrop to the series, there can be countless stories to keep the series going.
I would definitely continue to listen since I enjoy Ruth Urquhart's narrations.
Related Posts