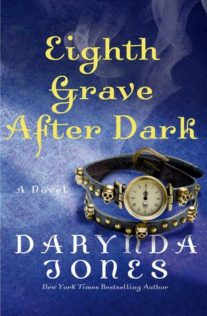 Eighth Grave After Dark (Charley Davidson, #8)
by
Darynda Jones

Series:
Charley Davidson #8
Published by
St. Martin's Press
on May 19th 2015
Genres:
Paranormal/Urban Fantasy
Pages:
293
Format:
Paperback



I received this book for free from in exchange for an honest review. This does not affect my opinion of the book or the content of my review.
This post contains affiliate links you can use to purchase the book. If you buy the book using that link, I will receive a small commission from the sale.
---
[box style="rounded" border="full"]The grim reaper and the son of Satan are having a baby. This book is the beginning of big changes to the series. Although I truly love the series, I did grumble a bit about the ending. I don't know where the series will be going in the future novels, but I can't wait to see what's next. [/box]
WARNING #1: There is no way to discuss this book without talking giving away some slight spoilers. If you are not up to date with the series turn away and come back later.
WARNING #2: Do not, do not, DO NOT read the Goodreads preview of Book #9 until you finish Eighth Grave After Dark. Stop right there!  Don't do it!  Don't!
Ok. I've warned you.
Charley Davidson and Reyes Alexander Farrow are having a baby, and to protect Charley and their unborn daughter, they have spent the last eight months living in a former convent. The sacred ground has been keeping the twelve hellhounds, which someone has summoned from hell, at bay, but they haven't gone away.  They patrol the property waiting for an opportunity to attack.
They have been surrounded by their loved ones, and not so loved ones, ALL…THE…TIME.   While Charley can't leave the grounds, everyone else seems to be coming by to watch her. Everyone they know has moved in with them. Cookie and Uncle Bob have been planning their wedding. Amber is there hanging with Quenton. Osh and Garret are still pouring over the writings of Cleosaurius, trying to come up with some way to kill the Hellhounds before the baby arrives.  Charley's sister Gemma has been stopping by along her evil stepmother, Denise.
Even the Vatican have their binoculars pointed at the convent, and speaking of the church, the old convent even comes with it's own deceased nun haunting the place. She's trying to tell Charley something but first Charley has to catch her.
FBI Agent Carson shows up wanted Charley's help finding a missing girl but Charley is having a hard time investigating when she can't leave the safety of the property.
And it is not just the living who are harassing Charley and Reyes. Rocket has left the asylum to moved into the attic along with Blue and Strawberry. Even Mr. Wong has filed a change of address. There are deceased everywhere. They are hanging out in the closets, in the bathroom and they are all over the lawn. They are all watching Charley and waiting. And more come each day.
Her lead (read: only) investigator, Angel, has been meeting secretly with Reyes and they are keeping Charley in the dark. Ubie has been investigating her Dad's death without Charley. Even Leland Davidson has even been staying around and doing what he has always done best–investigating. He makes sure that Charley is aware that there are spies hanging around and she needs to watch who she trusts.
The convent is filled to capacity. The baby is on the way, and Charley needs a mocha latte in the worst way. How much more can Charley take before she rains down a little hell fire of her own?
THOUGHTS:
This book is a different from the other books and will bring some big changes to the series. Because of that I am trying to be as vague as possible about the goings on and I will come back at a later date to talk about this novel a little more in depth after more fans have had a chance to read it and enjoy the "oooo's"  "ahhh's" and "OMG's" on their own.  Right now I will say I had some issues at the very end but I am willing to see where we will be going in the next few novels before making any final judgments.
Charley is as quirky and funny as always and the story doesn't slow down. I missed Charley's usual investigating since she was stuck at the convent, and nine months pregnant, but there was plenty going on to keep us going.
Received an ARC from the publisher in exchange for an honest review. Thank you!!
---
Favorite Scene:
(Had to find a good scene that didn't give too much away.)
I was still confused on a couple of points. "So, if I marked a soul for termination and you weren't here to eat it, what would happen to it?"
"It would burn away over the course of a few days. It would be very painful. So, in a way, I'm performing a public service."
"Of course, you are. And when I found you, what were you doing then?"
"Hey, everyone has to eat, and I can only bargain for souls. They must be given willingly."
"But you trick them into giving up their souls."
He spread his hands wide, acquiescing. "That was the old me. This is the new."
"You no longer trick them?"
"Oh, I trick them. Really, it's just too easy. But I only trick the bad ones remember?" he added quickly when I scowled at him. "Child molesters and such. As per your request," he mocked.
"And people who talk at the theater. Don't forget people who talk at the theater."
One corner of his mouth tipped up. "I wouldn't dare."
Reyes walked to the window and looked out over the lawn. Even as dark as it was out, we could still see the departed.
"I once ate this woman–" Osh started.
"Dude, I don't think I should be hearing this."
"I ate her soul," he corrected.
"Next time, open with that."
"And she tasted horrible, like an ashtray with kerosene in it."
I fought my gag reflex. "No way."
"Crazy thing was, she didn't even smoke while she was alive."
"Then why? Surely she wasn't born bound for hell?"
"She was a very feared drug lord. Ruthless. Barbaric. She killed anyone who got in her way. A lot of people died in her crossfire. Even children. We are all tainted by the decision we make."
"And the taste of our souls reflects that?"
"It does."
"Huh. I wonder what mine would taste like."
"Cherry pie." He grinned from ear to ear. "Very tart cherry pie."
"How would you know that?"
He ignored the threatened scowl Reyes had cast him and winked.
"You've tasted me? Oh, my god, I feel violated."
"Please, it was just a nibble."
"I totally should have paid more attention in bible school."
"I don't think they teach about the Daeva. We aren't important enough to merit a mention."
I narrowed my eyes on him. "Somehow, I don't think that's true. Are there more?" I asked Reyes.
"Exponentially more."
His shoulders took up the entire expanse of the window, so I nudged against him. He wrapped an arm around me and stepped to the side. He was right. Our shindig had grown exponentially.
"Do you think there are spies among them?"
"I do." He looked down at me. "But they could be anywhere. Anyone."
I nodded. "Is that what you and Angel were talking about in the clearing today?"
When he didn't answer yet again, I tsked. "Just remember, you brought on the wrath of the reaper all on your little lonesome. By the way," I added, looking at Osh. "I was just kidding about the people who talk at the theater."
"Damn it," he said, feigning disappointment.
Now if I could only figure out a way to convince my husband to get some rest. Too bad there wasn't a mark for that.
I stood and walked to the door to check on Cookie, but before closing it, I offered Reyes one last chance to come clean.
"This is your one last chance to come clean," I told him, deciding not to mince words.
He sat on the bed, leaned back, and folded his arms behind his head.
"I mean it. If you don't tell me what you and Angel were talking about, why you were meeting, I can't take responsibility for my actions."
He grinned.
I tapped my toes in impatience.
He grinned wider.
"Okay, war it is. I have to warn you–"
Before I got much farther into my intimidation process, a pillow slammed into my face. I stood there, eyes closed, mortified while the ball and chain laughed softly.
It was so on.
Related Posts