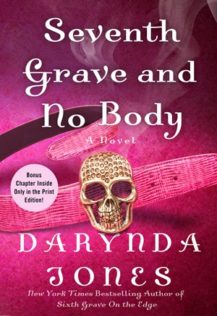 Seventh Grave and No Body (Charley Davidson, #7)
by
Darynda Jones

Series:
Charley Davidson #7
Published by
St. Martin's Press
on October 21st 2014
Genres:
Paranormal/Urban Fantasy
Pages:
336
Format:
Audiobook
Narrator:
Lorelei King
Length:
10 hrs 30 min



This post contains affiliate links you can use to purchase the book. If you buy the book using that link, I will receive a small commission from the sale.
---
[box style="rounded" border="full"]If I haven't convinced you to give this series a try by now, then I don't know what to do with you. This series is funny and exciting with delightful characters. If paranormal is not your thing, I understand, but if you like a good paranormal romance or urban fantasy, what are you waiting for?[/box]
---
Charley Davidson is a private investigator and grim reaper. She can speak to the departed, which makes solving their deaths so much easier. Charley sometimes works with Uncle Bob, a detective with the Albuquerque Police Department to solve crimes.
NOTE: There might be small spoilers here on the emerging relationship between Charley and Reyes since the last book. You've been warned.
Someone has released the twelve hellhounds from the depths of hell and have sent them after Charley. Reyes is trying to keep her safe, but as usual Charley has other plans.
Reyes still doesn't trust the Dealer, the escaped demon slave from hell, but Charley feels he has a part to play in their future. He has been making himself useful by working with Garret to decipher the old texts which seem to be some type of prophesy about Charley. Weird, but pretty cool, right?
Let's start with the fact that her father has gone missing. He lied to Charley.  He never intended to go sailing but he didn't clue anyone in on the "investigation" he was working on but it seems that the man the Leland was watching has been watching Charley for awhile now, and he might have been sent by the Vatican.  Yeah, that Vatican.
Charley's ex-BFF Jessica, who never believed Charley's confession when they were in high school, now wants Charley to use her grim reaper powers to save the life of her nephew. Charley tries to explain to Jessica that is not how her powers work, but with nothing to lose, Charley allows herself to be dragged to the hospital. She can't possibly hurt the dying boy, could she?
Between looking for her father and trying to heal the sick, Charley and Ubie have a case. People are leaving suicide notes, and then disappearing. One person, maybe, but half a dozen? Charley notices that all of the suicide notes sound like they were written by the same person. Someone is killing them and hiding the bodies.
Every trip outside of her home puts Charley are risk of attack by the hounds, but it kind of hard to investigate from inside her apartment. She is just going to have to trust the son of Satan and the former slave to keep her from becoming a chew toy for hellhounds.
THOUGHTS:
My friend and I did a binge audiobook listen on this series and finished just in time to get an ARC of the upcoming release, Eighth Grave After Dark.  God, I love this job.  Our binging included some listening at work. Let me tell you, it is really hard to pretend you're diligently working when you are trying not to laugh about everything Charley says.
This story will be the beginning of some changes to the series which I don't want to detail here and give it all away.
I highly, highly recommend not only this series, but enjoying the audiobook version of it. Lorelei King does an incredible job with all of the characters but she especially breathes life into Charley and all her insanity.
Favorite Scene:
"So, are you gonna relax anytime soon?"
I stuck my key into the lock and opened the door. Reyes stepped behind me and shut it. Keeping his arm braced against the door he pressed against my backside.
"Is that an offer? I am feeling a little tense across my shoulders."
I turned to face him. "I thought you were mad at me."
"I am."
"Well, I make it a rule never to have sex with anyone who's mad at me."
He arched a brow. "It's a wonder you've ever had sex at all."
"Right?  Okay, I'm going to the courthouse. I have a case and I have to give Uncle Bob hell."
"What did he do now?"
"He– He–" I shook my head unable to say the words out loud. "I can't talk about it. It's too painful."
A dimple appeared at one corner of his mouth. I so very much wanted to kiss it.
"That bad huh?"
"Worse. I don't know how we're ever going to get past this."
"So all the times he saved your ass.  Came to your rescue.  Helped you with cases–"
"Null and void."
I turned to open the door again. He shut it again.
"Reyes, I'm never going to get there at this rate."
"Were you planning on going somewhere without me?"
I twisted around again. "It's daylight. You said that even if the twelve really are here, they can't go into direct sunlight."
"And the fact that you were just almost attacked by one?"
"I told you, I never saw anything. I just heard a growl. It could have been my stomach for all I know."
His expression hardened. "They aren't like regular demons, Dutch. I don't know exactly what they can and cannot do. Thus–" He said swiping my keys "I'm driving."
"Oh no you don't." I said, jumping for the keys as Reyes raised them above my head. I felt like I was in second grade and Davey Cressup was holding my juice box just out of my reach. Until I kneed him in the groin. He damned sure never did that shit again.
I tried the same move with Reyes but he was way too fast. He easily caught my knee and raised it until my leg was practically encircling his hips. It was such a nice fit. He backed me against Misery again, pushed into me, whispered into my ear.
"Next time you try to sneak out without me," he said, curling a hand around my buttocks and pulling me against his crotch. "We are going to have a serious discussion about the well-being of your ass."
He squeezed, causing an infusion of warmth to flood my netherneaths. I wrapped my hands around his steely buttocks, pulled him into me and said, "Next time you threaten my ass, you better have your own covered. I can swing with the best of them."
He leaned back. "Did you just threaten to spank me?"
A bark of laughter bubbled up out of me. "As a matter of fact…" I left my sentence hanging as I playfully swatted a steely derriere. I could only hope he felt it. Freakin' son of satan crap. He was like a boulder with zero pain receptors.
Related Posts