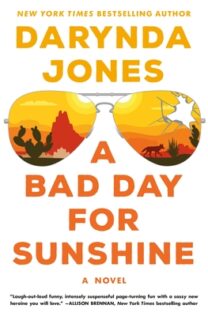 A Bad Day for Sunshine (Sunshine Vicram, #1)
by
Darynda Jones
Series:
Sunshine Vicram #1
Published by
St. Martin's Press
on April 7, 2020
Genres:
Crime Drama
Pages:
400
Format:
eBook



I received this book for free from in exchange for an honest review. This does not affect my opinion of the book or the content of my review.
This post contains affiliate links you can use to purchase the book. If you buy the book using that link, I will receive a small commission from the sale.
Sheriff Sunshine Vicram finds her cup o' joe more than half full when the small village of Del Sol, New Mexico, becomes the center of national attention for a kidnapper on the loose.

Del Sol, New Mexico is known for three things: its fry-an-egg-on-the-cement summers, its strong cups of coffee—and a nationwide manhunt? Del Sol native Sunshine Vicram has returned to town as the elected sheriff--an election her adorably meddlesome parents entered her in--and she expects her biggest crime wave to involve an elderly flasher named Doug. But a teenage girl is missing, a kidnapper is on the loose, and all of it's reminding Sunny why she left Del Sol in the first place. Add to that trouble at her daughter's new school and a kidnapped prized rooster named Puff Daddy, and Sunshine has her hands full.

Enter sexy almost-old-flame Levi Ravinder and a hunky US Marshall, both elevens on a scale of one to blazing inferno, and the normally savvy sheriff is quickly in over her head. Now it's up to Sunshine to juggle a few good hunky men, a not-so-nice kidnapping miscreant, and Doug the ever-pesky flasher. And they said coming home would be drama-free.
---
Darynda Jones takes the vest best parts of Charley Davidson and gives us Sunshine Vicram. I don't know how I am going to survive until the next book releases.
I loved Charley Davidson from the Charley Davidson series and I mean it when I say Darynda took all the best part of that series to create this new series. The story is told from two points of view that of Sunshine Vicram and also her fourteen-year-old daughter, Auri. I loved them both.   Sunny is as smart and witty, as is her daughter.
Sunshine has just returned to Del Sol, New Mexico, she was just elected as the new Sheriff, even though she didn't run for election. Maybe her first investigation needs to be how her parents pull that off. Before she can deal with possible election fraud, her first day as Sheriff gets her involved in a case of an abducted teenager. While Sunshine is the official investigator, her daughter has plans to help find the girl was who so nice to her by questioning the girl's friends at school.  But Auri's first day of school is fraught with just as much turmoil and her mother's first day as Sheriff.
Once Sunny finds this missing girl, she plans to dig deep into a cold case. The one that involved her own abduction when she was 17. She went missing for several days until she was brought to the hospital with a traumatic brain injury and spent a month in a coma. Sunshine has mostly lost that time in her life from several weeks before and after her abduction but she keeps getting flashes and she is determined to find the person who abducted her and finally get answers.
Since Sunshine has just returned to her hometown, she left after her abduction, we get a great introduction in this first book to the main characters of the story as well as the secondary characters who make up the Sheriff's office including Quincy, Sunny's long-time BFF and deputy sheriff; we also meet several people in the town, Sunny's family and her long time love interest, Levi Ravender, a boy she has loved from afar her whole life who has grown up dark and dangerous and who comes from a screwed up, abusive family (sound like anyone we remember?). Even young Auri will have a love interest in classmate, Cruz de los Santos.
If you are a fan of Charley Davidson, there are a number of characters here that are going to ring bells and seem very familiar to you, but the best part is that Darynda Jones has taken all the best parts of the Charley Davidson series and created something new and for those of you who aren't of fan of urban fantasy, this is your chance to enjoy Darynda's wonderful characters, storytelling and humor.
My biggest problem right now it that I was so invested in this story by the end (I've got theories that I want to know if I am right) and this book won't be officially released until April. That means it will be months and months and months before we get the next book. That sucks so much. A book nerd's heartbreak. When I was finally introduced to the Charley Davidson series, there were at least seven books out there and I just binged book after book until I caught up. I was so immerse in her world.  Now I can only hope there will be another book before the end of the year and I bet I still won't have all my answers yet.   I need answers!  While it will be painful to have to wait for the stories to unfold, these characters are going to make the waiting so enjoyable.
I can't wait for more Sunny and Auri!
---
Favorite Scene:
Five minutes later–small-town perks–Sun pulled into the Del Sol High School parking lot. She put the cruiser in park and turned to her auburn-haired offspring. "It's time."
Auri gaped at her. "Oh, god. Mom, not again."
"This is just a refresher."
"It's not really the first day of school. We already had this conversation in August."
"Yes, but that was for the academy. This one is for Del Sol High School. Your new stomping ground."
Auri propped an elbow onto the armrest and dropped her face into a hand.
"Okay, as we've previously discussed, boys are usually born with this little thing I like to call a penis."
Auri groaned.
"And girls are often born with this little thing I like to call a vagina."
"I'm moving in with Grandma and Grandpa."
"But these two components, the penis and vagina, need never meet." Sun waved an index finger back and forth. "Not ever. In fact, being a lesbian is very avant-garde. So, you know, you could always go in that direction."
"Mom, being gay is not a choice."
"Not if you don't give it a chance."
"Fine." Auri looked around at the growing number of gawkers. "I'll give it a try. Can you just turn off the emergency lights?"
Sun looked around at the faces reflecting the red lights from her cruiser. "They're just jealous. How many kids your age get a police escort on her first day of school?"
"I'm going to have to change my name."
"Now, normally, tab A fits rather nicely into slot B–"
"Mom!"
"–but not in your case." Sun paused for dramatic effect, then looked at her daughter from behind sad eyes. "Honey, I didn't want to tell you this until you were older." She placed a gentle hand on Auri's arm, infusing her expression with concern and something akin to heartbreak. "But I have no choice. Auri, you were born with a horrible, ghastly disfigurement."
"Okay, this is new."
"You know. Down there. In your nether parts."
Auri gazed out the window. "Does our insurance cover therapy?"
"Trust me when I say it's something you never, ever want a boy to see."
"Too late. Scarred for life."
"Especially a boy with a penis."
"People say that, the whole scarred-for-life thing, but I don't think they really mean it."
"You just don't want to open yourself up to that kind of ridicule."
"I, on the other hand–"
"That kind of ostracism."
She turned to her mother in a huff. "This conversation is making me very uncomfortable."
"Okay, I'll stop, but if anything happens, just ask yourself, WWLSD?"
"Mom–"
"No, I mean it. Anytime you get into a hairy situation, ask yourself, What would Lisbeth Salander do?" She gave her daughter a minute, then prompted her. "Well?"
After a heavy sigh, Auri replied. "She'd cut a bitch."
"Exactly. And if that doesn't work?"
Another sigh. "She'd set a bitch on fire."
"Precisely. And if that doesn't work?"
"Mom," Auri whined, shifting in her seat.
"If that doesn't work?"
"Fine. She'd eviscerate a bitch's online presence and get him or her sent to prison for kiddie porn."
Sun place her hands over her heart. "I'm just…I'm so proud of you."
"Can I go now?"
Related Posts