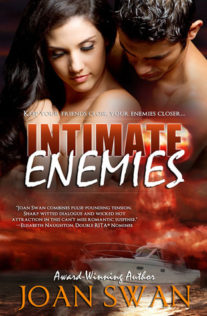 Intimate Enemies (Covert Affairs, #1)
by
Joan Swan

Series:
Covert Affairs #1
Published by
Createspace
on September 23rd 2012
Genres:
Action
,
Crime Drama
,
Mystery
Pages:
362
Format:
eBook



I received this book for free from in exchange for an honest review. This does not affect my opinion of the book or the content of my review.
This post contains affiliate links you can use to purchase the book. If you buy the book using that link, I will receive a small commission from the sale.
---
She is on a quest for answers; answers that could just get her killed.

Six months after the mysterious yacht explosion that killed Cassie Christo's mother and stepbrother, authorities still have no answers to the cause. Searching for closure, Cassie returns to her childhood home on the Pacific Coast of Baja, Mexico, where she launches her own investigation into the accident. She never expected to find an adversary in the man who had once touched her heart with kindness in her darkest moment.

Rio's been fantasizing about reconnecting with Cassie for months. But not here and sure as hell not now. As an undercover agent with U.S. Immigration and Customs Enforcement, he's working the biggest sting operation in all of northern Mexico, and he definitely doesn't have time for the wild attraction he feels for Cassie.

Not only is his cover on the line, so is his heart. Because as the end of a yearlong operation draws closer, Rio knows if he tells Cassie the truth about who and what he is, it won't only jeopardize his mission, it may result in him losing her forever. And if he doesn't, his lies and deception could get them both killed.
---
Rio Santana has been undercover for over a year now. Rising to the top of Saul Flores's smuggling ring and becoming Saul's right-hand man. Everything is finally coming together and they'll be taking Saul down as soon as he makes this last big deal. Maybe then Rio will go back to San Diego to see Cassie Christo again. Holding her during her mother and stepbrother's funerals, grieving their loss with her, he felt a connection with her that he's never felt before. One he wants to explore further.
That is until she walks into her mother's house in Baja, Mexico, looking beautiful, sexy and truly pissed off. She's demanding answers into her family's deaths. As she goes head to head with her stepfather, she's starting to make Saul nervous and that makes Saul dangerous. Try as he might, Rio can't get Cassie to understand the danger she is in, not just from Saul and his "business" partners, but from the warring Muerta and Diablo gangs both determined to take over the area, and both gangs would love to kidnap the beautiful, wealthy Cassie. But Cassie can't see past her anger and her need to remove Saul from her family home, to see the dangers surrounding her.
As the danger increases, Rio keeps closer to Cassie, but that is doing nothing to save them both from the desires growing between them, and Rio knows that to give in to those desires, with all the lies between them, would ruin any future they might have.
Like the gangs in her story, Joan Swan is trying to take over as the new boss of the romance genre, and she's doing a hell of a job of it.
In giving us a heroine with ten times as much bravery as she has common sense, I don't know who was more stressed out, me or Rio; in giving us a hero who we know is good, who Cassie knows in her heart is a good man, but for her safety as well as his own, he has to keep up the pretense of being dangerous and dirty; and in taking us down to Baja, Mexico which is presented as a hotbed of gang wars, a corrupt police force, and Saul Flores, the small time gangster trying to take over as the biggest smuggler around, Joan keeps the danger level and tensions high. And speaking of tension, there is such incredible sexual tension between Rio and Cassie, which culminates into the some of most incredible love scenes I have read. Yowza!
This was an exciting, dangerous, sexy story which just didn't stop from beginning to end. This is definitely a must read for everyone's list.
Now, I think it's time to go take a Xanax and lie down. Maybe go read a nice quiet vampire book…
Won a copy from Joan Swan's giveaway. Yay!
---
Favorite Scene:
"Thanks for the heads-up. Wouldn't want to look any more stupid than I actually am."
"Don't even. If you don't think I can recognize a smart man when I see one, regardless of who he works for or in what capacity, you're not a very good judge of character."
Pleasure burned across his chest, and, crap, it felt so damn good. He was starting to think being with her all day wasn't such a great idea after all.
"Quite the backhanded compliment," he said.
"Aren't you cynical this morning?" She pulled at the donut, revealing the raspberry filling, and hummed. "I knew I'd need this extra sweetness in my day as soon as I saw you. This is my favorite."
"You said the other one was your favorite."
"No. I said that was one of my favorites. This is my absolute favorite."
She closed her eyes and licked the jelly off the donut. The sight of her pink tongue against the red sweetness, the slow sweep, the pleasure on her face, drove a violent spear of lust straight through Rio's body, where it lodged dead center between his legs. He gripped the bar hard. Then she closed her lips around the sugary dough, and, God help him, she sucked at what remained.
By the time she slid the rest of the bite into her mouth, Rio had stopped breathing. His other hand curled into a fist, his nails clawing his palm.
"Since I don't indulge often," she said, licking her fingertips, "I can't keep myself from devouring the first. Once the edge is off my craving, I'm able to take my time and savor. So I save the best for last."
At some point, he'd refilled his lungs, though they weren't functioning right. His mind envisioned scenarios of taking her hard and fast up against a wall, mouths fused, hands stroking, hips thrusting. Then laying her down on a bed to undress her, kiss every inch of her body, and love her slowly, thoroughly, making sure he lived up to every one of her back-arching, toe-curling, sheet-fisting fantasies.
"Want some?" Her sweet voice drifted through the sound of blood pounding in his ears.
He focused from his sexual haze in time to watch her scoop a finger full of raspberry filling from the donut in more of a show than an offer.
"You've got to be fucking kidding me." Shit, he hadn't meant to say that aloud. Nor had he meant to grab her wrist, but it was wrapped in his fingers.
Everything beyond that was deliberate. The way he pulled her hand to his lips. The way he took her finger into his mouth. The way he sucked the sweet-tart filling off her finger.
The way he grabbed her neck and pulled her mouth to his, sharing the electric tang of raspberry with her, tongue to tongue.
She moaned into his mouth. The flirtatious torture ended, and something entirely different began. Her lips softened, and her body relaxed. Rio knew he should resist, should pull back, but a deep part of him also needed it. Needed her.
Related Posts