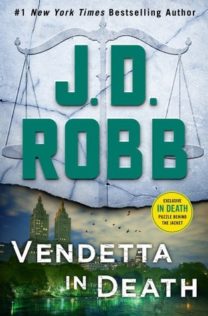 Vendetta in Death (In Death, #49)
by
J.D. Robb

Series:
In Death #49
Published by
St. Martin's Press
on September 3, 2019
Genres:
Crime Drama
Pages:
368
Format:
Audiobook
Narrator:
Susan Ericksen



This post contains affiliate links you can use to purchase the book. If you buy the book using that link, I will receive a small commission from the sale.
The predator becomes the prey in the newest thriller in the #1 New York Times bestselling series featuring homicide detective Eve Dallas.

She calls herself Lady Justice. And once she has chosen a man as her target, she turns herself into a tall blonde or a curvaceous redhead, makes herself as alluring and seductive as possible to them. Once they are in her grasp, they are powerless.

The first victim is wealthy businessman Nigel McEnroy. His company's human resources department has already paid out settlements to a couple of his young victims—but they don't know that his crimes go far beyond workplace harassment. Lady Justice knows. And in one shocking night of brutality, she makes him pay a much steeper price.

Now Eve Dallas and her husband, Roarke, are combing through the evidence of McEnroy's secret life. His compulsive need to record his misdeeds provides them with a wide range of suspects, but the true identity of Lady Justice remains elusive. It's a challenging case, made even more difficult by McEnroy's widow, who reacts to the investigation with fury, denial, and threats. Meanwhile, Lady Justice's criminal crusade is escalating rapidly, and if Eve can't stop this vigilante, there's no telling how much blood may be spilled…
---
Book #49 of the series was a bit of a dud. I am hoping she is saving it all up for the next book.
J.D. Robb (a/k/a Nora Roberts) is reaching a pinnacle with her next book, Golden in Death, which will be #50 of the In Death series. This is one of my favorite series and even if a book is just so-so, I am reading it and I am guessing a lot of other fans will be too. But I am hoping that she held back her best story plot for this massive release because the last few have just been so-so. That said, if you are hitting Book 49 in a series, there are going to be some which will become favorites and those that will sit rotting on your bookshelf never to come down again. I am pretty sure the last one I loved was Book #40 Obsession in Death where a fan is killing for Eve.
In Vendetta, our killer is focusing on men that she (and there is no question it is a she, it says so in the description) — she is killing men who are liars and cheats and gives them their just deserves by beating and torturing them and then bleeding them to death by castrating them. She is very, very angry!
We spend a good deal of time (of course) investigating the first death which does get Eve and Peabody some leads but we need a second death which steers the investigation further toward our killer. Eve does hone in on one subject but since she can't get a warrant based on "getting a buzz," Eve tries to collect more proof while not getting off track on her buzz just in case it is a matter of not liking the suspect.
I had wondered if our killer would focus on Roarke as payback to Eve, even though he is not a liar and a cheater, he does have a shady past, but Nora doesn't bother going there. He is always telling Eve that he too can take care of himself, and I would have liked to see him thwart this killer's attempt at him. Maybe Roarke finally gets a chase scene. But alas, no such luck.
Overall, I found the story to be uninteresting or just an excuse to give all the readers who were cheated on a hero who would torture and unman an unfaithful husband. You didn't like the victims. They were all cheating asshats so no one really was too upset to see them go.
And is anyone else, beside me and Eve, really tired of the "We really loved the vid and the book!"
Even if I am lukewarm on a story, I have enjoyed the building of relationships with the characters but with the exception of a B.S. fight between Eve and Roarke in the last book, they are solid in their relationship with nothing to work on and same goes with Eve and Peabody. So we aren't even getting any good character development anymore. I don't think we even saw Summerset for a good put down. No task force was needed so we didn't have too much interaction with the rest of the cast.
I really am hoping that Nora is saving it all up for the next book so we get a real OMG! story which knocks our collective socks off. I always enjoy returning to the world of Eve Dallas, especially when narrated by Susan Erickson, but this one will never be a re-read for me.
Related Posts