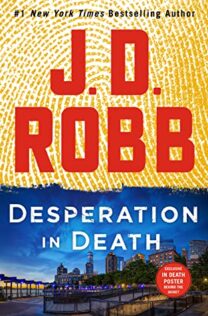 Desperation in Death (In Death, #55)
by
J.D. Robb

Series:
In Death #55
Published by
St. Martin's Press
on September 6, 2022
Genres:
Crime Drama
,
SciFi
Pages:
368
Format:
Audiobook
Narrator:
Susan Ericksen
Source:
Audible



This post contains affiliate links you can use to purchase the book. If you buy the book using that link, I will receive a small commission from the sale.
The #1 New York Times bestselling author presents a gripping new thriller that pits homicide detective Eve Dallas against a conspiracy of exploitation and evil…
New York, 2061: The place called the Pleasure Academy is a living nightmare where abducted girls are trapped, trained for a life of abject service while their souls are slowly but surely destroyed. Dorian, a thirteen-year-old runaway who'd been imprisoned there, might never have made it out if not for her fellow inmate Mina, who'd hatched the escape plan. Mina was the more daring of the two—but they'd been equally desperate.
Unfortunately, they didn't get away fast enough. Now Dorian is injured, terrified, and wandering the streets of New York, and Mina lies dead near the waterfront while Lt. Eve Dallas looks over the scene.
Mina's expensive, elegant clothes and beauty products convince Dallas that she was being groomed, literally and figuratively, for sex trafficking—and that whoever is investing in this high-overhead operation expects windfall profits. Her billionaire husband, Roarke, may be able to help, considering his ties to the city's ultra-rich. But Roarke is also worried about the effect this case is having on Dallas, as it brings a rage to the surface she can barely control. No matter what, she must keep her head clear--because above all, she is desperate for justice and to take down those who prey on and torment the innocent.
---
Wow. Child abduction, training and trafficking. This was a hard story to get through for both the characters and the audience.
Lt. Eve Dallas stands over the body of a beautiful young girl, stabbed through the chest with a broken splinter of wood.  Tragic as death is, Eve also understands that everything about this scene seems wrong and badly staged. The thirteen-year-old victim, Mina Cabbott disappeared after walking home from after soccer practice from her neighborhood in Pennsylvania more than seven months ago. So how does she wind up dead in NYC wearing her school uniform pants but a tailored white blouse, and wearing underwear much too sexy for a young girl. She is also covered with blood from a NJ runaway named Dorian Gregg, another extraordinarily beautiful thirteen year old girl who would not have the strength necessary to shove that wood through another girl's chest.
Recently off another case involving abducted women, it doesn't take too long for Eve and Peabody to start wondering if someone had grabbed these girls off the streets for child trafficking, but when this investigation began, they never could have believed the scope of just how large this organization was or the depths that humans could sink to fulfill their perversions. Searches for missing children shows an obscene amount of stunningly attractive young children who have gone missing under similar circumstances.  Abducting and holding long-term this amount of children  would require an immense organization.
Eve is certain that Dorian's blood at the scene is an attempt to blame Dorian for the murder…which means Dorian got away from her captors. The NYPSD isn't the only ones looking for Dorian and Eve needs answers to find out what happened to her and Mina and where to find these abducted children.  And when McNab's contact is SVU indicates that the dark web is gearing up for a huge auction, Eve, Peabody, Roarke and the rest of Eve's people throw everything they have into finding Dorian and stopping those girls from being sold.
THOUGHTS:
Nora Roberts must have thought her last book featuring women being abducted and murdered didn't give quite the kick to the guts that she wanted. Listening to how these girls were abducted, some runaways, some from exclusive and "safe" neighborhoods, was hard enough. The continued story of how they were beaten down, broken and trained to be someone's sex slave and how they were photographed and videoed for kiddie porn sites, until they were ready to be sold at auction to rich pervs was just brutal. And these are children, anywhere from six to early teens. Some were  kept or sold back when they hit early adulthood and sold to other pervs who liked the already broken in or older slaves. Nora must have done some intense research into child trafficking for the lingo as well as a breakdown of how the children would be grouped and categorized since the ones who weren't exceptional beauties or wouldn't accept the training, were abused in a more brutal way, if there is such a thing.
It was certainly an intense investigation.  I felt this one down to my soul.   If you don't think you can take it, I would recommend setting this one aside.  Obviously, this is a hard one for Eve and Roarke to wade through but you really won't miss any character development which will effect future stories.
---
Favorite Scene:
She headed out, crossed paths with Peabody, who handed her a vest and her ear bud.
"I'm so ready for this."
Eve gave her a hard study as they walked to the elevators. "How much booster did you take?"
"Just the one. It's all I needed. I wanna crush them. I want them to squeal and beg for mercy when I do."
"That's not very free-ager of you."
Peabody snorted. "I'll light some candles and meditate to rebalance later.  Crush now."
"Do you actually do that? Light candles and stuff?"
"Bet your skinny ass. Sorry." She sent Eve a wild-eyed appalled look. "I'm rev'd up."
"I'll let it go. This time."
"Rev'd," she repeated. "Pissed. And cold. Ice cold so don't worry about me not handling it. I do light candles and stuff. It balances out everything we see and do. That and hot jungle sex with McNab keep me level."
When Eve's eye twitched, Peabody grinned. "I figured it was a good time to get away with that one."
"It's never a good time, but since I need you at a hundred percent, I'll put my boot up your ass later."
"Always something to look forward to."
Related Posts