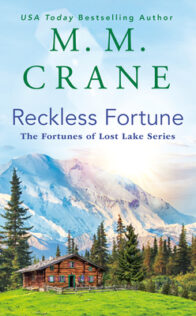 Reckless Fortune

Published by
Berkley Books
on September 27, 2022
Genres:
Contemporary
Pages:
288
Format:
eBook
Source:
Netgalley



I received this book for free from Netgalley in exchange for an honest review. This does not affect my opinion of the book or the content of my review.
This post contains affiliate links you can use to purchase the book. If you buy the book using that link, I will receive a small commission from the sale.
The heat between them is enough to ward off the chilly Alaska weather conditions in the next Fortunes of Lost Lake novel from USA Today bestselling author M. M. Crane.
Bowie Fortune has always liked a risky proposition. A bush pilot out in the Last Frontier, flying in and out of places that give most pilots nightmares is what he lives for. That and his off-the-grid home out by Lost Lake, where his family has been living up close with the elements for generations. When his sister dares him to participate in the local version of a mail-order bride contest, he's not interested--but Bowie doesn't back down from a challenge. Even when the challenge turns out to be a woman who makes him want every last thing he knows he shouldn't.
Entering a summer-long publicity stunt in far-off Alaska might seem extreme, but Autumn McCall has always had an indomitable spirit. She took care of her sisters and father after her mother died, and this is more of the same--since she intends to win the contest. Immersing herself in the pioneer lifestyle is one thing, but what she isn't expecting is brooding, sharp-eyed Bowie with his wicked smile. As the sparks fly between them, will they burn each other alive--or learn how to simmer their way to a much bigger prize...together?
---
Just when I thought the author couldn't possibly beat the first book, I was proven wrong.
Bowie Fortune is a ex-marine, a pilot and a man who cannot refuse a dare. His sister, Piper, has dared Bowie to join a promotion for Alaskan Tourism where a fake mail-order-bride would come to their tiny hamlet of Lost Lake. Bowie and his bride would engage in Alaskan frontier living, which they would post on social media and at the end of summer, votes would be cast and the winners would receive $10,000.
From the moment that Bowie flies into Montana to pick up his bride, Autumn McCall, he knows that his life may never be the same. Autumn knocks his socks off with her beauty and her hour-glass figure but also that she's is no wilting daisy. From the moment she arrives at in Alaska, Autumn has plans for their frontier living, and she isn't afraid of the Alaskan wilds, or as she reminds Bowie, Montana isn't exactly a tropical paradise.
At fourteen, Autumn had taken over the care of her father and youngers sisters after her mother passed. Autumn has always been organized and focused.  She has planned out how to win this contest.  But she hadn't expected to be spending her time in the Alaska frontier with someone as sexy as Bowie. She also didn't expect a regular house that was well cared for by a man who can cook. His profile picture make him look scruffy and she expected to spend at least some time reorganizing his ramshackle cabin.
But when a camping trip in the heart of the Alaskan wilderness goes afoul, will the biggest issue they face be the local wildlife or the ghosts of the past.
THOUGHTS:
When I picked up Reckless Fortune, I was a bit apprehensive about whether or not I was going to enjoy it.   Violet Parrish was my favorite part of Bold Fortune.   While I loved Violet and her can do attitude, I also didn't want this to a copycat of the first book. While Autumn did have a can-do attitude, but it was a different kind of can-do.   It was more that Autumn worked a ranch in Montana and she wasn't afraid of hard work or the harsh weather of Alaska.   While Violet was in awe of the Alaska wilds, Autumn knew what to expect and was prepared to roll up her sleeves and get busy living the frontier life and winning the contest.   That is something I can't imagine doing myself.  They were still wearing layers in July!!! JULY!!! I'm out!
Autumn considered herself the curvy, ugly duckling with four stick-thin, blonde beautiful sisters.  She though she caught Bowie looking at her sisters' when he picked her up at the ranch and was disappointed getting stuck with her, but Bowie was looking away from her because he was immediately attracted to her and knew he was in trouble if he had to keep his hands to himself for the next several weeks.
While any Alaskan adventure is not the cards for me, I was able to enjoy Autumn and Bowie's story just as much as I did Violet and Quinn's story.
---
Favorite Scene:
He went out to the front porch to wait for her and took a moment to remind himself that he had always loved Solstice. Here on the lake or anywhere else in Alaska, because only folks who knew the contours of a long, long winter with very little light knew how to celebrate the midnight sun at its height.
For that matter, he liked all the various parties his friends and family put on over at the Mine, because they usually became part of the lore out here. Though Midsummer at the Mine was his favorite out of all the community events they put on here. It was a funny, funky little celebration that perfectly fit this place and these people. Bowie might find discussions about legal rights tedious outside of community meetings, but he loved this place. And these people. He'd lived other places but this was his only home. And this time of year, folks from down in Hopeless and sometimes even as far away as Nikolai, Takotna, or even down the Kushkokwim a ways in Stony River came to the party. Bowie liked all the same old familiar faces well enough, but it was always fun to have visitors. He was just settling in for a good trip down memory lane into midsummers past when Autumn walked around the corner of his house.
He took one look at her and was doomed.
Because maybe she hadn't thrown a ball gown into that duffel of hers that had somehow managed to transport a whiteboard, of all things. But she'd found a dress all the same.
"I forgot I packed this," She said happily as she strode toward him, as if she wasn't tearing apart the fabric of his universe with every step. "And you're right, we should always take the opportunity to dress up while we can. I can never be bothered in winter. Too cold, too many layers. But this is summer and that deserves celebration."
"Hear, hear," Bowie said.
Weakly.
Because Autumn's dress was red and slinky and as far as he could tell, was actually some kind of weapon. Maybe even the secret weapon she still hadn't disclosed. It clung. Everywhere. Bowie could only think that she apparently had no idea what that figure could do.
For a minute there, he thought he was actually seeing stars.
But no. It was only Autumn, in fire-engine red, like she was going out of her way to wreck him.
She kept talking to him as they walked down to the dock, but he couldn't have said what it was they were talking about. He made the odd assenting noise whenever it seemed necessary, and otherwise hurried her into the motorboat, because he needed the slap of the wind in his face and the roar of the engine to set him right.
It was a relief to pull the boat up on the beach below the Mine, because the minute he and Autumn set foot on land again, they were swept up in the whirl of activity and music and merriment.
And that was better than the two of them being alone with that dress in the mix.
Because the more alone they were, the less reason Bowie could seem to come up with to continue to maintain his distance. The more alone they were, the less he seemed to recall his own history.
"This is fantastic," Autumn breathed, her eyes shining, and then she drifted off into the crowd, where he knew she would wander around, soaking in everything. Because that was what she always did, every market day. And Midsummer at the Mine was more than a market.
He told himself it was a relief when she took off, thought that wasn't how it felt. Not was he watched her walk away from him. He found himself rubbing at his chest like it hurt.
When it didn't. It couldn't.
Related Posts