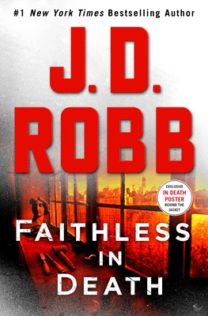 Faithless in Death: An Eve Dallas Novel (In Death, #52)
by
J.D. Robb
,
Susan Ericksen

Series:
In Death #52
Published by
Macmillan Audio
on February 9, 2021
Genres:
Crime Drama
,
SciFi
Format:
Audiobook
Narrator:
Susan Ericksen
Length:
13 hrs 42 min


This post contains affiliate links you can use to purchase the book. If you buy the book using that link, I will receive a small commission from the sale.
In the new Eve Dallas police thriller from #1 'New York Times' bestselling author J. D. Robb, what looked like a lover's quarrel turned fatal has larger - and more terrifying - motives behind it. . .
The scene in the West Village studio appears to be classic crime-of-passion: two wineglasses by the bed, music playing, and a young sculptor named Ariel Byrd with the back of her head bashed in. But when Dallas tracks down the wealthy Upper East Side woman who called 911, the details don't add up. Gwen Huffman is wealthy, elegant, comforted by her handsome fiancé as she sheds tears over the trauma of finding the body - but why did it take an hour to report it? And why is she lying about little things?
As Eve and her team look into Gwen, her past, and the people around her, they find that the lies are about more than murder. As with sculpture, they need to chip away at the layers of deception to find the shape within - and soon they're getting the FBI involved in a case that involves a sinister, fanatical group and a stunning criminal conspiracy.
RUNNING TIME => 12hrs.
©2021 J.D. Robb (P)2021 Macmillan Audio
---
This one goes sideways and by the time we finish, I almost forgot the original murder.
Lt. Eve Dallas and her partner, Det. Delia Peabody start out investigating the murder of an artist in her studio, which takes us down a rabbit hole of white supremacy, reprogramming and human trafficing. By the time we finish the story, we have gotten so far away from the beginning of the story, you end up doing an oh, yeah, there was that dead lady..
We start with the murder of Ariel Byrd, an artist who was bludgeoned in her studio. At first the investigations begins to lean towards Ariel being murdered by a lover, her female lover. Their investigation then leads Dallas to an woman from an important and influential family who is on the brink of her grand society wedding. Of course, she would not want her infidelity brought to light, especially since her affair is with a woman. See in order to inherit her multi-million dollar Trust, she needs to marry a man, a white man, and produce a child. It turns out that her parents are part of an organization called Natural Order. Natural Order believes that the races should stay pure and relationships should among their own race and only between men and woman. Their teachings are that homosexuality is unnatural and they have been known to help you see the light with reprogramming and a little light torture, if necessary.
The more Dallas looks into Natural Order, the crazier the organization becomes. This isn't just a bunch of white supremacists pitching their spiel to the faithful. They begin to find young women being drugged, abducted and sold to older men so they can do what women are supposed to do and make babies within their specific races. Dallas and her team will work with the FBI and Interpol to break the back of this organization and free these women from a nightmare of slavery and rape.
I am not saying this wasn't a good story but every time Dallas gets a new lead or talks with a new witness, what we are finding out about Natural Order is getting crazier and crazier. By the time that Dallas and team take down the organization, it feels like the murder of the artist must have been part of the last book that came out.
I am always a fan of Dallas, Roarke and the gang but this story was insane.
---
Favorite Scene:
"I'm going back to coffee."
"I'll join you there and explain this to you. I have more covering the walls and that prison building, still more on the main house and so on. It's a very complex and comprehensive system. In addition to alarms throughout, there are motion sensors in some areas, alerts should anyone attempt to jam or hack the system."
"Okay."
"Oh, there's more," He said it cheerfully, like someone about to start an entertaining game. "Lights, sirens. The walls are outfitted with a shock system. This, and more still, would be over and above any human or droid patrols."
She handed him coffee. "Here's what we're gonna do. You know this system."
"I do indeed, or more accurately, the systems, as there are three systems combined. Intertwined and in layers. It's very well done."
"You're not going to explain it all to me or we'll be here for a month. What you're gonna do is look at this, the systems, and the main house to start, like it has a zillion hot white diamonds inside, and you want them. You're gonna figure out how'd you get in, get to every one of these buildings and steal the shit out of them."
His lips curved slowly. "Well, then. Wouldn't that be fun."
"It's just you and me here, Ace. Find the weak spots and be a thief."
He studied the schematics and his smile only spread. "I can do that."
Before he started, his link signaled. "Ah, that's perfect as well. I have the security schematics and the blueprints from the island community."
"How'd you find time to get those already and what we've got going here?"
"Delegating. Somerset, and don't snarl, handled this."
"I wanna snarl, but I can't because we need it. How'd he get it? Don't tell me." She quickly waved even the thought of it away. "Just send it to Whitney. He'll get it to Abernathy and we'll hope they don't ask too many questions."
"There's always an answer that will suit if necessary. You'll feel better knowing that since the block in Tribeca wasn't actually built by Natural Order, Feeney's team is getting those blueprints. My system again, so the security is easy to access. You'll have that shortly. Now," he rolled his shoulders, "hot white diamonds, is it?"
"Zillions."
"I've always been fond of them." He sat down at one of the computers, rolled up his sleeves, tied his hair back. "If I can build it, I can break it. It starts with the walls."
—————————————
"This point's clear."
To her astonishment, he scaled the wall like a damned lizard then reached down a hand for her. "Up you come, Lieutenant."
She took his hand and the boost from one of the backup team. Roarke leaped down, agile and quiet as a cat. She dropped down beside him. Sidestepping to the gatehouse, she waited for him to deal with the locks. Weapons drawn they slipped inside. In the dim backwash of the security lights she saw equipment, screens, a table and some chairs. Clearing back, she scanned a small bathroom, a refreshments center.
"It's clear. We move on."
"Thirty seconds more."
"Breach teams, first go. We'll be 15 feet ahead"
Slow and steady, she thought, as they move through the dark, stayed in the shadows. Thirty feet. Then forty-five.
Roarke took a moment in the next timed gap, shut off their recorders. "What the–"
"I have to say it. My Christ, what a pair we'd have been." The absolute delight in this voice tickled her soft spots. "You move like smoke. Smoke with nerves of steel and unshakable focus. We'd have romped the globe, you and I, plucking every precious thing we wanted. What a pity we didn't meet in some lovely alternate world where you weren't a cop."
Though amused, she gave him a dour stare. "I'm a cop in all of them."
"You're likely right. And still–" he sighed, reengaged their recorders. "And there's the mark. Moving on."
Related Posts