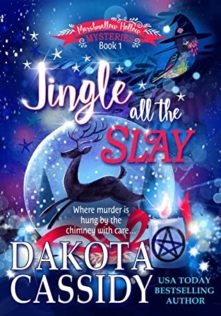 Jingle all the Slay (Marshmallow Hollow Mysteries, #1)
by
Dakota Cassidy

Series:
Marshmallow Hollow Mysteries #1
Published by
Dakota Cassidy
on October 12, 2020
Genres:
Paranormal/Urban Fantasy
Pages:
175
Format:
Audiobook
Narrator:
Holly Jackson
Length:
5 hrs



I received this book for free from in exchange for an honest review. This does not affect my opinion of the book or the content of my review.
This post contains affiliate links you can use to purchase the book. If you buy the book using that link, I will receive a small commission from the sale.
Welcome to Marshmallow Hollow, Maine, a holiday mystery, where it's all Christmas all the time and murder is hung by the chimney with care...
I'm Halliday Valentine (yep; funny name is funny), a psychic witch who's recently moved from New York City back to my very human hometown of Marshmallow Hollow, where I run the family factory that caters to all things Christmas. I inherited the factory from Mom, who inherited from Nana Karen, but now it's just me (kinda...long story), my curmudgeonly British familiar hummingbird, Atticus; one ungrateful rescue cat; my talking reindeer, Karen; and my BFF Stiles (the only human aware of my witchy side).
Oh, and Digby Dainty (known as Hobbs), the tall drink of water who rents my guest cottage. And who I wouldn't mind getting to know better. We have a lot in common, including a love of true crime. So as macabre as it sounds, when a shady real estate tycoon shows up dead in the middle of the annual ice festival, I'm thrilled to spend time with Hobbs, flexing our amateur sleuthing skills.
Well...not thrilled. I mean, a guy's dead after all. But he did try to con some businesses right out from under the hard-working locals. In fact, the only thing more surprising than a murder in our charming Christmas town is how many of my friendly, beloved neighbors seemed to want the man dead...
---
Not as duplicative as I anticipated.
Halliday Valentine returned to her hometown of Marshmallow Hollow to run the family's Christmas decoration factory after her mother passed away. The factory is an integral part of Marshmallow Hollow, a tiny town dedicated to Christmas 24/7, 12 months of the year. Halliday is a witch hiding in plain sight of humans and her tiny hummingbird familiar named Atticus makes sure she doesn't abuse her powers, especially were others might see. The only other person in on Hall's secret life is her BFF since middle school, Stiles, who is a local police officer.
After meeting her sister, Stephanie Cartwright a few months ago and her boyfriend, former International Man of Mystery, Alistair "Win" Winterbottom, Hall has become quite the Real Murder Mystery fan, watching all the shows and working out theories with Stevie. When a murder happens in the middle of the main square in Marshmallow Hollow, Hall can't stop herself from being like her sister and investigating along with the police.  Since Stiles can't give her any help with an ongoing police investigation, Hall begins her investigation work with her tenant, the very handsome Digby "Hobbs" Dainty and his bulldog, Stephen King.
Hall can't believe that one of her beloved neighbors in Marshmallow Hollow could kill but she will do her best amateurish sleuthing to find the killer.
You all know that I love Dakota Cassidy's Witchless in Seattle series. It is the literary equivalent of a Twinkie but I love it all the same. When Stevie's previously unknown sister arrives in Witch It Real Good and whisks Stevie and Win to Marshmallow Hollow, ME for a brief vacation, and an introduction to the characters in the spinoff, I feared it was the Marshmallow Hollow series would just end up being a cookie cutter copy of Witchless in Seattle but with a little more magic since Halliday still has her magic. Like Stevie, Hall has a tiny familiar and a handsome love interest and they investigate homicides in what should be a quiet, murderless town.  After reading Jingle All the Slay, I found there was enough differences in this series (so far) from the Witchless series that I will give the next few stories a chance and see how the series goes and see if we can follow both series without so much overlapping of situations.
Dakota Cassidy has this same character set up in her Lemon Layne series but without magic which I just didn't enjoy as much.
Related Posts