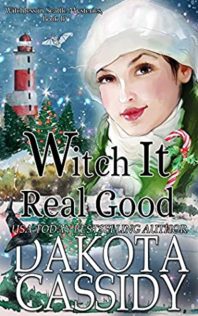 Witch It Real Good (Witchless in Seattle #10)
by
Dakota Cassidy

Series:
Witchless in Seattle #10
Published by
Dakota Cassidy
on November 28, 2019
Genres:
Paranormal/Urban Fantasy
Pages:
240
Format:
eBook



This post contains affiliate links you can use to purchase the book. If you buy the book using that link, I will receive a small commission from the sale.
Stevie here, and I'm happy to report we've settled into our new lives and found a modicum of peace since our last death-defying incident.
Mostly…
My International Man of Mystery continues to lay low here in Ebenezer Falls until we can sort out his earthbound credentials, but we have a routine and as the holiday season begins, we're ready to do a little celebrating. In the midst of us adjusting to life together, a surprise visitor shows up, knocking us both for a loop, but for two entirely different reasons.
To make matters worse, my good buddy, Officer Rigid…er, Dana Nelson, has some questions and we're positive they have to do with Win's involvement in what's turned out to be a high-profile case in Seattle. That means we need to get the heck out of Dodge and we need to do it fast to buy ourselves some time to figure out our next move.
While we wrap our heads around our newest predicament in Maine in a beautiful little town that celebrates Christmas three hundred and sixty five days a year called Marshmallow Hollow, we run into bigger trouble than we left when someone tries to kill Win not once, but twice.
And that's when Win's past comes back to haunt him, putting us all in danger.
Out of the frying pan and into the fire we go!
---
A little more of my literary Twinkie break.
Spoilers from previous stories.
This story had a big dose of good and bad. Let's start with the good. The continuing plot of this series is focused on two points, the first is deceased warlock, Adam Westfield, who slapped the magic out of Stevie before he died, and he keeps trying to kill Stevie from the great beyond. The second point is who killed MI6 superspy Crispin Alistair Winterbottom?
In Witch it Real Good, Stevie and Win still haven't figured out what they are going to tell people about Win and who he is. Win, the spy, is officially dead and Balthazar, Win's twin brother who's body he snatched, was a criminal with a long, long rap sheet and possible warrants for his arrest. Time is no longer on their side as Officer "By the Book" Dana, who has become a good friend of Stevie, is starting to ask questions.
Just as they are starting to panic, a knock on the door introduces a half-sister to Stevie who lives in Marshmallow Cove, Maine, where it is Christmas time 24/7 365 days a year. Since there is nothing Stevie loves more than Christmas decorations, they decide a trip is in order. Hall is also a witch, and one who actually has magic, so she snaps her fingers and Win, Stevie and all their pets pop over to Maine.
Of course, the first thing that happens is that someone tries to kill Win and then Stevie comes face to face with a woman who has to be Win's former girlfriend, possible murderer, spy girl Miranda. (All the gin joints in all the world, why did she have to walk into mine.) Really, imagine the chances of that? Okay, snark aside, we will finally get answers to what happened to Win on the night he was murdered? While Stevie is consumed by the green-eyed monster wondering the more important question of if Miranda wasn't responsible for his death, will Win leave her for his first love?
Yay!! It was great to finally get get some answers, especially when Amazon has this noted as Book 10 of 11. Only one more? Wah! Now the bad part of this story wasn't so much bad, as annoying. This is not the first time that part of a Witchless in Seattle story was an introduction to a spinoff series, and I did find that Stevie's sister, Hall, and her town of Marshmallow Cove will be the focus on a new series later this year. The bigger problem I have is that Dakota Cassidy obviously has a formula for her stories which include an awkward romantic lead, a talking familiar and a mystery to be solved. They even both live in a big house on a cliff overlooking water. What are the chances? And if you don't like paranormal, her Lemon Layne Mystery series just had regular people and a pet monkey (no talking, but he was super clever). I don't mind a good spinoff but the only thing different from what we are reading now is location and her awkward guy friend isn't dead at the beginning of the story. I tried the Lemon Layne series but found that I was too distracted by the sameness of that series to this one.
I am still annoyed by the fact that these two love birds are sleeping in separate bedrooms even though they are getting shot at again. Again, I don't need to watch them have sex if we want to keep it PG but not so much as a passionate kiss or a little snuggling for warmth after two years wait just seems wrong. This ain't a Jane Austin novel. If we need to keep it family friendly, put a ring on it and let's get to the alter. These are two people who should not be taking their time. They had two years of get to know each other. What the hell?
---
Favorite Scene:
There was a big barn behind the house and what looked like a guest cottage that matched the exterior of the farmhouse, nestled into a slight incline.
Just when I thought I was all sighed out, I found myself sighing again as I clung to Win's hand.
"It's beautiful, isn't it, Win? Even in the dark."
"'Tis, Dove. But I have a little surprise for you," he said, digging into the pocket of his new jacket.
"Did you build me an igloo? You know, fun fact, female penguins exchange favors for–"
"Ta-da!" Win whispered in my ear as we were bathed in light.
Again, just when I think I'm all blink-in-astonishment, dreamy-sighed out, there was yet another wonder for me to behold.
Win held some sort of remote control as he smiled down at me. "I knew you didn't have the opportunity to see this in all its brilliance due to your exhaustion, so I asked Hal if she'd mind if I set up a small surprise for you, Dove. Come, let's go somewhere so you might have the best view in order to take in the house in all its lighted glory."
"You did this for me?" I whispered as he led me under the glowing icy tree I'd just been admiring, where there sat a small round wrought-iron table, two chairs positioned next to one another, a carafe, two mugs, a blanket and a heat lamp.
Pulling out my chair, Win gallantly gestured for me to sit. "I'd certainly like to take the credit for the sensational light display. Alas, I can only be credited for the hot cocoa with fluffy homemade marshmallows and the heat lamp. The rest was all Atticus and Hal."
I slipped into my chair and smiled up at him. It's beautiful, Win. Thank you."
Pressing a kiss to the tip of my nose, he whispered, "I thought you'd appreciate the view. But this isn't all chivalry. We haven't had a moment alone together almost since Hal arrived, and I've missed out on our evening conversations for two nights in a row."
He took his seat and reached for the carafe, opening it and pouring the steaming cocoa into my mug. Flipping open the top on a plastic container, he used tongs to scoop out two fat marshmallows and drop them into my cup with a plop.
Often, after dinner back home, when our day was complete, we'd sit together on the front porch or on the couch with a glass of wine or coffee and talk–about everything–for hours.
Except, obviously, Miranda. Win talked about all sorts of spy missions and his life before joining MI6, but never Miranda or even any of his other past girlfriends. I almost winced. The thought of her made me feel that stab of guilt. I wanted to broach the subject, but decided maybe it was better not to spoil this moment he'd made such a sweet effort to create.
I'd missed seeing him today, too. My day never felt quite right if he wasn't a part of it–if we didn't have time to touch base.
He filled his mug with the steaming brew, too, and held it up and smiled, the lines on either side of his mouth deepening with the gesture, his eyes bright under the romantic radiance of the tree.
"To you, my dove. You're a vision beneath the glow of these lights. I can't tell you how fortunate I feel to spend my days with you."
I grinned at him as he covered us with the blanket. "To us."
Related Posts