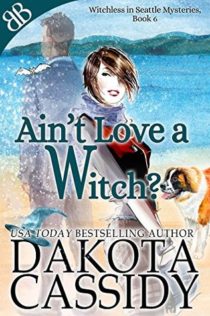 Ain't Love a Witch?
by
Dakota Cassidy

Series:
Witchless in Seattle #6
Published by
Tantor Audio
on October 3rd 2017
Genres:
Paranormal/Urban Fantasy
Format:
Audiobook
Narrator:
Hollie Jackson
Length:
7 hrs



I received this book for free from in exchange for an honest review. This does not affect my opinion of the book or the content of my review.
This post contains affiliate links you can use to purchase the book. If you buy the book using that link, I will receive a small commission from the sale.
My name is Crispin Alistair Winterbottom, and I'm a British Spy . . . Or I was until my untimely, dare I say, suspicious demise. Now, I'm a ghost, living my afterlife on what I fondly call Plane Limbo. But I'm determined to return to the land of the living and while I try and figure out exactly how to do that, I spend my days with the ever delightful ex-witch, Stevie Cartwright, the only person in the world who can hear me, and her charming bat familiar, Belfry. We've seen some dark days, Stevie and I. Including, an unexpected family member attempting to steal all my worldly goods, a vengeful warlock, and plenty of murder. Yet, through it all, we've become great friends and adopted several new friends (alive and dead) along the way. So when a surprise shows up on our doorstep and claims to belong to me, our safe, happy world is bloody well turned upside down and threatens, to date, the most important relationship in my life!
---



I really adore these characters but I am starting to get a little frustrated.  I was hoping things would start moving in the romance department.
I really like these characters and I think narrator Hollie Jackson does a great job. While I have been listening to a lot of audiobooks that she has narrated, this is definitely my favorite from her.
For the first time, this story is told from the POV of our favorite spirit, ex-spy Crispin Alister Winterbottom. So why am I looking for romance between ex-witch Stevie and the dearly departed Win? Win keeps talking about his determination and his plan to return to the earthly plane of existence but he is always still "working it out." He plans to take a body where the spirit has already vacated because he is a good guy but who is vacating their body unless they died or are dying? In fact, in book 3, Win gets a previously unknown twin brother. Why a twin brother except to be a future body for Win to take over but he hasn't returned to the story, and again how are you going to get someone to vacate their body?
The story is very angsty because someone from Win's past drops off a baby to what should have been his house for safe keeping, not knowing he is dead. Win finally convinces Stevie that the baby is most definitely not his child and Stevie takes to mothering this baby like a duck to water which causes Win to have all kinds of feelings watching Stevie with this baby.
Win refuses to tell Stevie of his feelings for her so she doesn't waste her life waiting for him to accomplish his reimbodyment plan, but he was against her romance with Forest at the coffee shop (who now has a new girl friend) and she is clearly falling for Win, so where does that leave us?
While there is some thought that to bring Win back to the living, would be the end of the series, but not necessarily. We still need to figure out who killed Win originally.  We need to see if Stevie gets her magical powers back and what about that warlock who took them.  If Win knows how to get back to this plane of existence, and the warlock proved his has enough power to steal a body, who will get here first?  Also Win's former Russian Spy friend, Arcadie, has said in this story that he has no interest in returning to this realm anytime soon and giving a reasonable explanation why. So Arcadie can stay as their spirit friend while new adventures of Stevie and reimbodied Win can continue.
I enjoy a good supernatural light-hearted, fluff story now and again, including ones like the Molly Harper series. This one is fun and kooky but I want to get on with the romance already.
Related Posts