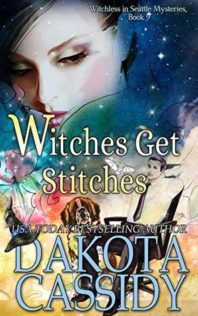 Witches Get Stitches (Witchless in Seattle #9)
by
Dakota Cassidy

Series:
Witchless in Seattle #9
Published by
Dakota Cassidy
on July 29, 2019
Genres:
Paranormal/Urban Fantasy
Pages:
242
Format:
eBook



This post contains affiliate links you can use to purchase the book. If you buy the book using that link, I will receive a small commission from the sale.
When last we met, good people, the biggest wish I've ever made came to fruition. It didn't happen without some help—okay, a lot of help. Either way, let's just say the deed was done.
My outrageously handsome, smart, sometimes persnickety (read mostly persnickety) Spy Guy, Winterbottom, is finally here on earth with me, recuperating from his afterlife jaunt.
And I couldn't be happier…
Sure, he can be a difficult patient. He's forever bellowing my name from his sick bed. He likes his socks ironed and his toast cut in triangles, thank you very much. Add in the fact that some of the spells I've cast to make this dream a reality have had repercussions (an understatement), and it's been sheer chaos.
But all tomfoolery aside, Win's here with us, and I'm thrilled, as you can imagine.Mostly.
So when it's decided amongst my favorite men I should take a day for myself and hit Seattle for some much-needed shopping, I hesitantly head out.
And then I die.
As you can imagine, it only goes downhill from there…
---
It might be a silly concept, but I really enjoy this group of characters.
Some spoilers from previous stories.
Win and Stevie have waited years to finally be together on the earthly plane but maybe there has been a little too much together lately, especially with a frustrated International Man of Mystery who is still bedridden and recovering from a head injury and who might be really, really picky about how his socks are ironed.
Win, Belfry and still ghostly Russian spy Arkady all convince Stevie that a shopping trip to Seattle would give her a break from her role as caregiver and a little needed distance from the love of her life.  A retail boost to the newest vintage clothing store is just what Stevie needs.  Problem is that once she arrives at the store things sort of go black.  Until she finds herself looking at the face of her friend Arkady, and while she is excited to finally meet him in the flesh, so to speak, meeting her Russian friend means that Stevie has landed on Plane Limbo, so…when did she die?  Was Stevie attacked or did one of those many wonky spells that she tossed out when trying to find Win come back to bite her?  Things kept randomly happening, like that dinosaur and that glacier that popped into their backyard.   But dead?  And if she is dead, why does she appear more substantial than all the other spirits in Plane Limbo?
Win might be weak and he might have nothing to wear but PJs, but even dressed in a crazy Christmas sweater and shorts, he is determined to figure out just what has happened to Stevie.  It starts with getting out of the house without falling down.   Gaining the assistance of an uber driver named Gooch, Win heads to Seattle to find Stevie's body and help her return her spirit to it before it is too late.
But if Stevie's sudden appearance in Plane Limbo was just the side effect of a spell gone wrong, what happened to Stevie's body, why can't they find it and why is someone chasing Win?
When I first read the synopsis of this book, I almost lost my mind. We have waited all these many stories while our favorite Spy Guy figured out how to return to the earthly plane to be with Stevie. Now Stevie was going to die? No, no, no, no, NO!
I was very tense this whole story trying to figure out what happened.  This story takes place almost immediately after the end of the last story when Win has just returned to a physical form in a body which had been at death's door.  This makes Win physically weak and especially frustrated because he is used to his super-spy reflexes.   Also the tables have turned, and now Win has Stevie talking to him from the other side.  As Win investigates, Stevie's form on Plane Limbo becomes more and more insubstantial. Does that mean they are running out of time? They aren't sure but with time ticking away and Stevie's body still missing, Win is getting desperate. He is weak and she is more worried that his continued exertion will land him right back on plane limbo as well, but Win isn't going to give up on Stevie or their HEA. If it comes down to it, Win will risk his new existence to save Stevie.
I know it is a silly series and is the literary equivalent of Twinkies but I really enjoy these characters.
Sadly, this series has a Regency feel to the romance.   I get that this is more a PG series but a passionate kiss or even a tight embrace might be in order.  After being in love for about two years, Win finally takes the chance to return to this existence from Plane Limbo, and after almost losing Stevie, Win has declared that they are not going to wait until he his fully recovered before moving forward with their relationship (finally),  he is going to start wooing Stevie starting right now! (What?)  And since he doesn't want to sully her reputation by staying in the same giant, multi-bedroom house, he is turning the garden shed into a guest house.  (Come on!)  These two have been moony-eyed  and desperately in love this whole time and after yet another near-death experience and "realizing more than anyone most how fragile life is," they have decided to have dinner? I was pissed after the last story when Win finally body snatches and returns to the earthly plane and they can finally be together, and all we got was some hand holding and a tiny kiss. Yeah, I get it.  Body snatching was a lot of work and his body needs to recover but come on!  If you want to keep it PG, we don't have to watch, but especially with what they have been through, what the heck are they waiting for?  Life is short, get married and make babies already.  This is getting crazy.
This is a series that I enjoyed listening to on audiobooks but a good deal of time has passed from the original ebook release date and even the release of Book 10 and still no audiobook. I even reached out to the author on Twitter to find out what happened, and she indicated the only hold up was with Tantor.  Since Book 11 is due out next month, I finally gave in and purchased eBook copies of both Book 9 and 10 and no surprise to me, I read the story with the narrator's voices in my head.
---
Favorite Scene:
"I'll figure it out when the time comes. For now, trust I know what I'm doing, Dove."
That was a good thing, considering now my other leg and the right side of my body had disappeared. My physical body was out there dying somewhere.
Arkady frowned at me when I stretched my newly transparent leg. Then he mouthed the words "forgive me" before he clamped his hand over my mouth, and said, "Zero, this is getting bad. Badder and badder. My malutka, she is disappearing!"
Win's head snapped up, his eyes sharp, "Is that true, Stephania?"
I waffled as my palms, even transparent, began to sweat. I shot Arkady a sour look when I pulled his big hand from my mouth, but I was quick to defend my position.
"List, define 'disappearing.' I mean, I'm still here. You can still hear me, right? So I'm a little milky-white. Big frackin' deal. Arkady's a worry-wart. You know he leans toward dramatic when it comes to me."
"This is not true, Zero! She is making light. Stevie is disappearing right in front of me. She is," he harrumphed.
Win clenched his jaw and tightened his grip around the purse's strap. "How long has this been going on, Stephania?"
"All afternoon!" Arkady belted out before I had the chance.
"And you thought it wise to keep this from me?"
Oooo. He was angry. The vein throbbing in his temple just beneath the rim of his ridiculous hat said so. "What could you have done? We spent all afternoon going around in circles. How would that have been any different if you knew?
Win looked at the time on the dashboard, but he didn't answer me because he knew I was right.
Related Posts