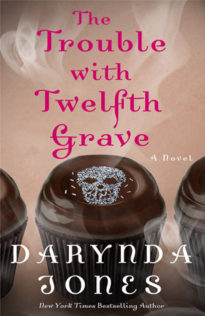 The Trouble with Twelfth Grave
by
Darynda Jones

Series:
Charley Davidson #12
Published by
Macmillan Audio
on October 31st 2017
Genres:
Paranormal/Urban Fantasy
Format:
Audiobook
Narrator:
Lorelei King
Length:
7 hrs



I received this book for free from in exchange for an honest review. This does not affect my opinion of the book or the content of my review.
This post contains affiliate links you can use to purchase the book. If you buy the book using that link, I will receive a small commission from the sale.
Grim Reaper Charley Davidson is back in the twelfth installment of Darynda Jones' New York Times bestselling paranormal series, The Trouble with Twelfth Grave.

Ever since Reyes Farrow escaped from a hell dimension in which Charley Davidson accidentally trapped him, the son of Satan has been brimstone-bent on destroying the world his heavenly Brother created. His volatile tendencies have put Charley in a bit of a pickle. But that's not the only briny vegetable on her plate. While trying to domesticate the feral being that used to be her husband, she also has to deal with her everyday life of annoying all manner of beings--some corporeal, some not so much--as she struggles to right the wrongs of society. Only this time she's not uncovering a murder. This time she's covering one up.

Add to that her new occupation of keeping a startup PI venture--the indomitable mystery-solving team of Amber Kowalski and Quentin Rutherford--out of trouble and dealing with the Vatican's inquiries into her beloved daughter, and Charley is on the brink of throwing in the towel and becoming a professional shopper. Or possibly a live mannequin. But when someone starts attacking humans who are sensitive to the supernatural world, Charley knows it's time to let loose her razor sharp claws. Then again, her number one suspect is the dark entity she's loved for centuries. So the question becomes: Can she tame the unruly beast before it destroys everything she's worked so hard to protect?
---




I was happy to get back to an audiobook of this series.  Lorelei King does an outstanding job bringing Charley to life.
NOTE:   There are spoilers here if you have not finished Book Eleven.  If you are still at the beginning of the series, turn away.
I adored this series at the very beginning and talked it up to anyone looking for a recommendation but I have not been so excited about what happened with the series once we started changing Charley from the Grim Reaper to a God from another dimension.  Added to that, Reyes Alexander Farrow (Reyes), Charley's love interest, who turned out to be the son of Satan (Rey'azeel), then turned out to have been created by Satan from the life force of another God (Rey'azikeen).  And then he turned out to be the brother of Jehovah, so seems to be a bit jealous of Reyes.
After sucking my friend Christine into the series, she agrees with me that we don't like where the series is going, but we might just be the only ones. 5 star reviews are everywhere, as well as statement of the best book yet. I can only share my thoughts on this book and series.
I really adored Charley's ADHD wackiness.  Her Private Investigator cases were interesting, add in the supernatural side job as the Grim Reaper, plus hot, dangerous love interest Reyes, and this series was destined for the top of anyone's Must Read list.
I just haven't been able to get behind bringing in the God issues, having the Angel Michael coming in to threaten Charley and even bringing in confrontations with God himself.  In this book, Garrett gives Charley three childrens books written by a blind child from India which are a thinly veiled prophecy of Charley, Reyes and their daughter, Beep. Of course, in the middle of this desperate need to figure out what is happening, she doesn't jump to Book 3 and get to the ending of Beep's book. She peruses her book and Reyes's book, and barely peeks at Beep's book as she frantically tries to find Rey'azikeen and figure out what he trying to find.
The Trouble with Twelfth Grave started off with an interesting first chapter more reminiscent of the first Charley Davidson books but it quickly lose that focus.
In the end of the Eleventh book, Reyes decided it would be a great idea to jump into the God Glass (the hell dimension that Jehovah tricked Rey'azikeen into creating with the idea that Jehovah would trap him inside).  He doesn't come out right away and just as Charley is getting desperate enough to jump in after him, the God Glass explodes (creating a hell portal in Charley's apartment which is growing and will still have to deal with) and Rey'azikeen comes out (not as Reyes).  He is now a very angry God and he believe that Charley trapped him in the hell dimension and he pissed off.
He needs to do something but can't remember what because Reyes is blocking those thoughts or memories from him.  He also keeps following Charley around because he can't understand Reyes's fascination with Charley.
Charley is brought in by her Uncle Bob to help with these bizarre murder where people are being shredded and which appear a bit supernatural.  Charley is having a hard time sleeping because every time she closes her eyes, she is being haunted(?), visited(?) by Reyes or Rey'azikeen who is being seductive and/or trying to get information out of Charley as to what Reyes is hiding and what Rey'azikeen has to find.
It doesn't take much to guess that the only thing of real importance that Reyes would hide from anyone would be his daughter, Beep, who is currently in hiding away from Charley and Reyes's enemies.  So, it is easy to guess what is trying to find, but what does the very angry god want with baby Beep?  Does he want to kill her like Satan does?  Does he want to take her to punish Charley for trapping him in the God Glass?  What?
While I won't tell you what happened, I will say
it all resolved itself too fast from violent threats from an angry God, to him telling Charley to trust him. It was such a flip from angry and violent to we are all so happy together that I thought I missed something and hit the rewind button a couple of times.
I felt the ending of this story was too similar to the end of book eleven that I did an actual eye roll.
Darynda Jones has stated that she will end the series on Book 13 next year. I will definitely read that one, or more appropriately, have one more listen since Lorelei King makes the story that much better, but only because it will be the final book. If the series was going to continue, I might have passed on further books.
The real question will be is there going to be a spin-off with Beep and Osh, and what will it be about?
---
Favorite Scene:
A knock sounded at the window. I jumped, then looked over at a homeless woman named Cookie Kowalski Davidson and tried not to giggle. She stood enshrouded in rags that I was pretty sure were actually rags. She even had a shopping cart.
I rolled down the window. "Where the hell did you get that cart?"
"I borrowed it from Saratoga Sally."
"You know Saratoga Sally?" I asked, impressed. The woman didn't talk much.
"Not really."
"She just let you borrow her shopping cart? That's like her castle."
"Actually, I should have said I rented it from Saratoga Sally. She's a shrewd busiess woman, let me tell you."
"How much?"
"Twenty. And I have to have it back to her in ten or she starts charging interest."
"I knew I liked her."
"Even after she threw peanut butter in your hair?"
"She said it was a great conditioner. She was only looking out for me."
Cookie nodded then winked at me. "Get ready."
I gave her a thumbs up and watched as she strolled to do her stuff, not sure what to expect. If she could just distract one of the cars, I could turn the opposite direction of the other so the building would be between us.
But what would she do? Would she bang on their car and demand they move? Would she pound on the glass and insist on money for buffalo wings? Would she fall to the ground and feign injury, forcing them to leave their car to see to her, giving me a window of opportunity to hightail it outta there?
What she decided on had me both perplexed and in agony. She pushed her cart to the other side of the car, the side opposite me, and took out her phone. She pushed a few buttons as the G-men looked on, then she put it on top of the pile in the cart, turned to the lamppost and proceeded to use it as a stripper pole to perform a striptease.
When she flashed them a quick glimpse of a bra-clad Pico, I doubled over so fast I slammed my forehead into the steering wheel. It didn't matter. I was dying. I clung to the steering wheel but could barely watch her through the tears. She was going to kill me for not leaving immediately, but how could I? I would never forgive myself for missing the show.
She ripped a ragged scarf off her shoulders and spun it in a circle, then lifted the hem of her housecoat to reveal a shapely ankle and calf seconds before she wrapped it around the pole and blew the boys a kiss. The men were transfixed. As was I.
I scrambled to find the video setting on my phone through the blur of my tear-filled vision when another knock sounded on my window. I sobered and rolled it down.
Uncle Bob stood beside the car, his expressoin grave and slightly horrified. "What the fuck is my wife doing?"
Before I could explain, Cookie jutted out a hip and slapped a hand onto it. I doubled over again and fell across the console in helplessness. "You have to record her," I said between gasps and laughter.
I crawled back up again just as she did a sexy spin, taking the opportunity to glare at me from over her shoulder. That was when she saw her husband. She stilled and I knew if I didn't get out of tere, I wasn't going ot.
Without explanation, I turned over the car engine and sped down the alley to Silver, leaving a confused and slightly disturbed Uncle Bob in my wake.
Related Posts